Anambra Young Writers Mark 2020 Achebe Literary Festival And Memorial Lecture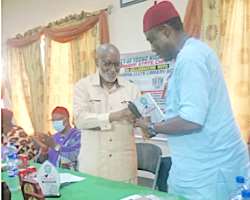 It was a moment of encomium and a gathering of 'who is who' in the creative and literary arts, as young writers in Anambra State hosted the 2020 Chinua Achebe Literary Festival And Maiden Memorial Lecture, in honour of a foremost Nigerian literary icon, Late Prof. Chinua Achebe.
Organized by the Society of Young Nigerian Writers (Anambra State Chapter), the literary event themed "Chinua Achebe: Our Heritage In A New Normal" and which held at the Anambra State Central Library, Awka, also was also used to mark Achebe's 90th posthumous birthday.
Delivering the Chinua Achebe Memorial Lecture, titled "If the Dead Could Speak, What Would Achebe Say of Present Day Nigeria?", the Keynote Speaker at the event, Mr. Oseloka Henry Obaze, described Achebe as "The Unacknowledged Nobel Laureate" and a legend, who will eternally be known simply his surname –ACHEBE, just like Shakespeare, Yates, Dickens, Shaw and Byron, and other great intellectuals and legends.
He said, "Achebe, as we all know, wrote extensively about Nigeria. At times, he did so presciently. In one instance, he correctly predicted a military coup. Though that happenstance was an inexplicable coincidence, he almost got himself into trouble with Nigerian authorities. In two other instances, 2004 and 2011, he rejected high national awards in protestation of the squalid "bankrupt and lawless fiefdom" Nigeria had become.
"At another time – in 1983 – Achebe wrote a pithy little seminal book, wherein he dissected with surgical precision, The Trouble With Nigeria. As they say, great things come in small sizes. There was perhaps a reason why Achebe wrote that small but mighty book.
"Before then, another pithy book, by Peter Pan Enahoro titled, How to Be Nigerian had given a unvarnished glimpse into the mindset of the true Nigerian; the mindset that led us to our present new normal and conundrum- a nation of severe and deep-seated paradoxes – where we know what is good for us, but refuse to do it; a nation where we have the best world class players in politics and sports, yet frequently elect and select Third-rate teams to represent us; a nation endowed with riches in human capital and natural resources, yet one that earned the dubious distinction of being the poverty capital of the world."
Further dissecting Nigeria's situation and challenges, Obaze who himself is an author, poet, and former Secretary to the State Government, added, "Were Achebe to speak to us from his grave, I suspect that against the backdrop of the Nigeria I have just narrated, he would say the same thing over and over."
"...In his lifetime Achebe spoke Truth to Power. Today, can those in power find it within their grasp to understand the Power of the Truth Achebe told Nigeria?" he rhetorically asked.
Earlier in his opening remarks, the Chairman of the Occasion, Sir Chuka Nnabuife, who is also an author, art curator, veteran award-winning journalist, and MD/CEO of Anambra Newspapers and Printing Corporation, noted that Achebe was not only a great writer but also a great sage, and "a man who was to some extent of his age, a vendor of knowledge of the ages before him but also a harbinger of wisdom of the age before him."
He lauded the organizers of the event, which he described as worth sustaining, as, according to him, Achebe is worth celebrating for life.
In his address of welcome, the initiator of the event and Coordinator of the Society of Young Nigerian Writers (Anambra State Chapter), Izunna Okafor noted that Chinua Achebe Literary Festival which started in 2016 is an annual literary they host in honour of Achebe on his birthday (every November 16), and through which they call for Achebe's immortalisation, immortalize him in their own way (through annual publication of Chinua Achebe Poetry/Essay Anthology), and also promote creative writing and literary arts in general.
He explained that the event was previously being hosted only as Chinua Achebe Literary Festival, but in this year's edition, being its fifth edition and anniversary, they introduced the Chinua Achebe Memorial Lecture into it, which is the first of its kind hosted anywhere in the world in honour of the legend.
He called on the Anambra State Government, private individuals and corporate bodies to recognize, reward, encourage and empower young writers in the state, and also pleaded with them to undertake the annual sponsorship of the event, in honour of Achebe the legend, who he said, till date, is yet to be befittingly immortalized with any 'structure'.
On his own part, the Special Guest of Honour at the event, Prof. Peter Umeadi, who is also an art enthusiast and former Chief Judge of Anambra State, urged young writers to keep writing, and never get discouraged. "Before you can put anything out, you must be courageous. You don't have to think 'Oh! What will people say about what I have said or written'," he advised.
Others who graced and spoke at the well-attended event included the state's Commissioner for Information and Public Enlightenment, Mr. C-Don Adinuba; the Chairman of Ohaneze Ndi Igbo (Anambra State Chapter), Chief Damian Okeke-Ogene; veteran Nollywood Actor, Bob-Manuel Udokwu who is also the Senior Special Assistant to Governor Willie Obiano on Creative Media; the Senior Special Assistant to Governor Obiano on Secondary School Education, Dr Paul Ifeanyi, multiple award-winning author, Mr. Odili Ujubuonu.
Others were the Special Assistant to the Governor on Communications, Mr. Maxim Uzoatu; the Director, Anambra State Library Board, Dr. Nkechi Udeze; author and literary enthusiast, Mr. Isidore Uzoatu; and Architect Chinelo Ofoche, among others.
The event featured lectures, award presentation, Chinua Achebe Essay Writing Competition (sponsored by National Light Newspaper, for the participating secondary schools); art exhibition, discussion on the Fifth Chinua Achebe Poetry/Essay Anthology, entitled "Achebe: A Man of the People"; cutting of Achebe's 90th posthumous birthday cake, among others.