Key Into President Buhari's N25 Billion Youth Fund, Former SSG Ebonyi, Prof. Ben Odoh Advises Youths
Encouraged Youths To Get Fully Involved in politics and governance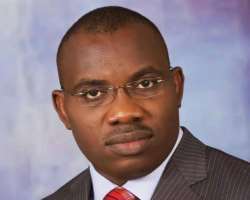 The former former Secretary to Ebonyi State Government and a renowned professor of Geophysics, Prof. Ben I. Odoh, in this interview gives a holistic perspective of issues around the Nigerian youth. His passion for engaging the youths in a sincere mentorship approach is portrayed as he did not mince his words in suggesting the best way forward to the government on the youths.
Excerpts from the Interview with Prof. Odoh.
May we meet with you sir?
My name is Professor Benard Ifeanyi Odoh. I am varsity scholar, researcher, a politician and a Professor of Geophysics. I am from the eldest clan of Ezeokoha in Ezza Ezekuna, Ebonyi State, South East Nigeria. Most importantly, I am also a youth!
Who in your thinking is a youth?
In a very clear, simple and vivid term, a youth is anyone who has transited from the dependence of childhood to the independence of adulthood. In defining a youth as those between the ages of 15 and 24 with a education as a source of its statistics, the United Nations recognized the variance without prejudice to other age groups listed by its member States. In any case, it recognizes also among others those within the age bracket of 18-30 for some member States.
Contextualizing it in the Nigerian and indeed, African situation, a youth in the definition of the African Youth charter is anyone between the ages of 15 and 35. Our situation here and indeed, those of some other countries especially in our sub-region is such that those between the above age bracket and slightly above same say for instance; in their early 40s still regard themselves and are also regarded by many as youths! You could see that those (Governors for instance) who are in this particular age bracket and are opportuned to be in leadership positions are well considered as youths especially when compared to their age-brackets of their counterparts.
Do you believe that the status of the Nigerian Youth needs to be improved upon and in which area; socially, financially, morally or spiritually?
Generally, youths are young people who are still vibrant, energetic, full of ideas, ambitious and therefore will always keep aspiring. There is therefore always room for the youth to improve his or herself at every given opportunity especially with the advent of Information Technology.
These are what birthed in the first place, the very noble inventions that this generation of youths has birthed such as; Facebook, Whatsapp, Twitter, Youtube, LinkedIn, Tik Tok, Zoom, Telegram and many others. At least, the living, no matter how old are substantially in the knowledge of how all these youthful ideas and innovations which are often competing among themselves have helped to better the world we live in today.
Wherever I find the opportunity to address young people, I always reflect on all these to remind them that there is no limit to whatever their mind sets to achieve and that there is also always room for improvement of their status on all fronts- Economically, socially, morally and spiritually!
Nowadays, it is generally believed that this country almost has the highest rate of youth unemployment. What in your thinking is the cause of the anomaly sir? Do you believe that it is affecting the status of Nigerian youths and what could be your suggestion as a way out?
Statistics on the actual status of the average Nigerian youth especially as regards unemployment is quite disturbing and very alarming. But it could also be a wake-up call for the youths to realize that they could arise and take back what belongs to them in all spheres of our national endeavour.
Most of our young people feel disadvantaged and many others feel short-changed when you go through history and statistics. The National Bureau of Statistics, NBS puts the population of our unemployed youth at nearly 14 million according to its release in August this year. No thanks to all that the world has already gone through this year particularly the global COVID-19 pandemic which as expected would bite and its indeed biting harder on struggling economies such as Nigeria, the rest of Africa and many parts of the world.
This has undoubtedly contributed to the youth restiveness and civil unrests we see today including the increasing wave in crime rates. We have in our hands, too many young, vibrant and equally educated youths who cannot find jobs and many also have no skills to deploy in order to eke a living. Even those who have acquired skills are finding it difficult to get spaces to effectively and efficiently utilize them. Some of them have therefore turned these youthful skills and energies into negative energies- using them for fraud and other related crimes. I believe these frustrations and what they consider the unequal treatments meted out to them by government at all levels made it easier for many of our youths to join the #ENDSARS agitation few months after the global pandemic which the rest of the world was recovering from. Of ourse you know that it has worsened our plights and economic recovery as a nation even though some commendable messages were also passed to the leaders through the peaceful protests before it was hijacked.
I believe it was also in its determination to ameliorate the above troubling figures and set right the agitations of our teeming youths that the President Buhari-led government launched the N25 Billion Youth Fund just a few weeks ago. I believe that if it is judiciously spent and well monitored, it could go a long way to help those with innovative skills and ideas establish themselves especially in the area of Agriculture. The Federal Government should therefore supervise this well as it could be a turning point. Young people are also encouraged to apply for this fund because it is available for them in order to improve their living standards.
Prof, do you believe that Nigerian youth themselves can do anything on their own to improve on their present status without the support of the government and other relevant stakeholders?
The way out of the current quagmire is for young people to massively acquire skills and deploy them, embrace Agriculture and let the Federal Government provide proper mechanisms for checks and balances on those it has empowered to give credit facilities and other supports for farmers. Leaving same in the hands of some few desperate and insincere politicians have hampered our economic growth and we have lost many of the good fortunes that the harnessing of our rich Agricultural potentials would have afforded us. The youths should also embrace ICT and turn their negative energies in this regard to positives.
If you see the average young person in Arab and Asian continents such as Dubai for instance, you would see how their amazing and unique youthful potentials are helping those nations develop fast- technologically, economically and otherwise. Many Nigerian youths in these very organized nations that has created sustainable systems for productions of goods and services are enormously contributing to their National Gross Domestic Products, earning and fending well for themselves and their families and loved ones with their skills.
But because the average Nigerian youth don't even have such opportunities because our governments at practically all levels doesn't seem to have prioritized industrialization the same way we prioritize borrowing to build roads, bridges and other social infrastructures which are yet perishable. If the government turns attention to industrialization, the youths would be very busy with productions of goods and services just like they do when they go in search of greener pastures abroad.
However, our youths should not lose hope! They can take back their place by getting involved and asking questions on issues of policies and governance. The era of sitting on the fence and watching idly or selling our consciences for porridges of yam while the elders who are at the departure lounges of their lives play and dominate politics should be over in 2023. The youths should get involved and channel the same youthful energies and vigours they displayed during the #ENDSARS protests to politics and ensure that right and credible candidates are elected into positions of authority. It is only when this happen that the process of reclaiming the lost grounds of our nation could be guaranteed!
These days, there's this issue of rampant cases of youth restiveness all over the country. Sir, do you think it is attributable to the current status of the Nigerian youth and what is your advice to both the youth and the government?
The responses I have provided above suffice!
If we are to compare the status of the youths of Nigeria of today and that of the pre-independence era, which one could be said to be better and why?
It is quite disheartening to reflect that today's Nigerian youths are nowhere near their contemporaries in the pre-independence era politically and otherwise. For instance, it was the vibrancy and political astuteness of Nigerian youngsters like that led to Nigeria's independence in the first instance.
The activities of young people like Herbert Macauley, Nnamdi Azikiwe, Obafemi Awolowo, H. O. Davies, Tafawa Balewa, Ahmadu Bello and Samuel Akintola among numerous others who were all in their 20s and 30s led to the formation of political parties such as the Nigerian Youth Movement (NYM) which later became the first political Party in Nigeria. Even the Nigerian National Democratic Party, (NNDP) and the National Council of Nigeria and Cameroons (NCNC) were all dominated by vibrant Nigerian youths.
Unlike today where many youths are on the social media as megaphones to the much older generations, the likes of Nnamdi Azikiwe used the media such as his chains of newspapers to inform, educate and enlighten the public, leading ultimately to Nigeria's independence. The trend today is becoming very worrisome and many Nigerian youths are getting more frustrated and almost utterly hopeless. The youths of this generation should wake up to the realities of this present time and take charge. I believe in them and I know they can do better.
It is worrisome that the political parties they formed ahead of 2019 elections could only produce one Senator and statistics showed that the rest of the other youth political platforms such as AA and ANN could not pull together a total of at least over a million votes in totality. This trend has to change and our youths have to re-strategize ahead of 2023 and do things very differently. I believe they can take over the leadership of this nation!
Most Nigerian youths rush to other countries both within Africa and Europe in search of greener pastures often time some of them even lose their lives in the process. Do you believe that the status of Nigerian youth is worse when compared to those of other countries?
Available statistics indicate that over 25% of the Nigerian youthful population are without jobs and the figures keep rising even more. This has undoubtedly created a deep social inequality and a wide gap between the haves and the have nots.
The increasing rate of joblessness among our youths accounts largely for the steady migration amidst all its attendant risks and even deaths to Europe, America, Asia and other continents of the world in search of greener pastures. The facts on ground have proven that we don't plan well for our young people and that has made their conditions worse ever than their counterparts of the world. Until the government does something urgently to check and balance the widening gap between the rich and the poor, our youths will not only continue to migrate but they also would remain insecure due to restiveness on the parts of the youths. These are all ticking time bombs that could explode anytime if not well handled!
We heard about the "NOT TOO YOUNG TO RUN" Bill which is aimed at giving Nigerian youths the opportunity to take active part in elections and partisan politics. What is your opinion about this bill?
The "Not Too Young To Run" bill which has since been assented to by the President is a very positive step to youth's inclusion into Nigeria's politics.
My other reaction on the Act is as contained in the last paragraph of my response in number 7 above.
Just to buttress once again that our youths should get FULLY INVOLVED in politics and governance and try to make the kind of differences that our national heroes made in the past!
There is this popular adage that the youths are the leaders of tomorrow. With this current status of the Nigerian youth, do you think this country is heading towards a better future in terms of leadership and Governance?
The future is bleak until the average Nigerian youth understands and plays his active roles in enthroning credible leadership that would in turn bring about good governance. That is why I insisted in my responses above that the only way forward is for our youths to wake up from their slumbers and get deeply involved in politics and governance!
Prof, as a very highly learned and experienced individual; a youth too, both within the academic and social sectors and an international personality, do you believe that there is any need to organize a national conference in this country with all the relevant stakeholders to discuss the present status of the Nigerian youth and the way forward?
A national conference on the way forward for the teeming Nigerian youths which constitutes more than half of our population is long overdo! However, it is not yet too late for the government to convoke such a conference so that the youths can be heard, their fears allayed and their future possibly secured. So, the earlier the better for both the government and the youths!
Finally sir, you rank among the few Nigerians that had gotten to the apex of their academic attainment as a Professor in less than Forty years of age. Could you wish to share the secret behind this your unique achievement so as for other youths of this country to learn from you?
I didn't arrive at my current destination by default. Early in my academic career, I choose a mentor by name Prof. B.C.E. Egboka, a former Vice-Chancellor, who had travelled the path I was about to travel. He had attained a height that was enviable. He was enlisted among 'Who is Who' in academic domain on the continent. He became a professor at age 39. My relationship with him fired up in me the dream and burning desire to become a professor before 40. The secret is simple. A DREAM written down with date becomes a GOAL. A goal broken down into steps becomes a PLAN. Finally, a plan backed by ACTION becomes REALITY. I had clear plans with deadlines and action plans early in my academic career. The result is what you see today. My future is well-thought-out with plans and deadlines and the plans are being matched by appropriate ACTIONS. I have been guided by this timeless principle.
Anyone can succeed but not everyone is working towards success.