I'M PAINED WHEN PEOPLE SAY ZONING AGREEMENT MEANS NOTHING — IBB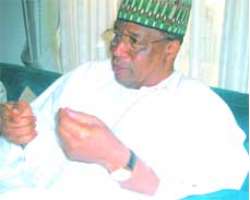 IBB
Former military president, Gen. Ibrahim Badamasi Babangida (retd), has denied that a recent meeting of northern politicians was about President Goodluck Jonathan. IBB told Saturday Sun that the issue of zoning the presidency to the North in 2011, was not the lead agenda, neither was the gathering about stopping Jonathan.
In an exclusive interview, Babangida, who is battling to fly the Peoples Democratic Party (PDP) banner in next year's crucial elections, said the Abuja parley of over 100 northern bigwigs was just to show that the North is united and to show, as he put it, that 'we are not the kind of people who will sell our mothers for money.'
The former military leader also expressed his disappointment with the position of former President Olusegun Obasanjo pooh-poohing the PDP's alleged zoning arrangement, among other critical national issues.
He was also asked why he would not give up on his presidential ambition after ruling this country for almost a decade? His reply: 'Will I be committing treason if I still feel I am strong enough to serve this country?'
This zoning issue is heating up the polity. The North is also accused of a gang-up against President Jonathan. How do you react to that?
Let me say, right away, what I understand by zoning. Zoning is meant to bring stability to the nation. It brings stability in the state. If you take local governments election, for chairmanship, for example, when it is rotated and zoned, you see stability; you don't find much rancour. So, generally, this has helped to stabilise the polity. And this is a strategy of a political party. And it is working for the political party. And as long as they maintain that, the chances are that they will, for a long time, continue to have political stability within the party.
So, it is not against Jonathan; it is not against a president, you know. But it is the only way the party felt, and I share that, that if you want stability in a country like ours, with different religions, different tribes and so on, you just have to show somebody that he belongs, otherwise parties will continue to reside somewhere based on population or based on even an arrangement within the party.
So, people should not lose their sleep because people are insisting on zoning. It is the political party's strategy of winning the votes, winning the confidence of the people. Other parties, if they believe they are strong enough, can adopt the same principles. That will also help to stabilise the country. It only happens that it is only PDP that is strong enough to adopt this strategy. PDP and ANPP adopted zoning in 1999, when only two southern candidates were the standard bearers of their parties.
But why is it that it is only northern politicians that gathered at the Abuja meeting and insisting on zoning? Why didn't you hold it in Lagos or any other part of the South? Why is it only prominent northerners that gathered, if it is not a gang-up against Jonathan?
The reason is simple. There is an impression going on now in some circles that tends to polarise the North. There are some who are selling the idea that they (northerners) are no longer united, that if you give them money they will sell their conscience. So, it is only fair for the northerners to disprove these allegations… 'just give them money and then they will sell their mothers.'
So, the northerners are only trying to show that they are united?
They are united in the interest of Nigeria.
How many other PDP members in the South support this zoning arrangement?
Don't forget, we are playing politics now. If they (northerners) come together first, they can now reach out to their brothers (in the South) to seek alliances, associations, so that they can share their views and continue to play the politics.
You are reaching out to other party members in the South?
No, I haven't written them off. We are strengthening the belief that if the North has done it (supporting zoning), the South is going to do it. That power be geographically spread.
How did Nigeria get to this stage of zoning war? In 1993, there was nothing like that. Abiola won on a Muslim-Muslim ticket. He was from the South and he had the highest number of votes from the North, beating Tofa even in Kano. There was neither North nor South, but candidates.
If you remember the decision at a conference, which was held under Gen. Sani Abacha, when they got to sensitive nature of presidency. Don't forget we have been in this country. We have talked about rotational presidency; we talked about a president with two vice presidents, North and South; that in case the president dies, the zone where the president comes from takes over. These were all in this country. But people tend to ignore these facts of history. What were they doing? They were trying to see the best way to provide stability to the polity.
Why is it that Nigeria stretches almost to breaking point at every election period? Some of us who are not politicians see a lot of these ethnic groupings and get scared for the country: northerners meet, south meet, Yoruba meet, Hausa meet, Igbo meet, Ijaws. Are we a country?
We are trying to be a country. We are in search of identity right now and that identity is the word 'Nigerian.' Honestly, we can't continue to do this: changing the goal post, all the time when it suits us. This is common to all of us. I think there is the element of selfishness; there is the element of not knowing what transpired in the past. Above all, there is greed. Just like I told you, there are people who are saying 'no, don't bother about 'northernness,' give them money, they will sell their conscience, they will sell their birthright.' This is the view of some big Nigerians, people you don't expect, saying these kind of things. Haba!
Does it worry you?
It pains me because I fought a war. I almost lost my life. People, millions of people, almost every home was affected by the war, just to keep it one. And you now find people saying if you give me money, I will change my belief. It's painful.
What would have happened if Umar Yar'Adua were alive?
He would have gone for second term. That would mean power being in the North for eight years, because Chief Olusegun Obasanjo, who represented the South, was there for eight years. May his soul rest in peace, if Yar'Adua were there, we would have all supported him to do eight years. And then, it moves back again, in 2015, to the South; simple arithmetic.
So, you are saying death is the factor that has changed everything?
Yes, death has changed everything.
But, even at that, we understand that what the people in PDP had was a gentleman's agreement on zoning, nothing concrete.
It's all greed. The operative word there is gentleman. Why are you called a gentleman? Even though there's no legal or written agreement, there's a moral agreement binding you. That's why it's called gentleman's agreement. It's not an agreement by crooks or rogues. No. They are gentlemen. They should live by what they have agreed.
Former President Obasanjo recently said that there was no solid agreement on zoning, that every PDP member, including Jonathan is free to contest…
[Cuts in] …I didn't know the circumstances he said what was credited to him. I didn't see the publication, otherwise, I would have taken him up on it.
And he is chairman of your party's board of trustees
Being chairman of the BOT doesn't give him the right to… You see, he is an individual. He may agree or disagree with a decision, but that doesn't change the fact that there was an agreement. He has the right under the constitution to express his views.
Do you get disappointed when you hear people, like Obasanjo, saying there was no such agreement?
I do. Not just disappointed, I get pained, when I hear that the agreement means nothing. I do hope that our younger generation would not learn these kind of things, that agreements can be made and broken.
President Jonathan himself has also been credited as saying that even if there was such agreement, it could only be advisory, since only the national executive committee or the convention could give such declaratory directive?
What you should ask is: why is the matter coming up now? Why did they not raise this point in 1999, 2003 and 2007? Why now?
Don't you fear that this kind of regional schism could break up this country?
It's frightening to some of us. I agree. It's frightening to some of you. It pains some of us who were old enough to give our lives to the cause of this country; it's painful. Obasanjo stayed four years, maybe he never thought he could stay for eight years; that's why he decided to extend it. But it is the same zoning principle that did not allow him to extend the gentleman's agreement, beyond eight years. So, if he wanted 12 or 15 years, he is still from the South, which was a dishonourable thing to do. So, it was still the whole concept of zoning that did not allow the third term to materialise.
The incumbent president may likely run in 2011 and we are sure you know the implication of that, especially in a country like Nigeria? And of course, in your own case, you still have the Okigbo report, Dele Giwa etc to contend with. What do you think?
Well, I think it's good they talk about things like Okigbo, Dele Giwa. But, they are not talking about issues; they are not talking about what this country needs. I haven't heard somebody talking about issues that touch on this country. It is issues about Dele Giwa, issues about the zone to run that are being talked about. We are not making a good effort to build this country. Let me give you an example. In 1959, you go to Enugu, the Mayor was from Sokoto. You go to Onitsha council, there were Nupes who were elected councillors. If we were able to achieve this in 1959, why, in the name of God, 50 years after, can't we do it now? Now, we are supposed to be more educated? J.S. Tarka supported Ibrahim Imam to be elected in Benue. He got a seat. If they did it at that time, why not now? Why are we messing things up? If we had kept that, we would have gone far, but for our greed and selfish interests.
Don't you sometimes regret that by being in the race, you have opened yourself up for attacks and mud splashing when you could have been in some kind of peaceful retirement. You could still be playing godfather, but now everyone is hitting you.
I have said it that I have always believed that every generation must find its mission, fulfil it or betray it. Some of us who really fought to keep this country one, we will always be at pains to find that what we fought to have is being rubbished. I am able to take all the shots because nobody is taking a shot at me on issues yet. When people decide to talk about this country, then we will be taking a shot at each other. But now, they are all personal issues.
The view out there is that if Nigeria is 50 years old and you, Babangida, had the chance to rule for almost 10 years, that is one fifth of the life of this nation, would it not have been better to sit back and watch younger Nigerians rule, while you play advisory role instead of jumping into the fray at 70?
You see, there will be a country called Nigeria in the next 1, 000 years; so we are just beginning. So, if there is going to be a country called Nigeria in the next 1, 000 years, what then is 10 years or 50 years? In any case, Awolowo ran for presidency at 77. Bola Ige and others were in their 70s.
But that was then. Now, we have a British prime minister who is 43. President Obama is in his 40s. This is the global trend now. Younger men are in power, but here, we are stuck in a relay race of old men who have been in power, but are refusing to quit the scene.