Mbu Congratulates Cross River Protesters, Commends Ayade.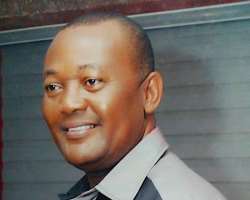 AIG Mbu J Mbu is an indigene of Cross River State who has vowed to use all institutional weaponry within his disposal to restore good governence in his State. He has lived to his vow and it seems that his efforts are yielding dividend. The recent protest in the State which humbled Gov. Ayade to a firm promise to reabsorb about 2,500 workers delisted from the State civil service payroll is one of those dividends of his fight for good governence.
In this interview session, The Nigerian Voice engages the advocate of good governance on the recent protest and the outcome. Excerpt below:
The Nigerian Voice: AIG MBU You have been very critical of Gov Ayade, what is your reaction to last week's five days protest by sacked civil servant in the state.
AIG Mbu:Thank you for this question. I am an honest and objective critic. Believe me, as soon as Gov Ayade amend his ways and realises that he is no longer the Thomas Hobbes "Leviathan" and charts the path of good governance, I will sing his praises. I know a lot of people would be wondering why I should come out now and start condemning Ayade when in the past I use to say Ayade or no one else. I liked him from a distance and I became his fan, but getting closer, I discovered that the more you look the less you see. In my usual way of life, I talked to him twice and he was 'forming' too know. I went underground and did my discreet investigation, heard so much and I took time as a cop to confirm most of the information. I discovered that 90% was correct so I started.
I will refer to my intervention as the arrival of The Pentecost on 12/07/2020. God the Father, the son and the Holy Spirit located Cross River State when I blasted the state Government with; "Covid-19: Sack Your Commissioner for Health Now, AIG Mbu tells Governor Ayade", and then six other write-ups against him re-awakened Cross River State.
The Pentecost has emboldened C'riverians that Ayade can not cow them anymore and that respect and intimidation are not the same thing. Before the Pentecost, Ayade was referred to as an emperor everywhere he goes. Somewhere else this same thing happened and I made the governor to know the powers of a commissioner of police who is transparent and not covetous. I congratulate the workers who protested steadily for five days and gov. Ayade has promised to reinstate them. If he does not, they will all go back to the streets again.
The Governor should realise that the days of intimidations are over. Any group protesting should inform the appropriate authorities starting from the police to other relevant agencies. Protest peacefully, carrying placards only, no sticks or metal. Any attempt of violence would be misinterpreted and considered a riot and the might of government would descend on such a group of protesters. No revolution because it is a treasonable offense and would be treated as such. Cry out for justice that is what democracy is all about.
The Nigerian Voice: WHAT IS YOUR REACTION TO GOV. AYADE'S PROMISE OF THEIR REABSORTION
AIG Mbu: First, he has failed because he does not know how to talk. Two thousand five hundred workers are delisted from the civil service payroll of C'River over a long period. Those promoted have for more than 3years been on the previous salary scale, their promotions have not been implemented. Three thousand rice factory workers and six thousand garment factory workers equally sacked and you feign ignorance, then you are a failure. If you are truly not aware, then sack the relevant heads for embarrassing you and set up an enquiry to look into it. Nevertheless, I appreciate his move to return them and pay them all their arrears.
I wish to also appreciate Gov Ayade for releasing vehicles to local government chairmen and vice Chairman after three months of my relentless writing aimed at compelling him to comply. Although the vehicles are substandard, it is better than trekking.
However, if the situation with regards to fiddling with Local Govt funds continues, I will personally petition the NFIU. Calling for accountability and good governance is not a war, fight or confrontation. So I would like to remind Gov Ayade to kindly invite the president to officially open the super high way and the deep sea port which he invited the president to the foundation laying ceremony in 2015. The Pentecost has come to stay.
ABOUT AIG JOSEPH MBU
Joseph Mbu is a second class upper honours graduate of political science from the University of Lagos. Out of the two hundred applicants that year for the position of cadet ASP in the then Cross River State/Akwa Ibom, he was among the only seven people who were eventually taken for the job and with the creation of Akwa Ibom, he became the only officer of his course from the present Cross River State, while the rest returned to Akwa Ibom state.
Mbu was DPO of Railway Zaria and kafanchan in kaduna state. He was also DPO Akwete Ukwa East and DPO Omoba Isiala Ngwa South, all in Abia state. Mbu was also DPO Nengere and DPO Potiskum in Yobe state. He was then reassigned to head a fleet of sixty land cruiser EFI jeeps to patrol in the North Eastern State of Adamawa, Gombe, Bauchi, Yobe and Borno when the Elite Federal Highway patrol was inaugurated in 1999 to combat banditry activities in the region. He later served as Area Commander Metro Minna, in charge of sixteen police divisions. Joseph Mbu was later moved to Suleja when crime and banditry activities intensified in the satellite town overseeing fifteen DPOs
Mbu was posted as Area Commander Delta Central otherwise called Urhobo kingdom where he was in charge of eighteen Police Divisions during the restive days of militancy in The Niger Delta. He later served as Assistant Commissioner Administration in Awka, Anambra State. A year later, he was moved to the Police Education Directorate as The Force Education Officer, a command Position for four years to restore order in the resistive directorate with 90% civilian staff. He was redeployed to serve as CP Police Mobile Force (MOPOL) to restore discipline and PMF ethics and doctrines. A year later he was moved to Oyo State to combat robbery and demobilise the notorious Motor Transport Union thugs, Tokyo and Auxiliary, and also to reopen banks shutdown due to persistent robbery. All these he accomplished and was further redeployed to Rivers State where he became famous for his philosophy and principles ; "Your Excellency the governor, your enemies are not my enemies, I am for everybody". And the governor said that CP Mbu must obey him. Mbu said to him that the Constitution says that the CP must first seek approval from the Commander-in-Chief through the IGP. Mbu served hIs term successfully and was redeployed as CP FCT. He was promoted to the rank of Assistant Inspector General in 2014 and appointed AIG zone 7 in charge of FCT, Kaduna and Niger police commands. A year later he was redeployed to Lagos as the AIG zone 2 in charge of Lagos and ogun state Police commands. From Lagos, Mbu was posted as Commandant , Police Staff College Jos, the highest police training institution where senior officers from the rank ASP to Deputy Commissioner of Police attend the last course in the force. His infrastructural development and his adherence to professionalism remains indelible in the minds of his colleagues. Mbu and twenty others were compulsorily retired in July 2016. Coming soon: Who is AIG Mbu? his legacy and achievements in the Nigeria Police.