God Help America for the Sake of All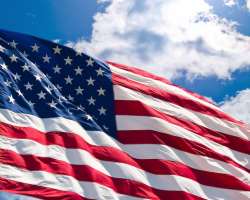 As an African from a supposedly a**hole country, I try not to insinuate myself or interject my opinions into the internal affairs of the United States.
After all, the whole world looks up to the United States for leadership by example, in the practice of democracy.
However, I would be remiss and negligent, if out of diffidence, I fail to proffer some advice when I see things going awfully wrong.
More so, for the exact reason put forward in the second paragraph above.
Especially when it concerns an area where I have greater experience.
I say without hesitation that I have greater knowledge of the practice of sh*thole democracy than many in the United States, coming from a country and continent, that are world leaders in that domain.
And my advice to the citizens of the United States is this. For the sake of your country and also the whole world, do not go any further along the road of division and chaos, you seem poised to travel.
Please, America, press the pause button immediately and retrace your steps to rejoin the path of true democracy and democratic tenets to which you are best accustomed.
I put forward a win-win situational road map for majority of Americans in what may otherwise turn out to be a debacle.
My proposed roadmap buys Americans much needed time to salvage their democracy.
For the sake of American unity and democracy, every side wins some and loses some in a limited win-win outcome.
Let the right get their sixth(?) conservative Supreme Court Justice in the person of Ms. Amy Coney Barrett.
Let the left, the centrists, the moderates and the anti-racists of all political stripes get their new inclusive President in the person of Joe Biden, after an undertaking by Biden that he will not pursue a radical change in the number of Justices of the Supreme Court.
Let the Senate and the House of Representative fall where they may.
Let Donald Trump retire to his multi-billion dollar businesses without fear of political repercussions, partisan persecution, and judicial prosecution, beyond criminal or treasonable misconduct.
Let all Americans press the re-set button and step back from the brink of radical-left or radical-right, winner takes all politics for the sake and well-being of their country.
So help Americans, Oh God.
Anthony Chuka Konwea, Ph.D., P.E., M.ASCE, MNSE, FNIStructE, MNICE.
Disclaimer:

"The views/contents expressed in this article are the sole responsibility of the author(s) and do not necessarily reflect those of The Nigerian Voice. The Nigerian Voice will not be responsible or liable for any inaccurate or incorrect statements contained in this article."