Neither Oshiomhole's Apology Nor Litigation Against Him Can Polish Ize-Iyamu's Tarnished Image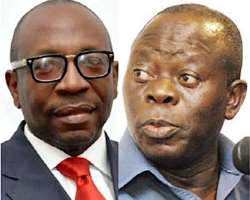 I must confess that as a supporter of Pastor Osagie Ize-Iyamu during the electioneering campaign ahead of the September 19 gubernatorial election in Edo State that I am yet to come to terms with his loss at the election, particularly as the odds that stood against him in the election were arguably not his own making. After all, the word of God in Jeremiah chapter 10 verse 23, says, "O Lord, I know the way of a man is not in himself; it is not in man who walks to direct his own steps". Besides the forces that worked against Ize-Iyamu, among which was the conspiracy by some chieftains of the All Progessives Congress (APC) who were angry with the national leader of the party, Asiwaju Bola Ahmed Tinubu and Comrade Adams Oshiomhole. However, the major setback he had was the campaign of calumny which Oshiomhole carried against him in 2016 when he was a Godfather to Mr. Godwin Obaseki the incumbent governor of Edo State who has now pitched tent with the Peoples Democratic Party (PDP). There is no denying the fact that those in the opposition party that is the PDP, vehemently leveraged on all the calumniations Oshiomhole expressed against him in 2016 to advantageously sway the votes of the people.
Against the backdrop of the disparaging or rather damaging comments which Oshiomhole made against Ize-Iyamu in 2016 while campaigning for Obaseki, not few political analysts are of the view that an open apology by Oshiomhole will go a long way in somewhat cleaning Ize-Iyamu's image which he willfully dented in 2016 to the benefit of the incumbent governor, Obaseki. Another Public Relations school of thought is also looking at the possibility of taking a legal action against Oshiomhole as that will help in bettering his political image. There is no denying the fact that despite his loss in the recently conducted election that Ize-Iyamu millions of Edolites and other Nigerians that sympathize with him; not just for the loss, but for bad image which Oshiomhole mischievously and maliciously thrusted upon him in 2016 all in the name of electioneering campaign.
To those that have collective sympathy for Ize-Iyamu, the question they have continued to ask is "Can Public Relations Consultants shape a candidate's political image in such a way as to influence voters' preferences. As a journalist and public relations practitioner, the response of this writer to them has always been in the affirmative except that Nigerian politicians always think they can do it better than PR consultants. It was therefore not a surprise to many communication experts when the APC National leader, Ahmed Bola Tinubu embarked on a PR stunt through a video he released to the detriment of Obaseki's chance few days ahead of the election. The stunt eventually went awry as it was ill-timed and unprofessionally delivered on virtual space. To many PR experts and political pundits, the video did more harm than good to Ize-Iyamu's chance at the polls as everything about it was bereft of inputs derived from robust communication research.
To my view, apology from Oshiomhole to Ize-Iyamu will be futile as not few Nigerians are unanimous with the view that he had badly tarnished his image as a result of the unprintable names he called him in 2016, and which formed the basis of PDP's campaign messages in 2020. Without any iota of exaggeration, it is very glaring that he offended him, from whichever angle it is argued from. Still difficult to grasp with is that Ize-Iyamu was still persuaded by the same Oshiomhole that calumniated his person to leave the PDP, from where his destiny to become a governor ostensibly was. There is a strong public opinion since the election was conducted that he would have being the governor of the State today if not that Oshiomhole inadvisably talked him out from PDP. The reason given by those that share this view is that Obaseki could not have pitched his tent with PDP if Ize-Iyamu were to remain in the party.
Against the foregoing backdrop, the application of Public Relations techniques is indispensable in this context. PR, as it is aptly called, can be an extremely useful tool to overturn a negative image for an individual whose image was tarnished through irresponsible act or comment; either caused by him or by his traducers. In Western society, a not uncommon sight is one of a celebrity seeking public forgiveness through an appearance on a popular talk show or a one-to-one prime time interview. Perhaps the best example that can be cited from the past is that of US wrestling star, Hulk Hogan, who had his WWE contract terminated for allegedly making racial comments. On August 31, 2015 Hogan made a tearful appearance on ABC to beg for forgiveness and to state that he is not a racist. Proving that even the best PR strategy based on providing an honest and open apology might not always work, it took three years for his WWE contract to be renewed.
For companies or brands in the same situation, coming clean is also an essential part of the process if they want to truly generate public forgiveness and establish good will once again. The first step should be the company concerned admitting that it made a mistake or that something went wrong, as opposed to denying culpability or throwing the blame onto others. This approach can be seen in Volkswagen CEO Martin Winterport's video statement made on September 21, 2015, where he publicly apologized for the company's emissions scandal, considered to be the biggest in the company's 78-year history. The boss claimed that he didn't have the answers to all of the questions raised, but promised an in depth investigation. Numerous times in his speech he asked for forgiveness from customers all over the world and pleaded for people not to blame all of the company's 600,000 employees for this lapse. As it is today, it is difficult to tell if the apology has saved the fortunes of the company. It certainly did not save his own fortunes, as he was forced to resign just two days after the video was made.
However, to my personal view, Ize-Iyamu as a Pastor has a distinct advantage over unbelievers when it comes to facing decisions such as this. This is because he knows God. Not only does he know that his sovereign God has already planned the way that is best for him, he has infallible information about his priorities that will help him follow his plan. Ize-Iyamu has the inspired Word of God. I am optimistic that God will no doubt help him turn the table on his traducers.
Disclaimer:

"The views/contents expressed in this article are the sole responsibility of the author(s) and do not necessarily reflect those of The Nigerian Voice. The Nigerian Voice will not be responsible or liable for any inaccurate or incorrect statements contained in this article."
Articles by Isaac Asabor