First Wife, Laide Speak On Romance With Wole Soyinka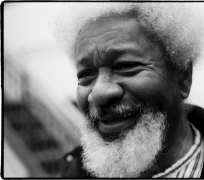 One thing that has not been written about Wole Soyinka is the woman/women in this life even a Lagos based newspaper that had advertised a story to celebrate his 70th birthday never published the story.
Wole Soyinka remains the first Blackman to receive the prestigious Nobel Laurel in this discipline.
"Don't ask me about Wole Soyinka," Laide Soyinka said with a note of finality. "I am not going to talk about Wole Soyinka. Or, am I Wole Soyinka? If you want a story about Wole Soyinkia, go to Wole Soyinka and interview him. As for me, no way! I am not going to say a word. I won't talk about Wole Soyinka."
She recalled her encounter with Dele Momodu (Publisher of Ovation magazine), who as an editor with Weekend Concord, Nigeria's highly successful first Saturday newspaper, cornered the lady for a world-exclusive interview. "Dele Momodu told me he wanted to do an interview on me as a woman of substance," said Chief Laide Soyinka, "but, he ended up doing such an elaborate thing on me and Wole Soyinka. No, I won't allow you do the same thing this time around. You won't get me like Dele Momodu did.
If you want to do a story on Wole Soyinka, go to Wole Soyinka and interview him. As for me, I am not ready and I am not going to talk about Wole Soyinka."
Ask her how she feels about the Nobel Laureate, and her response comes tumbling out with the speed of light. "Of course, I love him," she said. "How do you marry somebody you don't love? Indeed, I love him. I admire him. It was this affection between us that led to the marriage. How could I have married someone I don't admire?"
If there was one moment when Soyinka's elderly wife ever felt proud of her husband, it was when the famous professor received the celebrated Nobel Laurel award in Stockholm, Sweden, 1986, just when an equally famous Nigerian journalist, Dele Giwa, first Editor-In-Chief of Newswatch magazine, was bombed out of life through the infamous letter bomb. "That was the crowning glory of his literary achievements," said Chief (Mrs.) Laide Soyinka. "That was the international stamp of authority that he is the King of Literature in Africa, indeed, in the Black World."
She then traced the genesis of the romance between her and the Nobel Laureate to the good old days in the University College, Ibadan, UCI, where they met for the first time. "We met at the University College, Ibadan," she said. "I had been admitted to read Arts."
She explained that Professor Soyinka was a contemporary of the late Health Minister, Professor Olikoye Ransome-Kuti, both of whom were years ahead of her in the academia. She also related that her husband didn't finish his Bachelors programme at UCI, since the college had not been upgraded to the level of a full-fledged university at that time. "University College, Ibadan had facilities for intermediate and not full degree," she continued. "So, Wole didn't complete his full degree programme at Ibadan, he went over to Leeds to do that."
Along with academic pursuits, there was a flourish of romance at the premier university, where a good number of successful Nigerians met their spouses. For instance, she said, Professor Chinua Achebe got his heartthrob, Christiana, from the University College, Ibadan, just when Professor Wole Soyinka was wooing her. "Christy (Achebe) and I were colleagues at U.I.," she said. "We both resided at Queen Elizabeth Hall. Christy was a lovely girl, very pretty girl and my good friend.
"All the people who later became important in Nigeria had attended the University College, Ibadan at that time. One of such people is Gamaliel Onasode, who read Classics, and Emeka Anyaokwu, I think, he also read Classics. So, also did late (Chief) Bola Ige. At that time, Onasode was boyfriend to Bimpe (Aboyade). Although Onasode didn't end up marrying Bimpe because he dumped her for another girl from his hometown. It was later that late Professor Ojetunji Aboyade came. She found Professor Aboyade agreeable and got married to him.
"So, it was a community where the who's who in Nigeria today blossomed in romance of undergraduate days. There was also Emmanuel Ifeajuna, who was eventually killed in the coup affairs. His own girlfriend was Rose. There was this gentleman who was killed by Ogoni people, whose wife was a sister to Ken Saro-Wiwa's wife. He was Edward Kobani. He was fondly called Eddy. They were all there. Although, they were my seniors, they were my brother's colleagues, Olu Akaraogun. So, a whole lot of notable Nigerians picked their future partners from the University College, Ibadan. So, Wole and I were also caught in this fever of romance."
She noted that Professors Soyinka and the late Olikoye Ransome-Kuti were cousins and enjoyed some kind of intimate relationship, which rubbed off on the rapport, which their families enjoyed. "My grandchildren would call him Uncle Koye, because of the familiarity," she further revealed. "But, he didn't mind, although this would not be tolerated in Yoruba culture."
Wole's marriage to Laide was truncated by the former's incarceration, which put the onerous responsibility of keeping the home front on the shoulders of the latter. It was a tough time, though. There was a risky incident during the Nigerian civil war, when Chief Laide Soyinka had a close shave when she was involved in an encounter with a drunken soldier. Unknown to the errant soldier, Jimi Johnson, one of Wole Soyinka's loyalists was nearby, and he came to the rescue of the woman. "Do you want to kill her?" Johnson asked, daring the gun-trotting soldier. "Don't you know she is my master's wife?" Such was Jimi Johnson's loyalty to Wole Soyinka that he was easily recognised as a member of the Soyinka family.
When Soyinka picked a professorial job at the then University of Ife (now Obafemi Awolowo University, Ile-Ife), it fell on Laide's lot, once again, to take total care of the home front, and Professor Olumide Awe, Soyinka's school days' friend and colleague in Pyrates' Fraternity, remarked in his book: Before My Very Eyes, that the credit for Soyinka's phenomenal literary genius that earned him the Nobel Laurel should go to Laide who took the domestic burden totally off Wole's shoulders.
It is equally important to note that while Soyinka was conquering the literary world, Laide, his wife, took care of all Soyinka's children, an attribute which–in the eyes of close observers–won her the title of "Unsung Heroine."
Although Chief (Mrs.) Laide Soyinka was more into university administration than traditional affairs, she was adorned with the chieftaincy title of Iyalode of Omu-Ijebu. "It is an honour," she said. "Being adorned the Iyalode is an honour. After all, Iyalode is Oba Obirin (a female equivalent of a king.).
She mentioned that in this capacity, she is given the task of taking care of the female folks, representing them before the Oba, and taking care of developments in the town. Of course, she had been outstanding in contributing to the growth and progress of her people on the platform of Omu-Ijebu Community Development Council. More importantly, she had taken active interest in the affairs of indigenes of Omu-Ijebu while serving as Librarian to Ogun State University (now Olabisi Onabanjo University). "One took care of interests of natives from Omu-Ijebu, taking care of their admission and academic progress," she said. "It is the totality of these contributions that influenced the honour of traditional chieftaincy title." It would be recalled that Chief (Mrs.) Laide Soyinka served both University of Ibadan and Olabisi Onabanjo University for a total of 36 years.
By Omololu Kassim, The Spectator.