N16 Billion Scam In The House: PDP Split Over Bankole… Panics, Begs Obasanjo, Jonathan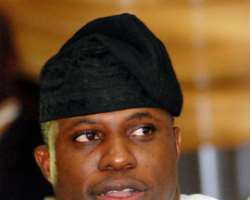 Dimeji Bankole
There are indications that the Peoples Democratic Party (PDP), is split over whether to hang out Speaker Dimeji Bankole, out to dry, or treat the over N16 Billion scandal hanging over his head and that of his principal officers as a' family affair'
According to our source, Bankole may be heading the Vincent Ogbulafor way after the latter was kicked out sequel to a N100 million scam hanging over his head. He is currently being prosecuted.
Bankole, his deputy, Usman Nafada, and some of their cronies in the House, have allegedly misappropriated N5.2 Billion rural electrification cash, N2 Billion on purchase of cars, and another N9Billion capital project vote.
EFCC sources hinted last night that there are issues of double taxation in the purchase of the cars, and that the profit of N500 million made from the purchase was paid into the Deputy Speakers account. While Bankole got N200 million as his share, Nafada, principal officers and others shared N300 million.
Pointblanknews.com also learnt that Bankole who is fighting the biggest political battle of his life, and  is in a panic, has reached out to President Goodluck Jonathan, party chairman, Okwesileze Nwodo, ex president Olusegun Obasanjo, and Senate President, David Mark, all in a last ditch effort to save his job, and possible prosecution. Pointblanknews.com also learnt that Bankole actually 'hijacked' Obasanjo at the airport.
The Speaker has also promised Obasanjo and others that he would ensure the suspension of the 12 legislators is reversed. However, a source privy to last  night's meeting with Obasanjo hinted that the ex president told him in plain language that he would not be able to help him. "That was why none of them said anything after the airport meeting" said the source.
It was learnt however that while  Senate President, David Mark, and some PDP top shots want the scandal treated as a family affair, the Dino Melaye led progressives and some powerful forces within the party are insisting that EFCC gets to the root, and that Bankole be sacked an prosecuted.
A source close to the progressives said last night " we are not backing off. The party intervened, but we told them reversing the suspension would not be enough. Bankole has robbed the nation blind. He must be removed, and prosecuted"
Bankole's last night's meeting with Obasanjo, it was learnt, yielded no fruit, as he is not in the ex president's good book. Also Obasanjo is very unhappy with him for disrespecting, and not consulting with  Ogun State Governor, Gbenga Daniel .
Sources hinted that interim findings by the EFCC points to the fact that Bankole, and his deputy, Usman Nafada soiled their hands in how the N9 Billion capital project votes wa spent, and how the house spent N2 Billion to purchase 380 Peugeot cars. Bankole also allegedly spent N400 million to purchase 4 Range Rover cars and 3 Mercedes Benz S class for his exclusive use. . He also bought LCD 40 TV sets for each member at N530,000 per unit.
Said our source"  the EFCC is working on the N9 Billion petition, from the direction of things, it is clear most of the invoices were inflated. The price of the cars were definitely inflated. But we have to dig deep to ascertain who got what.
Pointblanknews.com also gathered that Bankole has promised to increase the quarterly allowance of his colleagues 100 per cent if they stand by him while the battle lasts.
The truce meeting called by the PDP has not yielded any fruits because those disposed to sacking Bankole and dragging him to court, are insisting the party may not  be able to make the allegations go away, just like it happened with ex chairman, Vincent Ogbulafor.