Shameless Anambra Royal Renegades Caught Sharing Bribe Money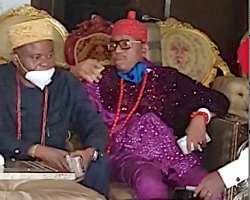 Oh Dear, Prince Arthur Eze, What Have You Turned Anambra Traditional Rulers Into?
This is a sad moment. Igbo billionaire, Prince Arthur Eze, has shown that he has no regards for Igbo revered traditional institutions.
Using his long time ally, Prince Austin Ndigwe, also known as Uzu Awka, the self-anointed traditional ruler of Awka, seen in the video distributing Arthur's bribe money to shameless Anambra traditional rulers recruited for the failed attempt to meet with President Muhammadu Buhari.
Prince Arthur Eze allegedly released N250,000 each to the thirteen Igwes for their transport to Abuja with promise of N2million in Abuja but the notorious Uzu Awka shortchanged them and gave each N200,000 instead and ducked from the trip. Following the botched trip, Arthur Eze reneged on his promise of N2million per traditional ruler and gave the twelve royal renegades N500,000 each.
Some of the shameless 13 traditional rulers that could be identified or heard in the video are Igwe Mbakwe of Abacha, Igwe Alor, Igwe Nawfia, Igwe Ezira, Igwe Ikenga, Igwe Ezinifite, Igwe Igbariam, Igwe Umumbo, Igwe Owelle, Igwe Ukwulu, Igwe Eziaguluotu Aguleri, Igwe Mkpu Nando Aguleri and Igwe Ifitedunu.
Alùù méĺu!