The August-September Nonviolent Revolution: Civil Rights Lawyer Femi Falana Let us find out who involuntarily Shaved a Peaceful Protester's Hair Like a Slave?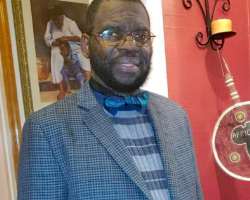 Prof. John Egbeazien Oshodi
Nigeria a young but highly troubled nation can only preserve itself democratically by continuously listening to hard questions from citizens who in exercising their lawful rights, are speaking out loudly against the unfair conditions currently happening across the country.
To psychologically theorize Nigeria from the point of 'turning around', we all saw what I call the August-September Nonviolent Revolution in full display in the last 24 hours.
The RevolutionNow Protesters, had a choice between using violence, such as injuring, wounding or killing people, or using non-violence, such as peacefully marching, singing or obstructing traffic, as the world saw they chose nonviolent direct actions like peaceful demonstrations.
Clearly, the protesters shunned physical violence, which is physical harm to someone or to officials, and they even stayed away from psychological violence which can be manifested through falsehoods, manipulation, or threats.
Yet, the government using the police, military, and other security operatives brutalized protesters by way of whippings, beatings, kicking and jailing, and in the most dehumanizing way a protester was treated like a physical slave.
During the historical slave trade especially in Nigeria, in the 15th century in particular, before Africans were being sold as slaves, Europeans were known to involuntarily shave the hair of captured Africans for one main reason, to dehumanize them and alter their sense of self choice.
Like the brutalizing ways of slavery, one of the peaceful protesters, Damilare Adenola, in his own words was forced to prostrate on the floor by violent officials. At which time one of officials pulled out a knife while another used a broken bottle to shave off his dreadlocks and hair, and badly bruised his back.
Like the European type slavery, the victim was reportedly flogged with iron rod, chained, and kicked to the ground. To fully discriminate and humiliate him the security agents dehumanized him for wearing "brown hair' like woman.
Mr. Femi Falana, there is need to let President Muhammadu Buhari know about this, because there is no way he would have agreed to the enslavement of a protester by way of chaining, whipping, beating and forceful cutting of his hair.
The Buhari administration in an extreme but in an understandable way could have deployed police, security and military personnel for patrol and cautionary purposes but meting out some of the known horrors of slavery could not have been sanctioned by the Buhari administration.
As I write this the picture of the involuntary hair shaving of a peaceful protester with a broken bottle has flooded the internet, as such the officer or officers involved in this slavery act, needs to be identified for prosecution on the ground of human rights or enslavement violations.
This protest which I now call the August-September Nonviolent Revolution, is a human right calling for steady accountability and good governance on the part of the Buhari administration. To use all sorts of excessive force on protesters is not only unlawful but out right catastrophic physically, psychologically, and traumatically, especially to the young man who was treated like a slave.
We now leave in a world of social media and this current protest remains anchored on justice, policy and integrity-based civil disobedience campaign as it focuses on calls for good/fair policies, equal justice and reducing oppression in the hands of the government.
One thing that is a reality, is that peaceful demonstrations will continue and responding with escalating force such as beatings and other brutalizing acts doesn't work, instead may result to violent clashes between police and protesters, as such it is essential to give training in good policing of peaceful demonstration as the world is watching Nigeria.
Prof John Egbeazien Oshodi, is a Forensic/Clinical/Legal Psychologist and the President of the Dr John Egbeazien Oshodi Foundation (JEOF), a community and Online based psychology, forensic and behavioral Center. [email protected]
Disclaimer:

"The views/contents expressed in this article are the sole responsibility of the author(s) and do not necessarily reflect those of The Nigerian Voice. The Nigerian Voice will not be responsible or liable for any inaccurate or incorrect statements contained in this article."