Those Who Will Die Mysteriously In Cross River State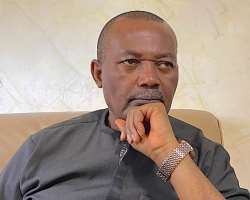 The unfolding leadership crisis as a result of maladministration in Cross River has taken a dangerous dimension as cannons of threats to life have been unleashed to the critics of the government. One wonders if the saying that facts are threatening to those invested in mischief, afterwards they become afraid of their shadows and begin to invoke harm on others.
Politics in Cross Rivers State has plunged to an all-time low with witch-hunters, necromancers, spiritualists and apostles of Mystique death. Navigating/directing affairs of decent and normal people of the state.
It was an abominable tale in a recent meeting at one of Cross River's present government leader. The venue of the meeting was at his palatial home located at Mississippi Street in the high brow area of Maitama, Abuja. It was a meeting that was perceived to reconcile warring factions and individuals involved in unending governance crisis bedeviling politicians from the state. National Assembly members and other prominent politicians from Cross River State were in attendance. As the meeting progressed, it was the turn of a party leader to speak. The leader who has recently come under fierce criticisms by concerned citizens of the state for misdirecting the affairs of the state began to dance on the graves of the dead. He warned the gathering: "there is a special grace of God upon my life and all through my life, whoever fights me, dies mysteriously or something terrible happens to that person. One example is late Hon. Paul Adah", he concluded his threat. It is abominable of an African dancing on the grave of the dead no matter the circumstances.
Reminding us of the reality of the world we live in, William Shakespeare stated that "all the world's a stage, and all the men and women merely players: they have their exits and their entrances; and one man in his time plays many parts, his acts being seven ages".
Educating the politician further, Citizen Agba Jalingo said "The grace of God is not the exclusive preserve of anyone. It is a monumental dilemma for any mortal to assume that God who is as gracious as we know, has retired from be-gracing others. Rather, it is that messianic mentality that carries the seed of destruction within and let him who thinks he stands, take heed, lest he falls.."
When two national football teams in Africa line up to play a game, the players in both sides join hands to pray for victory. At the end of 90minutes, God alone knows which of the team he will favour.
The people of Cross River have taken the mysterious death threat further to include all the people in authority in the state that manipulate Federal Government allocation to the state, IGR, Security vote of N500 million monthly, raising false vouchers, fake consultancy fees and siphoning the common wealth of the state into private bank accounts, within and outside the country.
Mysterious death in Cross River should also visit all those manipulating the criminal justice system to exculpate cultists, hire assassins, armed robbers and all their agents.
In the same spirit, all those that have expropriated peoples lands, destroyed economic trees and farms in the facade of a non-existent supper high way will be confronted by mysterious death.
All those manipulating and conspiring with the security agents to torture perceived enemies of the government who are concerned citizens of Cross River State crying out for justice, accountability, good governance and fair play will fall into the waiting arms of mysterious death.
Those who are siphoning the royalties of Etung cocoa landlords and all those that repudiated the 70% landlord and 30% others cocoa allocation judgement and afterwards, allocating cocoa farms to their cronies will receive the judgement of mysterious death.
All those that have scammed Cross River State with about 15 projects since 2015 and keep yearly review of the completion cost upwards with over 70% while the projects have not attained 45% completion in collaboration with other conspirators against the people of the state will definitely meet mysterious death.
All those who claimed that there was no Covid -19 in Cross River and went behind to seek approval of N.9 Billion from Local government funds and cannot account for N1 Billion NDDC and have presently received approval for N2 Billion overdraft from First Bank to fight Covid -19 will embrace the politician's wish of mysterious death.
Those who deliberately concealed the existence of covid -19 in Cross River, thereby intentionally causing the death of many people in the state will die mysteriously.
Those who are trying to force the newly elected council chairmen to sign blank vouchers/cheques as well as those who rushed to television houses yesterday to advertise the Obudu Ranch that is presently a shadow of itself in order to create false impression to the public will die mysteriously.
People that have suffered unjust incarceration, tortured by security agents supported by the government for speaking out against kleptocracy, injustice, impunity and mismanagement will not die mysteriously but will live to attend the funerals of all those against the people of Cross River State.