Nass Illegal Order Of Stopage Of The Recruitment Of 774, 000 Nigerians Is Legislative Rascality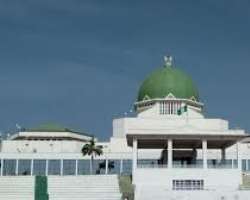 A civil society organization, the Committee for the Protection of Peoples Mandate (CPPM) has condemned in strong terms the illegal, unconstitutional, provocative, reckless and undemocratic order of the National Assembly directing the stoppage of the Federal government programme on the recruitment of 773, 000 Nigerians across the 773 local government council areas of Nigeria.
The group described the illegal order emanating from the national assembly on the programme as a result of it's inability to influence the recruitment process for personal gain but which was stoutly resisted by the Honourable Minister of state for labour as legislative rascality which stands condemned in its entirety.
The group urged members of the National Assembly to seek education and information from the constitution on the duties and responsibilities of the 3 arms of government in a democracy which they have by this irresponsible and undemocratic action, displayed utter ignorance, greed and assault on the constitution and the collective of sensibilities of Nigerians.
The group notes with sadness and regret that the National Assembly which before now gained notoriety for budget padding prior to the emergence of the President Muhammadu Buhari administration has switched gear to slottism ( requesting for slots) for personal gains on any and every government programmes and projects which is rather unfortunate and sad.
The group called on Nigerians and all lovers of democracy to rise up against this unconstitutional and illegal order of the National Assembly which is an affront on the lofty ideals of the programme meant to cushion the economic weariness of poor Nigerians as a result of the economic downturn and which has been further exercerbated by the Covid-19 pandemic.
The Committee for the Protection of Peoples Mandate (CPPM) also called on the leadership and members of the National Assembly to immediately withdraw the illegal order and tender an unreserved apology to Nigerians for the desecration of the hallowed chambers of law making by their undemocratic, unconstitutional, reckless, provocative and legislative rascality order.
The group (CPPM) however commended and saluted the courage and patriotism of the honourable Minister of state for labour for resisting the arm twisting and blackmail tactics for personal interest at the expense our collective good by members of the National Assembly committee.
God bless the Federal Republic of Nigeria.
Thanks.
Yours Sincerely,
Signed.
Nelson Ekujumi,
Executive Chairman.