Borno Purchases 50 Commuter Buses, Orders For Supply of 500 Taxi Cabs For Town Service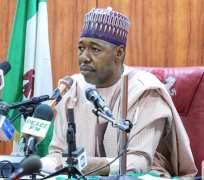 The Borno State Commissioner of Transport, Alhaji Abubakar Tijjani, has said that Govenror Babagama Umara Zulum has said that Borno Government has purchased 50 buses to boost the capacity of Borno Express Transport Corporation towards cushioning transportation problem of the borno populace.
He added that the state government concluded arrangement with a South Korean company for the delivery of 500 taxi cabs to ease transportation problem within the state capital, Maiduguri city especially along major roads within the Metropolis.
Tijani who made this known at a press briefing Friday held at the Multi purpose hall of the Government House Maiduguri said 10 of the 50 buses are 51 seaters buses that would be used for intra-city shuttling to ease residents of Maiduguri Metropolis transportation problem.
According to him, if not for the COVID-19 pandemic , the cabs could have been delivered since but noted that already, the 50 buses purchased by the state government have been delivered and are in stock in Maiduguri.
He added that the ministry has established Borno State Traffic Management Agency that will create job opportunities for the youths and sanitise the state traffic system.
Similarly, the commissioner said the ministry was carrying out rehabilitation work of Maiduguri trailer park at NJimtilo with a view to restrict heavy vehicles from entering the town.
He disclosed also that the ministry has commenced biometric data capturing rof tricycle riders popularly known as Keke NAPEP to regularise their operations and flush out criminals among them.
Earlier in his press briefing, the State Commissioner of Works, Architect Yerima Sale Kida, said over 225 kmroads and drainages projects were executed by the ministry within the first year, of Governor Zulum across the state.
He added that work on the multi billion naira first of it's kind in the north east curve i flyover project at the Maiduguri town customs area was suspended because of COVID-19, lockdown order but work has now resumed in full force with hope of completing the project in the next 12 months.
Yerima also said that the Works Ministry has further constructed roads and drainages in Biu, Askira/Uba, MMC, Jere and Konduga LGAs within the state capital Maiduguri including culvets and I we flow outlets or channels to control flooding in Damboa road area, Polo Jiddari area, Umurari area, Moromoro area, Bulumkutu, Gomari, Pompomari and Bola areas of Maiduguri along others.