Nigerian-canadian Journalist Wages War Against Anti-black, Racism, Discrimination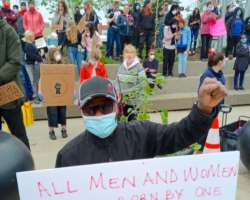 A Nigerian-Canadian journalist, Chief Olufemi Shodunke, has vowed to continue to wage war against anti-Black, racism, and other systemic discriminations not only in Canada but across the globe.
Shodunke, who is the Publisher of GatewayMailonline newspaper based in Canada, maintained that following the gruesome killing of the African-American man, 46-year-old George Floyd in US, the world has suddenly woken up to the menace of racism and systemic discrimination in the society.
The journalist stated this yesterday in an interview with our correspondent over the recent "Black lives matter" protest in Canada, particularly in Alberta Province where he participated.
Chief Femi Shodunke, with placard, on his left knee – a gesture to condemn the gruesome killing of Floyd in US – during the recent protest in Canada.
"Now the entire world has suddenly woken up to the realisation that there is racism and indeed systemic discrimination against blacks, minorities and indigenous people not only in Canada where I live, but across the world," Shodunke said.
"Indeed, the recently killing of Mr. George Floyd in US with huge protests that spread to other countries has exposed the eyes of everyone to this terrible situation in our society. The world cannot be the same against with these protests," he further said.
"And now is the best time for everyone to be involved, including me to wage war against any form of racism or discrimination anywhere across the globe," Shodunke maintained, adding: "We can no longer tolerate it, as all human beings are equal and we all should be so treated in any country we live."
It would be recalled that last May 25, Floyd, who was buried beside his mum last week in Houston, Texas, was killed in Powderhorn community of Minneapolis, Minnesota when he was handcuffed while lying face down during his arrest.
Derek Chauvin, a white American Minneapolis police officer, who is now facing second degree murder, knelt on the right side of the deceased's neck for eight minutes and 46 seconds until he died. His three fellow policemen have also been charged.
Shodunke, who is the immediate past President of Olumo Progressive Association Canada Inc., however, called on governments at various levels – federal, provincial and municipal – in Canada to urgently take necessary measures to protect the lives of blacks, immigrants and indigenous people in the country.
He urged Canada's Prime Minister Justin Trudeau to ensure that his Liberal Party-led government enact relevant legislations that will stamp out all forms of discriminations against anyone in the country.
Shodunke, who is also the National Public Relations Officer of Egba National Association USA and Canada, urged Nigeria's President Muhammadu Buhari to join the rest of the world in waging war against all forms of racism and systemic discrimination.
He maintained that with the current wave of protest against discrimination across the globe, Nigeria cannot be left behind, but that the country should be seen to be working hard and enacting laws against this pandemic.
The ENA image maker – a one-time Chairman of the Correspondents' Chapel of the Nigeria Union of Journalists, Ogun State Council and Baaroyin of Igbeinland – also pleaded with Nigeria's legislators in the National Assembly to enact legislations that will prevent discrimination against anyone in the country.
"It is going to be the right step in the right direction for members of the National Assembly in Nigeria to join in enacting legislations that will prevent all forms of discriminations in the country. Nigeria should join the rest of the world in this direction," the journalist further maintained.