Dr. Marilyn Amobi's Sack: Two Ministers Collide With Opposing Instructions On Removal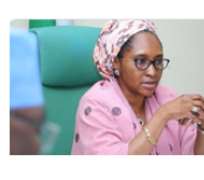 Two serving Ministers of President Buhari's Cabinet have issued conflicting instructions regarding the fate of the MD of NBET, Marilyn Amobi - While the minister of power announced immediate removal of the NBET MD, the Finance minister issued a letter asking her to serve out her term -
The Ministers separately claim that their opposing instructions were authorised by President Buhari.
According to Premium Times, the minister of power, Saleh Mamman, had earlier announced her removal "with immediate effect". Amobi's removal was announced days after Premium Times exposed her alleged violation of Nigeria's code of conduct for public officials.
According to the newspaper, Ms Amobi runs a private company named ESL Economics and Management Limited, and operates foreign bank account in the United Kingdom, despite being the MD of NBET. The power minister announced Amobi's removal in a statement on Monday evening, June 15, while Nnaemeka Eweluka, NBET's general counsel and secretary, was appointed as her replacement.
Confusion, however, set in also late Monday when the minister of finance, Zainab Ahmed, issued another letter instructing Amobi to serve out her tenure which ends on Friday, July 24, 2020.
The two ministers separately claim their opposing instructions were authorised by President Muhamadu Buhari. Premium Times notes that President Buhari had earlier in a June 8 memo approved that Amobi serve out her tenure. The newspaper, however, sources in the Presidential Villa said President Buhari was angered by the report of Amobi's abuse of code of conduct and immediately ordered her removal.
Shortly after the power minister announced Amobi's removal, the finance ministry issued a letter asking the NBET MD to serve her term while attaching the June 8 memo earlier approved by Buhari.
The finance minister's letter also asked Amobi to hand over to Eweluka at the completion of her tenure in July. The main point of conflict is that while Mamman's instruction was that Amobi should hand over immediately, the finance minister's letter asked her to serve out her term.