A Wide Look Into Female Genital Mutilation In Nigeria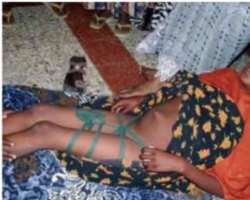 On the 6th of February 2019, the United Nations Children's Fund (UNICEF) once covered the story of Mary Oloiparuni who was 13 when she was mutilated. Restrained in a doorway early one morning in her home, she was circumcised, bled profusely and experienced tormenting pain.The scarring she endured then continues to cause her pain today, 19 years later. It has made giving birth to each of her five children an excruciating and harrowing experience. An apogee of female genital mutilation?
Dear readers, what if I tell you that female genital mutilation still spreads like an Australian wildfire? That this female genital mutilation also dubbed as female circumcision is still widely praticed guilelessly and hypocritically in this part of the world, Nigeria. What if I tell you that they don't know that it's a fundamental violation of the womanhood which is accounted for about 55% of the female right abuse all over the globe? Or maybe they are ingenuous that this deleterious circumcision can apparently create a pathway for infectious diseases to thrive into the female genitalia as well as other parts of the body? Today, it's becoming an prostrating problem in our society, that one in four Nigerian women between the ages of 15 and 49 years has experienced female genital mutilation, making the country number three in the world following Egypt and Ethiopia, the World Health Organization (WHO) estimated that some 19 million women in Nigeria have undergone FGM. Hence, Adijat, Amina and Ajoke and other three million girls in Africa are at risk of being circumcised every year. Thousands of girls and women have been mutilated in Nigeria according to the WHO, having a overmastering quagmire in the South western part of the country.
Little did I know why the World Health Organisation also purported that female genital mutilation takes place in both urban and rural communities that it is a social norm transcending religion, geography, and socioeconomic statuses. They further averred that the habitude is mostly prevalent in the southwestern (Yoruba-speaking region) and southeastern (Igbo-speaking region) parts of Nigeria at 47.5 percent and 49 percent of women cut, respectively. Seemingly, Osun state ranks first as the state with highest chronicity pratice with 76.6%, followed by Ebonyi state with 74.2 %. So now, you tell if this worth an emergency exigency approach? It's overwhelming on the nation, and demanding the cause for a holistic review. Thereupon, this article shall focus on the implication of female genital mutilation in Nigeria and measures that can be taken against it popular expansion.
The World Health Organisation aptly defines female genital mutilation as all procedures which involve partial or total removal of the external female genitalia and/or injury to the female genital organs, whether for cultural or any other non-therapeutic reasons. It's appertained as an unhealthy traditional custom compelled on girls and women worldwide, while it's also widely recognized as a violation of human rights, which is deeply rooted in cultural beliefs and perceptions over decades and crude generation.
Tailing and dogging the origin of female circumcision in Nigeria, reliable evidence showed that genital mutilation most likely occur in Nigeria during childhood. The major exception is when women in certain ethnic groups undergo. The Guardian averred that many girls are circumcised as infants, that 16% of girls aged 0 to 14 undergo mutilations before their first birthday and most women (82%) aged 15 to 49 who have had genital mutilation state that they were circumcised before the age of five, a procedure which is regularly carried out using various types of unsterilized instruments which include special knives, scissors, scapels, and pieces of glass or razor blades. Typically, it's carried out by an elderly woman or midwives of the village who has been specially assigned to the role of this circumcision. Seemingly, paste mixtures made of herbs, cow dung, hot ashes, barks and roots of trees or other mixtures are rubbed on the wound to stop the resultant bleeding.
This crude practice is a tradition whose origin cannot be concluded. The mode has putatively been sustained for different reasons, including the stated need to maintain virginity, protect against barrenness, as a rite of passage, to follow social norms and for economic value. Also according to a foremost Yoruba journal research, they opined female circumcision as an imperative initiation routine of young girls into womanhood or to ensure virginity and curb promiscuity. In addition, to some people, female circumcision remains prevalent in many communities as a mark of superiority, that it is a matter of pride to be able to pass down the tradition across generations. More intriguingly, some culture also believe that people who have not been circumcised will be glued with stigma by the people of the community. Some communities believe a baby will not survive if its head touches the mother's clitoris. In a detailed research made by the Institute of World Current Affairs(ICWA), they found out that some patriarchy cultures are stuck with believe that the need to control a woman's sexuality and pleasure, is principally responsible for the practice of female genital mutilation. That If a girl is cut, she is believed to be less promiscuous and more suitable for marriage. A woman who has been cut is presumed more likely to remain faithful to her husband.
While we have delved into the origin and the reasons for female genital mutilation by traditions. It's thus necessary to look into the types of female genital mutilation, according to WHO and Annals of Medical and Health Science Research, it classified FGM practiced in Nigeria into four types as follows. Clitoridectomy or Type I (the least severe form of the practice); involving the removal of the prepuce or the hood of the clitoris and all or part of the clitoris. In Nigeria, this usually involves excision of only a part of the clitoris. The second is Type II or "sunna" is a more severe practice that involves the removal of the clitoris along with partial or total excision of the labia minora. Type I and Type II are more widespread but less harmful compared to Type III. Also, Type III (infibulation) is the most severe form of FGM. It involves the removal of the clitoris, the labia minora and adjacent medial part of the labia majora and the stitching of the vaginal orifice, leaving an opening of the size of a pin head to allow for menstrual flow or urine. Type IV or other unclassified types recognized by include introcision and gishiri cuts, pricking, piercing, or incision of the clitoris and/or labia, scraping and/or cutting of the vagina (angrya cuts), stretching the clitoris and/or labia, cauterization, the introduction of corrosive substances and herbs in the vagina, and other forms.
Withal, according to Demographic and Health Survey 2013, the most common type of FGM in Nigeria is Type II with 62.6% of women who undergo FGM experiencing this type.Type I is experienced by 5.8% of women who undergo FGM, and Type III is experienced by 5.3% of women who undergo FGM. Angurya cuts are performed on 24.9% and gishiri cuts on 5.1% of women who experience other or unclassified types of FGM. Among girls aged 0 to 14 who undergo FGM, 2.7% are sewn closed.
Pathetically, the practice of female circumcision has variant weighty consequence on the physical, psychological, sexual and reproductive health of women, severely deteriorating their current and future quality of life. Some of it immediate complications include severe aches, shock, haemorrhage, urinary complications, injury to adjacent tissue and even death. It also has the ability to inflict secondary infections resulting from microbial pathogens. Topping, reported some microbial infections associated with female circumcision such as STIs, reproductive tract infection, pelvic inflammatory diseases and chronic urinary tract infection as the procedure is often done in unsterile conditions using instruments that are shared between victims. Equivalently, WHO asserted that female circumcision increases some other health risks to women and girls and is unacceptable from a human rights and health perspective.
While in general there is an increased risk of adverse health outcomes with increased severity of genital mutilations, a more reason why we should be against to all forms of genital mutilations and female health oppression. It's observed through medical research that some genital mutilation victims also encounter painful urination and menstrual cycles from suturing the vagina, leaving only a tiny hole for the passage of urine and blood.
In the findings of Journal of Bacteriology and Infectious Diseases (2018), it reported that female circumcision has been reportedly linked lead to increased risk of acquiring sexually transmitted infections (STIs) and complications of pelvic inflammatory diseases (PID), that STIs are an important public health problem worldwide as the global incidence of STIs is estimated by the WHO to begin excess of 125 million per year, mainly affecting developing countries. A document finding also reported that African countries demonstrated the most seroprevalence of chlamydial antibodies ranging from 8 to 91% with the highest occurrence of Neisseria gonnorrhoeae and Chlamydia trachomatis as the causative agents in most of sub-Saharan Africa.
Furthermore, ICWA affirmed that this provoking practice contributes to maternal mortality and fistula (a hole between the vagina and rectum or bladder that causes uncontrollable discharge of urine or feces) as a result of complications during childbirth, including heavy bleeding. That's especially true for pregnant women who go into premature labor at seven or eight months when the practice contributes to maternal mortality and fistula (a hole between the vagina and rectum or bladder that causes uncontrollable discharge of urine or feces) as a result of complications during childbirth, including heavy bleeding. That's especially true for pregnant women who go into premature labor at seven or eight months when their wounds from genital mutilations haven't yet healed.
Other health implications according to the Annals of Medical health science research inclined that the mental and psychological agony attached with female circumcision is deemed the most serious complication because the problem does not manifest outwardly for help to be offered. The young girl is in constant fear of the procedure and after the ritual she dreads sex because of anticipated pain and dreads childbirth because of complications caused by genital mutilations. Similarly, evidence also supports over the years that female circumcision does irreparable harm to the female reproductive organ and health as a whole which can result to death through severe bleeding, pain and trauma as well as overwhelming infections. It has dangerous health implications because of the unsanitary conditions in which it is generally practiced.
Conclusively, the female genital mutilation is a wicked and old tradition that needs to be abolished and eradicated. It's obvious that female circumcision is criminal act in Nigeria, and that the Nigeria government has been fighting tooth and nail to punch down it influence. Ostensively, In 2015, the former President Goodluck Jonathan enacted a law called the Violence Against Persons Prohibition (VAPP) Act, which was made to eliminate female genital mutilation as well as all other forms of gender-based violence. The VAPP Act also criminalises and punishes those who perform, procure, aid the dirty habit.
Today, female genital mutilation is acknowledged as a form of oppression towards innocent women and girls, but in reality, many value the tradition. Prior to the legislation's passage, Osun state and the federal capital territory are the leading places that had outlawed the practice. Also, as suggested by many surveiling bodies that there's a consistent need for enforcing legislation in Nigeria with health education and female emancipation in the society. Day to day awareness and sensitization must be opened to the public ears about the dangers indulged in this practice, by fostering an effective and diverse media campaigns, reaching out to various regions and sections of society, from the religion space to the community space. Government also needs to enforce a law needs to directly address, criminalise and punish the performance of female genital mutilation by it ossified practitioners. Government, parents and stakeholders, human rights activists must also collaborate together by reporting cases and helping out the victimized individuals, by this we can ensure a free society from genital mutilation of our girls.
Ogungbile Emmanuel Oludotun writes from University of Ibadan
Disclaimer:

"The views expressed on this site are those of the contributors or columnists, and do not necessarily reflect TheNigerianVoice's position. TheNigerianVoice will not be responsible or liable for any inaccurate or incorrect statements in the contributions or columns here."