Madumere Salutes Nigerians on Democracy Day, Calls for patience, Says All Is not Lost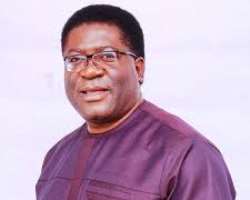 The former Deputy Governor opf Imo State, Prince Eze Madumere has congratulated Nigerians on the occasion of twenty years of Democratic governance.
Prince Madumere's thoughts were expressed in a statement by his Special Adviser on Media, Uche Onwuchekwa.
The Ex deputy Governor salutes President Mohammadu Buhari for having shown he is a democrat, while observing that this year's celebration is marred by the ravaging covid – 19 pandemic.
He insisted that the worst democratic rule is still better than the best military rule. He however observed that Nigeria has made some progress but was quick to say that it is at a snail speed.
Prince Madumere believed that Democracy has further given room for participatory government where the people directly or indirectly participate in the process of governance.
He further called on politicians to be conscious of the fact that the people are the sovereign in democracy, reminding them to seek to know the minds and pulse of the people they govern.
On electoral system, the former deputy governor observed that Nigeria's electoral system is marred with a lot of misgivings with failure of everything that have been put in place for conduct of free and fair elections.
The statement reads parts: "As Nigeria celebrates her 21stDemocracy Day, His Excellency, former Deputy Governor of Imo State, Prince Eze Madumere heartily salute Nigerians.
"The efforts of our heroes' past have not been in vain and of course, Prince Madumere salutes everyone who made one sacrifice or the other towards achieving democratic governance in Nigeria. All hope is not lost as we have continued to live together despite the daunting challenges that have continued to threaten the country as one indivisible entity.
"The former Deputy Governor will not fail to congratulate President Mohammadu Buhari for having conducted himself as a true democrat and indeed as a servant-leader.
" Our President's courage to calm frayed nerves of Nigerians who fought so hard to enthrone democratic governance, must be commended. Recognising June 12 as Democracy Day in memory of Late Chief Moshood Abiola was a bold step indeed.
"It is a truism that most things are not right ranging from high levels of insecurity with Boko Haram terrorists, Bandits and other criminal elements running amok, maiming and snuffing out lives at will, we must be able to continue to strive to resolve these problems that have become endemic.
"One of the vital features of democracy is periodic election, whereby no one can continue to be in power beyond the constitutional period. It is either you are booted out for failure or you get re-elected.
"It is painful to observe that such a feature like periodic election has not been rightly optimized by the electorate because of misnomer in Nigeria's electoral system, where criminals in the broad daylight hound electoral officials, write results and they are declared winners of elections they lost".