Lessons From Odumueje's Travail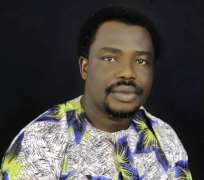 I am not against the Odumueje as a person. I am only against his ignorance culminating to his odoriferous arrogance which have made him shot himself on the foot in the hands of Arondizuogu and Awka.
This arrogance is somewhat innate in some persons and by extension entrinsically built by others. This behavior could be termed negatively pride, and some persons are wont to it.
Those with this trait, feel above life when they see themselves at a level they never expected. It could be academic certificate they got, car they bought, house they built, marriage they engage in and so many others.
I have had neighbours who turned bad of themselves and stopped greeting or reply my greeting just for the minute wealth they unexpectedly acquired. It could be land they sold... Just little thing they got.
I wouldn't know if this is a psychological problem. But I am cocksure that Odumueje, due to his garrison lifestyle, allowed himself to be carried away by infinitesimal extraterrestrial power he has. He became loquacious, uncouth, conk, twaddle and many other nincompoop's exhibitions. This shoddy behavior has today ditched him with the Arondizuogu and Awka people, who have exhibited before the Nigerian authorities.
He may be heading to the gulag or something worse. He may be falling from his self- acclaimed utopian height to something sinister. Well, his outing and perceived biting of the dust is a lesson that mankind should always be humble no matter what man or nature bestowed in our palms superseding those given to our neighbours.
©ODIMEGWU ONWUMERE
June 8 2020.
Disclaimer:

"The views/contents expressed in this article are the sole responsibility of

Odimegwu Onwumere

and do not necessarily reflect those of The Nigerian Voice. The Nigerian Voice will not be responsible or liable for any inaccurate or incorrect statements contained in this article."