Group Charged Imo House Of Assembly To Impeach Speaker Over Alleged Forged Certificates.
.... Threatens To Take Case To Court After 21 Days.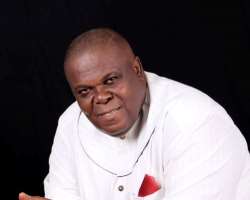 A non political pressure group in Imo State under the aegis, Leadership Africa & Integrity Initiatives has called on Imo State House of Assembly to impeach, the Speaker, Hon Chiji Collins for certificate forgery.
In a release communique made available to journalists, which was signed by the National Coordinator, Martin Duruji and the Secretary, Barrister John Paul Ikeme, the group alleged and claimed that the Imo Speaker, Rt Hon Chimezie Chijioke Collins, forged his degrees and certificates and had continued to cast a slur on the 9th Assembly of the Imo State House of Assembly.
According to them, the Speaker's Curriculum Vitae as submitted to the INEC, were allegedly forged.
They revealed that where he claimed to have been educated at Boys Secondary school Eziama ABA for the Senior Secondary School Certificate (WAEC) and the Instituto D'Arte Reggio Calabria, Italy, where he claimed to have obtained a Higher National Diploma (HND) in Ceramics in 1981 were all false.
They went further to debunk the Speaker's claim of obtaining a Master's and a Doctorate Degree (The Laurea di Dottore) in Architecture from the University Degli Studi Di Reggio Calabria in 1988. According to the communique, "In Italian higher education institutions, Laurea di Dottore is the equivalent of a bachelor's degree in the British University systems like Nigeria. This is comparable to the US, where the Doctor of Jurisprudence (JD) in Law is ordinarily a bachelor's degree, by British and Nigeria standards" , "Doctor of Philosophy (Ph.D) Degrees from Italian universities are designated as Dottorato Di Ricerca and not Laurea di Dottore as Chimezie Collins Chiji's has claimed"
"From our investigations, what the Speaker claimed is only the equivalent of a Bachelor's Degree"
"What is more is that the degree he claims as a Doctorate is even a forgery as Mr Chiji never attended any such institution in Italy. We have it on strong authority that Mr. Chiji simply visited Italy severally as a "Business Man" with fly-by-night offices and residence in Festac Town, Lagos. It is well known fact that his uncle, Mr. Gabriel Egwom took him to Italy as an apprentice businessman and not a student" they asserted.
"Our group has a problem with Mr. Chiji's doubtful claim of an exemption certificate from NYSC, which ostensibly was issued to him on the 22nd July, 1993. It is our strong contention that Mr. Chiji does not even qualify to take part in the NYSC programme, and must have mislaid the officials at NYSC to issue him an exemption certificate or he out rightly forged for himself. We call on the NYSC to look into the matter and affirm their issuance of the vexing exemption NYSC certificate or deny it outright publicly."
"We have it on strong authority that Mr. Chimezie Collins Chiji is a fraud who has consistently paraded falsehood/fakery, and therefore not qualified in anyway, or by any measure, to be elected to represent the good people of Isiala Mbano State constituency, let alone be the Speaker of Imo State House of Assembly."
"We call on Chimezie Collins Chiji to peacefully resign as member representing Isiala Mbano State constituency so that the people can elect a more a more credible person to represent them".
"We further call on the 9th Assembly of Imo State House of Assembly to immediately impeach, Mr Chiji should he fail to resign, on the grounds of parading forged certificates, -Bachelor's, Master's and Doctorate degrees and for failure to undertake the mandatory National Youth Service Programme".
"We want to note that where the Imo State House of Assembly fails to do the needful of removing Hon Chiji and thereby extricating themselves from the forgery and fraud he portends, we shall within twenty-one days seek legal action to remove him from office."
They posited that public officers should be squeaky clean, be above board and serve with integrity.