Efcc, Corruption And Restructioning: Matters Arising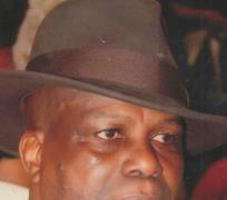 It is becoming increasingly obvious that many Nigerians, across the board, seem to be more interested in Socio-economic changes that positively impact on their lives, than they really are in regime change. Nigerians had, in their unique way, believed in the mantra of the ruling All Progressives Congress, APC, for 'Change' in the hope that once its predecessor, the People's Democratic Party, PDP, was pushed out of the way, there would be new styles in the way our country is run or administered. It was on this promise of 'Change' that we voted for APC, and by extension for the promises contained in its manifesto. We sincerely wanted, and still want, remarkable difference in service delivery and accountability, because we wanted to get rid of what many thought was bad style of governance. We wanted to exchange this for something that would give us a sense of pride.
But there was an obvious hindrance: deep-seated corruption in the system. Most Nigerians agree, and I am referring to both takers and givers of bribe, and identify with President Muhammadu Buhari when he said that "If we don't kill corruption, corruption will kill us". He knows, and we all know, that Nigeria as we know it, will be in serious trouble if we don't collectively give corruption a good fight. I can, therefore, say with little fear of contradiction that "WE, the citizens of Nigeria, made up of political parties, civil society and even the armed forces share the view that CORRUPTION is the ENEMY that we must kill before it kills us". And it must be added that the federal organ in the forefront of this war against corruption is the Economic and Financial Crimes Commission, EFCC. This body was initially established to investigate financial crimes such as Advance Fee Fraud, also known as 419 frauds, and money laundering. Established in 2003, partially in response to pressure from the Financial Action Task Force on Money Laundering (FATF), which named Nigeria as one of twenty-three countries that had remained largely reluctant to extend maximum cooperation to the global effort to fight money laundering. But has it fulfilled our expectations and anxieties? The agency has since included the following in its portfolio: Economic and Financial Crimes Commission Establishment act (2004) The Money Laundering Act 1995 The Money Laundering (Prohibition) act 2004 The Advance Fee Fraud and Other Fraud Related Offences Act 1995. The Failed Banks (Recovery of Debts) and Financial Malpractices in Banks Act 1994, The Banks and other Financial Institutions Act 1991, and the Miscellaneous Offences Act. Like a typical Army General would say: We need to know the enemy to enable us plan to achieve victory.
Does the above define the entire list of corruption index that must be dismantled or killed? How exactly do we define corruption? The non-controversial definition of corruption seems to be: dishonest or fraudulent conduct by those in power, typically involving bribery. Doing something that is totally morally depraved and taking advantage of one's official position in society to demand and accept monies or favours, or both for self-enrichment and encouraging a process by which a computer database or programme becomes debased by alteration or the introduction of errors. It might be necessary, at this juncture, to remind us that during his campaign for the Number One office in Nigeria, Muhammadu Buhari proclaimed the fight against corruption as the principal pillar of his administration, if elected. More than two years down the line, Buhari's public rhetoric which gave added pep and vitality to the EFCC, has not yielded much in terms of fruits. Instead, Mr. President's actions and reactions, when presented with rare opportunities to deal decisively with corruption and its perpetrators, fell awfully short of popular expectations. He was found painfully wanting when he needed to root out corrupt elements within his own government. It was discovered that his rhetoric has not been complemented by concrete action. His recent broadcast to the nation, after months of sojourn in the United Kingdom on medical tourism, substantially missed out on the growing agitation for Nigeria to be restructured. Instead, he pointed his finger in the direction of the National Assembly and the National Council of States as the appropriate organs to consider restructuring, if tabled for national discourse. In the broadcast, our president handled some very important national issues with levity and conspicuous un-seriousness.
In the case of Vice President Yemi Osinbajo, his views, as he stated recently, is that the administration has observed that corruption is seriously fighting back, despite the concerted effort against it. Our number two citizen even added, somewhat helplessly, that those who are supporting corruption in the land are very influential individuals. But our Vice President is hopeful that the Buhari administration is battling corruption steadily by empowering relevant agencies like the EFCC and others to do their jobs better. According to Laolu Akande, the spokesman for Vice President Yemi Osinbajo, it is necessary for Nigerians to imbibe a deeper understanding of the current debates on restructuring in the country.
However, to say that the constitution recognises a federal system of government already and that the Buhari government is truly committed to true federalism is the height of superficial position that feeds from the political rhetoric and ineffective arguments with which the current rulers constantly debase the growing popularity for total restructuring of Nigeria. A federal system of government is a political entity largely characterized by a union of partially self-governing states or regions under a central (federal) government. It is one that divides the powers of government between the national (federal) government and state and local governments. Under federalism, each level of government has sovereignty in some areas and shares powers in other areas. For example, both the federal and state governments have the power to tax. Usually a constitutional division of power is established between the national government, which exercises authority over the whole national territory, and provincial governments that exercise independent authority within their own spheres.
We have been fighting just the first set of the definition of corruption; that is, institutional corruption. We have refused to face and acknowledge that structural corruption also exists. We cannot kill corruption if we do not correct the errors that a succession of military regimes inflicted on Nigeria. We often pretend to be fighting corruption when the fake Federal system that we have been operating encourages corruption itself. The entire life-line of existence of our nation has been erroneously concentrated in Abuja. The present structure is not federated. It is fundamentally a corrupt concept of federation and it is weighing the polity and the efforts of EFCC down. The reason is simple: it was not set up to fight structural corruption. The reason why corruption is fighting back as observed by Vice President Osinbanjo is because EFCC was set up to fight institutional corruption. For too long we have been stuck in an elitist political rhetoric that has refused to look corruption in the face and remove it from our distorted present political structures. It is this refusal to truly create or construct structures that enables EFFC to do what it should be doing that has prevented our people to enjoy good governance.
The question that we must all ask ourselves today is whether we want Nigeria, the giant of Africa, to wake up from its long slumber or watch it slip into coma, because we are afraid of the real changes that we have all been asking for, irrespective of which government is in power. If we continue to limit the fight against corruption to just institutional corruption, and completely ignore the corrupted political structures which are clearly unitary in nature and form, we will loss the fight against corruption. We all know what corruption can do to us. Now that we understand why, in the words of Vice President Osinbajo ''corruption is fighting back'', and accept that we have since abandoned the federal system of government that our great founding fathers bequeathed to us. Then we are, in effect, saying that Zik, Awo and Bello were not politically sagacious and far-sighted as history says of them. We must, therefore, return to true federalism, which we inherited from them.
What other deeper debate do we need to embrace before we accept the inevitability of true federalism? Let us all, for the love of Nigeria, wage the war against corruption with sincerity and patriotism because Nigerians, truly, are sick and tired of the empty rhetoric and superficial arguments currently surrounding discussions on the political restructuring of Nigeria. We all know that the answer to most of our problems and the unity of this great nation depend on how soon we restructure. Those that are calling for restructuring are not looking for appointments, as some are arue, but are calling for Nigeria to be saved from itself. Those that called for and are still calling for state creation when we all know that the existing ones are not viable are exactly the ones looking for political appointments. Hate speeches, insults and irresponsible assertions from our youths in the north and south of the republic, are irreverent and unproductive in the quest for unity. Nigeria will remain a mere "geographical expression" if the country is not drawn back to the 1963 Constitutional Order.
That is why I keep saying at every forum that the foundation for our unity must be based on mutually agreed terms and conditions. Unity cannot be decreed. The unity of any nation is usually anchored on its constitution. It is not an agreement between two citizens, no matter how noble or honourable their intentions may be. Because the present federal structure is both corrupt and corrupting and promotes dependency, what we been practising in Nigeria, infact, is the corrupt mode of democratic governance or what I have described elsewhere as ''democratic dictatorship'' by the very class that got us into this unitary mess, in the first place – a political system that has helped in eroding our cultural values and debased our collective sense of purpose and direction. Those who got us into this mess now use our commonwealth to orchestrate the so called political parties where they pick what they call consensus candidates and impose them on us. As far as they are concerned, Nigeria is one ''big kill and divide elephant''. They move from one political party to the other at the opening of our political windows faster than footballers in the European League do.
Painfully, the manifestoes of all the political parties are interchangeable and convey the same message: how they will share the spoils of victory. The youths know that our commonwealth has been cornered by a few and as the country continues to suffer from economic and infrastructural decay, and our states continue to queue up in Abuja every month for federal handouts to enable them pay workers' salaries, lawlessness and corruption keeps spreading like wild fire. Aso Rock Villa sits there acting and behaving like a 'Father Christmas'. The former military head of state, and the first to become democratically elected President, Olusegun Obasanjo, got it perfectly right when he said that ''we all must restructure our mentality, we must restructure our mindset, and we must restructure our understanding of the dreams of the founding fathers of Nigeria''.
History still holds the Nigerian military responsible for disrupting our political education and for introducing a unitary form of government in Nigeria since August 1, 1966. We all make mistakes. Doctors, they say, bury their mistakes while Engineers are buried by their mistake. Nation building is more complex than the most complex engineering infrastructure. If you build without impact assessment, you must dismantle and build on a proper foundation. Since 1966, we have been building on a false foundation that was neither the intention of our founding fathers nor on the letters and spirit of our more acceptable 1963 constitution. Over the years, our leaders have continued to fail the nation, and it appears that the younger generation across the country as beginning to say: Enough is enough! Essentially, Nigeria is where it is today because the leadership and followership are not on the same page. It didn't start today, soon after the civil war, it became obvious that the public declaration of "No victor, no vanquished" was mere sloganeering and cheap propaganda. It was pushed out to the public without the slightest intention of promoting inclusiveness or returning the country to where it was on January 14, 1966.
It is important to add that by 1966, Nigerian politicians were still learning the democratic ropes when the military intervened and halted our political education, and subsequently helped to push Nigeria to the brinks. We are still struggling to come out of that quagmire. Today, there is little trust between the rulers and the governed, and there is no basic trust among the governing elite, even between governors and their deputies. The country continues to wobble and float. The recycling game continues as the ruling elite ensure that power is retained by them for themselves, for members of their families and friends. Honour, decency, accountability and obedience to constitutional order are thrown to the dogs, and, like I said, the country continues to float. Finally, if we must avoid the total disintegration of Nigeria, we must get this beautiful, but beleaguered country, back on the path of true federalism. Anything less would be unacceptable to majority of thinking Nigerians. So, let's begin the process now, because time is of essence, and history is watching how we handle this important assignment.
Engr. Ogbogoh, Comptroller-General (Rtd) of the Federal Fire Service wrote from Ogwashi-Ukwu, Delta State.
Disclaimer:

"The views/contents expressed in this article are the sole responsibility of the author(s) and do not necessarily reflect those of The Nigerian Voice. The Nigerian Voice will not be responsible or liable for any inaccurate or incorrect statements contained in this article."