Mrs Obiano Gives Palliative Support to 200 Families in Umuonyema Ogbunike.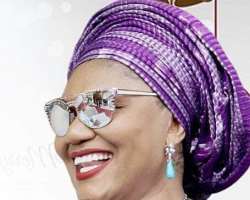 The wife of Governor of Anambra State, and founder of Caring Family Enhancement Initiative (CAFE), an NGO, Dr. (Mrs.) Ebelechukwu Obiano(Osodieme) has donated various food items as palliative support to two hundred families in Umuonyema kindred, Ifite village, Ogbunike in Oyi Local Government Area. This was aimed at cushioning the impact of the lockdown due to the Coronavirus pandemic.
The palliative support which included 210 bottles of 250ml hand sanitizers, 100 cartons of Noodles, 200 bags of rice, vegetable oil, tomato, salt, and onions were distributed to the beneficiaries on the evening of 2nd May 2020 at Ifite Ogbunike.
She commended the women and men for turning out wearing their face masks in compliance with Government directive on Covid-19, and urged them to continue to wash hands regularly and observe social distance to avoid contracting any trace the Coronavirus disease.
Speaking during the distribution of the palliative support, Dr. (Mrs) Obiano represented by the Deputy Chief Press Secretary to the Governor, Emeka Ozumba, told Umuonyema kindred that the food items and disinfectants are to be shared equally among two hundred families. Mrs. Obiano urged them to share the items peacefully without rancor and ensure that the Umuada and ndi Ichie are represented.
Earlier, Transition Chairman of Oyi Local Government Area, Engr. (Dr.) Nnamdi Nwadiogbu, welcomed and thanked the Wife of the Governor for remembering members of her kindred during this difficult period created by the Coronavirus pandemic. In the Chairman's words:
"We are very happy to receive your timely gift which will be very useful to the beneficiary families. We are not surprised to receive all these goodies because you have been supporting our people before now. I want to assure you that the distribution will be done peacefully."
Engr. Nwadiogbu commended the Governor of Anambra State, Chief Willie Obiano, whom he referred to as "our great inlaw" for the various road projects both completed and on-going, as well as the High Court project which he noted will transform both the lives and the wellbeing of ndi Ogbunike.
The Wife of the Governor has been providing succour to various groups and organisations during this period. Previous beneficiaries include Association of Persons Living with Sickle Cell Disorder and Persons Living with HIV/AIDS.