The Roots Of "The Anioma Igbo" People By Cheta Nwanze: The Missing Points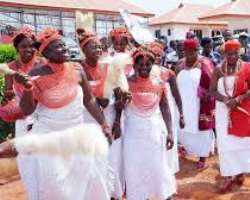 1st May 2020: Onicha Mmili, Eastern Nigeria.The account presented by Maazi Cheta Nwanze concerning the above subject, published by Elombah Reports on 28th April 2020 and Sundiata Reports on 29th April 2020 is seminally grounded and commendable; particularly the aspect that has to do with missionary, colonial and civil war times' happenings in 'Anioma Igbo' including psychological traumas, identity crises and feelings of inferiority complex suffered following the defeat during the war (Nigeria-Biafra Civil War of 1967-70).
However, there are few important areas where the facts he presented are either incomplete or wrong. Recent research findings have also confirmed that the scholarly works of Prof Elizabeth Alo Isichei on Igbo origin including her work of 1976 are either incomplete or not totally correct. But in social research, it is a grand rule that 'no matter how unacceptable a research may look before its target audience, it must surely contain some validity, points and generational values' and 'where one researcher and his or her research end, another begins'.
The Missing Points: Maazi Cheta Nwanze had held that the Igbo people came from different parts of what is today's Nigeria and settled in the area that they now call home.He had mentioned the 1976 work (A History Of Igbo People) of Prof Elizabeth Alo Isichei as his source. This is not totally correct. From ancient records backed by recent research findings, it is much more correct to say that the Igbo Nation has one origin but presently accommodates a fraction of micro-nationalistic non Igbo clans or entities (i.e. Esan Igbo, Ijaw Igbo, 'Igbonized People of Agbor-formerly Ominijes and Arochukwu-formerly Ibibios), just as there are several Igbo clans lost to other ethnic nationalities in Nigeria and beyond (i.e. Igbo people of Obiaruku in Nigeria and Igbo Peoples of Equatorial Guinea, Zambia and Sao Tome & Principe). This is similar to Igala Land, presently composed of mainstream or majority, as an offshoot of Igbo; and micro nationalistic others made up of non indigenous Igala nationalities.
Forgotten in Maazi Cheta Nwanze's seminal account is the famed politico-spiritual influence and role of Eze Nri and Eze Nri-in-Council, later described in 1498 AD by Portuguese visitors/diplomats as "Pre Christian Pagan Pontiff/Papacy"; the powerful influence which dated back beyond AD periods and wielded in ancient Igbo Land and beyond, covering the Ogiso (650-1150AD), pre imperial (1150-1440AD) and imperial (1440-1897)Ubini (Benin) dynasties and their periods; some parts of old Ife and Oyo Empire, Igala and Idoma; down to old Cross River areas. The politico-spiritual influence of Eze Nri played a key role in the founding and kingship of the 'Anioma Igbo' including the return and the kingship of 'Onicha Mmili' People. The Igbo People of 'Anioma stock' was anciently and commonly called "the Ofe (across) Mmili Igbo People" or "the Igbo Bi-N' Uzo" (outpost Igbo People).
Maazi Cheta Nwanze also said in his account as follows: these people, under their leader, Eze Chima, founded a number of towns along the way — Ọnicha Ugbo, Ọnicha Ọlọna, Issele Uku, Issele Azagba… This account is most likely to be historically and factually incorrect, even if contained in or referenced from the work of erudite Prof Elizabeth Alo Isichei.
Again, ancient records in Igbo hinterland (the seat of ancient Igbo kingship, customs and traditions) backed by recent research findings have clearly indicated that there were olden time migrations, settlements and re-settlements within and beyond Igbo Land propelled by the famed politico-spiritual influence of Eze Nri and Eze-Nri-in-Council. There were the Agwu Inobia clan migration to then Ibibio Land in 17th century or before then; the migration by the Ebonka generations to now Agbor and his crowning as "Dein of Agbor" in 1270AD; the migration by the Eze Chima generations from Igbo Land to Ubini and back to Igbo Land and his crowning as first 'Obi of Onicha Mmili' in 1500 AD (he reigned from 1500AD to 1507AD); and the 'Onoja Nwa Oboli' earliest migration to present Igala Land projected around 1400 BC and the institution of the throne of 'Eze Igala' in around 900BC, later changed to "Attah Igala", etc.
must be further informed that ancient Igbo generations led by powerful oracle priests, trade merchants, warriors, wise men and Nri agents, etc left Igbo Land and migrated to far places and settled. As far back as 1600AD, for instance, Chekwas Okorie disclosed in August 2017 in Enugu that "Igbo people migrated to Gusau in now Zamfara State as far back as in 1600AD" and "as at the year 2000 when Fulani People were marking 200 years of their Jihadist incursion into the Northern Nigeria, the Igbo People of Gusau had marked 400 years of their migration into the area".

Except the lost Igbo clans, others including 'Anioma Igbo' existed under the politico-spiritual influence of Eze Nri and Eze Nri-in-Council who had the prerogative in the areas of communal naming, institution of kingship (Okwa Eze), principal deities (including market deities), Igbo four market days, issuance of mystical or spiritual staff of office (offo) and admission of communal principal figures (i.e. Ezes chosen by 'perfect spirits' and oracles) into 'Nze-na-Ozo' noble societies, 'Igu Aro' or proclamation of new indigenous calendar year and cleansing of taboos and abominations, etc.

In olden day Igbo Land, granting of 'Eze stool' or 'Okwa Eze' to aspiring communities was sparingly done with stiff conditions, which was why out of between 150-200 Igbo communities then, only 66-69 had lineage of direct kingship or 'Okwa Eze', with others allowed to operate indirect or titular kingship, pending their qualification for direct kingships. The Eze Nri's policy in this regard was called "Eze Ofu Ana" policy. It was exclusively exercised by Eze Nri and his Eze Nri-in-Council, and was much later jointly handled by Eze Nri and Eze Aro, strictly for communal offshoots of the Aro Nation. For instance, in 1800s, both of them stopped Chief Okoli Ijeoma (1815-1892), a wealthy slave merchant from the Igbo hinterland of Ndikelionwu from becoming the 'Eze Aro' of his community.

Therefore, for the fact that "Onicha" was added to the names of some "Igbo-Bi-N' Uzo" or "Igbo Ofe Mmili" People, now called 'Anioma Igbo' communities did not mean they were founded by the Eze Chima clan of the 'Onicha Mmili' People. The word "Onicha" is a common compound name in Igbo Land with common meaning. "Onicha" People simply mean 'people residing or living or settling by the side or corner of an area or road or river'. Today, there are 'Onicha Mbaise' and 'Onicha LGA' of Ebonyi State. There is also 'Onicha' in Abia State, to mention but a few. Are those mentioned "Onichas" of Igbo hinterlands also founded the "Eze Chima lineage"?

'Onicha Mmili People' is four names joined together: "People settling or living by river bank, or corner, or side of same". It was a name given to them by the then Eze Nri and his Eze Nri-in-Council, upon their return back from Ubini. The Eze Nri also admitted Eze Chima into the prestigious Nze-na-Ozo title society and later issued him with first mystical or spiritual staff of office (Offo) as the first Obi of Onicha Mmili. It is recorded in both Nri and Onicha Mmili histories that the issuance of staff of office to every new Obi of Onicha Mmili by the Eze Nri continued till as recently as in 1962 when a selection crisis erupted between JJ Enwezor and later Obi or Eze Onyejekwe. The then Eze Nri was Eze Nri Tabaansi Udene.

Research records contained in the works of Prof Mike Angulu Onwuejeogwu, an erudite scholar from Igbo Ofe Mmili ('Anioma' Igbo) have also disproved the account of Maazi Cheta Nwanze, to the effect that the Eze Chima clan or people under his leadership founded a number of towns along the way — Ọnicha Ugbo, Ọnicha Ọlọna, Issele Uku, Issele Azagba.

A good number of 'Igbo Ofe Mmili' Communities had already been granted direct kingship stools or "Okwa Eze" by Eze Nri as earliest as 1300AD to 1500AD when the Onicha Mmili People were yet to settle or about to settle in their present abode. Others, said to have been founded by "the Eze Chima Clan or generation", had also operated direct kingships as far back as 1600AD-1700AD when Onicha Mmili People were yet to recover from the stresses of their tortuous journeys back to their Igbo Land of Ancestry.

In his 2001 seminal work, Prof Onwuejeogwu had made it clear that as at 1300AD and 1500AD, Ubulu-Ukwu, Ogwashi-ukwu and Obior had already operated direct kingship throne; respectively granted by Eze Nri. Other communities of Igbo Ofe Mmili with direct kingship thrones in closer generations then were Onicha-Olona, 1700AD, Idumeje-ugboko, 1750AD, Idumeje-uno, 1700AD, Issele-ukwu, 1700AD, Onicha-ugbo, 1700AD, Issele Azagba, 1700AD, and Agbor, 1270AD, etc. Asaba (Ahaba), on its part, got its own in 1550AD, but set same aside in 1800AD.

There is no doubt that those communities of 'Igbo Ofe Mmili' were influenced by long years of Benin Empire and its culture, but such did not make them to lose their original Igbo identities. It was common, too, in those ancient times for Igbo communities that migrated from their original abode in Igbo Land, to stand the likeliest risk of losing same whenever they decide to return; forcing them to settle in other places. This must have been the case in the case of 'Onicha Mmili' People, who must have migrated originally from Igbo Land, but lost the records of their earliest migrations just as Umu Nri lost records of their earliest or BC era list of kings.

Also, not all of the 'Igbo Ofe Mmili' People were originally Igbo People, but most of them were and still are. The Agbor People are one of the 'Igbonized' kingdoms in Igbo Land, originally of 'Ominije People' with Ubini roots. It is also on record that their kingships, four Igbo markets and other Igbo customs and traditions as known in Igbo Land were instituted by Eze Nri and Eze Nri-in-Council; and not Oba of Benin, natively called in Igbo Land- the "Eze Idu na Ika".

Finally, Maazi Cheta Nwanze's account of "some Onicha Mmili People migrating from Igala" is likely not out of place. This is because upon their return back to Igbo Land in the later part of 1400s, local farmers, fishermen and women and other natives met on the ground included natives of Ijo (Ijaw), Igala and Obosi, who rendered assistance to them and ensured they settled well and in peace; their conflicts with Obosi People in later years notwithstanding. So, it is possible that such micro non natives were incorporated and indigenized in appreciation, with their brothers and sisters at home joining them later to form part of present 'Onicha Mmili' Kingdom.

Maazi Cheta Nwanze's colonial, missionary and civil war (and its aftermath) times accounts are superb, an eye opener and totally commendable. In the end, I strongly join him to agree that, except the micro-nationalistic segment of the Igbo People of Ofe Mmili, the greater percentage others are the aboriginal Igbo People, likewise those presently found in Igweocha (Rivers State) and other areas.

Contributed by Emeka Umeagbalasi (Nze Eziokwu Welu Onodu, Asi Ewelu Oche Azu). He is proudly Igbo and member of the prestigious Nze-Na-Ozo Noble Society in Ezinifite, Aguata, Anambra State of Eastern Nigeria. He is also a man of letters, with Second Class Upper Division in Criminology & Security Studies and a Master of Science in Peace Studies & Conflict Resolution. A criminological researcher, investigator and dogged rights and democracy activist; he is presently working on "The Igbo Bible of Origin & Noble Ways of Life", a lifetime legacy research work, originating from his Master of Science Thesis on Peace Studies and Conflict Resolution at the National Open University of Nigeria (NOUN).

Contacts:
Mobile: +2349083383504, WhatsApp: +2348174090052

Email: [email protected]