Act On Saturday Sun Newspaper's Special Report & Nkpor COVID-19 Killing Without Further Delays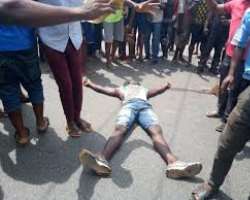 Mr. Adamu A. Muhammed
Inspector General of Police
Federal Republic of Nigeria
Force Headquarters, Louis Edet House, Abuja
Correspondence Mode: WhatsApp Link
Mr. John Okon Abang
Commissioner of Police, Anambra State
State Command Headquarters, Awka
Correspondence Mode: WhatsApp Link
The Nigerian Army Headquarters
Thro
Col Sagir Musa, Director of Army Public Relations
Army Headquarters, Abuja, Nigeria
Correspondence Mode: WhatsApp Link
Sirs,
Act On Saturday Sun Newspaper's Special Report & Nkpor COVID-19 Killing Without Further Delays
(Onitsha, Eastern Nigeria, 25th April 2020)-We are Int'l Society for Civil Liberties & Rule of Law, campaigning for civil liberties and rule of law, citizens' security and safety, and democracy and good governance. For more information, visit our website at www.intersociety-ng.org .
The attention of your public offices is strongly drawn to today's Saturday Sun Newspaper special report, captioned: COVID-19: Lockdown In Shambles: How Nigerians in Lagos, Abuja, Anambra, Delta Daily Defy Stay At Home Order. The link to the special report is here: https://www.sunnewsonline.com/covid-19-lockdown-in-shambles-2/

The special report made shocking and startling revelations concerning the criminal activities of stationed or drafted soldiers and policemen who openly and shamelessly undermined the Government efforts at controlling the spread of COVID-19 by engaging in rapacious extortion and other corrupt practices. By such sharp practices, large numbers of COVID-19 infected persons are most likely to have been imported into the Southeast particularly Anambra, Imo, Enugu and Abia States.

For instance, it was disclosed by the special report that "from the Onitsha end of the bridge, security agents collected a toll that ranged from N1, 000 to N7, 000 from wayfarers, depending on the type of vehicle and appearance of its occupants. This racket was perpetrated by a patrol team of policemen in a vehicle branded Okpoko Police Division, a team of four soldiers and a handful of officials of the Federal Road Safety Commission. None of the vehicles heading to Asaba was turned back, Saturday Sun observed, despite that only a few displayed exemption documents and identity cards. There was no thorough checking of any luggage and passengers; instead, drivers of vehicles bearing cartons were ordered to park and allowed to move after being forced to effect random settlements or offering of bribes".

We invite your public offices to follow the link for full details and immediate actions. Beyond the Saturday Sun Newspaper's special report, we also have it on good authority that issuance of 'security exemption documents' were turned into money making as police officers routinely visited or invaded motor parks and garages to collect bulk tolls or have same issued for a price. Hotels and event centers were not spared.

The Anambra State Police Commissioner was also found to have engaged in covering the truth concerning the shooting to death of Mr. Ebuka Nwoye of Frank Moore Street, Nkpor near Onitsha on 16th April 2020 by Police Corporal Christopher Ozor. We are not only deeply unsatisfied by the CP's 'cock-and-bull' story concerning same, but also not happy the way the IGP has responded. It is not enough to announce 'the arrest" of the killer cop leaving out the 'super-ordinate' vicarious culprits such as the CP and the Onitsha Area Commander who should have been administratively and strongly disciplined same way the Abia CP was sent back to Force Headquarters to pack and sign office files.

What IGP Must Do: IGP Adamu A. Muhammed must therefore order a high profile investigation into the Nkpor killing. To ensure this, the terms of reference given to DIG Anthony Ogbizi over Abia killings should be expanded to include that of Nkpor killing. The Anambra CP and the Onitsha Area Commander should also be recalled back to Force Headquarters as was done to former Abia CP, Mr. Ene Okon.

What CP John Abang Must Do: By police and Army daily duty post schedules, the policemen and soldiers posted to Onitsha Niger Bridgehead and Ugwu-Oba/Amansea Boundary the dates visited by the Saturday Sun Newspaper reporters are not unknown to the Army and Police authorities. We are surprised that the two authorities have kept mute over the graphical report. The IGP and the Army through its Director of Public Relations must therefore fish out the extortionist personnel, publish their names and subject them to orderly room trial or court martial and other necessary sanctions.

To ensure this, the DPOs of Onitsha Niger Bridgehead Police Station, Okpoko Police Station, Fegge Police Station and Onitsha Area Command and their counterparts from the Asaba end of the Bridgehead under the Delta State Police Command as well as the Commandant of the Onitsha 302 Artillery Regiment of the Nigerian Army must be ordered to fish out the culpable personnel. The named DPOs and the Army Commandant also have questions to answer. Same investigative and punitive measures must be applied in the case of Amansea/Ugwu-Oba Boundary.

Signed:
For: Int'l Society for Civil Liberties & Rule of Law (Intersociety)

Emeka Umeagbalasi, Board Chair
Phone/WhatsApp: +2348174090052, Email: [email protected]

Barr Obianuju Joy Igboeli
Head, Civil Liberties & Rule of Law Program

For speedy and expeditious handling of the matter, the Sun Newspaper can be reached through its Head, Southeast Bureau, Mr. Magnus Eze via +2348033223554.