Abba Kyari: How He lost The Battle, His Last Testament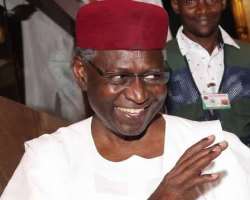 D etails have began to emerged on how Abba Kyari, the late chief of staff to Nigerian President, Muhammadu Buhari , died after contracting the novel coronavirus (COVID-19), reports The Nigerian Voice.
Abba Kyari's death which may have resulted from coronavirus related complications has increased COVID -19 death cases in Nigeria to 17. According to reports, his passage was said to have occurred on Friday, after battling with the disease for four weeks.
The Presidential spokesman, Femi Adesina, who broke the news of Abba Kyari's death late Friday night, did not go into details. However a reliable source informed our correspondent that Kyari may have died following some underlying medical conditions which he was battling with before contracting the deadly virus. The source added that other ailments may have hampered Kyari's recovery from the disease.
"It's sad that we lost him, but the coronavirus disease may not have killed him if not for other ailments the president's aide was battling with. May his soul rest in peace," the source said.
According to reports, doctors who were attending to Kyari, had obtained his medical records from Wellington Hospital, St. John's Wood, London to ascertain his health status.
HIS LAST Testament
In a statement he personally signed six days after he went on self-isolation following the confirmation of his COVID-19 status, Kyari, had said he was looking forward to resuming at his desk.
The deseace had said: "I am writing to let you know that on medical advice, I will transfer to Lagos later today for additional tests and observation. This is a precautionary measure: I feel well, but last week, I tested positive for coronavirus, the pandemic that is sweeping the world. I have followed all the protocols government has announced to self-isolate and quarantine.
"I have made my own care arrangements to avoid further burdening the public health system, which faces so many pressures. Like many others that will test also positive, I have not experienced high fever or other symptoms associated with this new virus and have been working from home. I hope to be back at my desk very soon,".
KYARI'S LIFE AND TIMES
Born into a Kanuri family from Borno, the young Kyari had a quiet upbringing as not much is known about his early life. In 1980, he graduated with a bachelor's degree in sociology from the University of Warwick, and also received a bachelor's degree in law from the University of Cambridge. In 1983, he was called to the Nigerian Bar after attending the Nigerian Law School.
The thirst for more education drove him to University of Cambridge where he obtained a master's degree in law in 1984.
He later attended the International Institute for Management Development in Lausanne, Switzerland and participated in the Program for Management Development at the Harvard Business School, in 1992 and 1994, respectively.
Upon his return to Nigeria, Kyari worked for the law firm Fani-Kayode and Sowemimo for some time.
He will later become the Editor with the New Africa Holdings Limited Kaduna between 1988 and 1990.
In 1990, he served as a Commissioner for Forestry and Animal Resources in Borno State.
Kyari was also the secretary to the board of African International Bank Limited, a subsidiary of Bank of Credit and Commerce International.
Kyari was an executive director in charge of management services at the United Bank for Africa, and was later appointed the chief executive officer.
In 2002, he was appointed a board director of Unilever Nigeria, and later served on the board of Exxon Mobil Nigeria.
The office that will bring him to public limelight was his appointment as Chief of Staff to President Muhammadu Buhari in August 2015.
Undoubtedly, Kyari was an influential figure within the Buhari presidency as was responsible for implementing the President's agenda during the first term of President Buhari, operating mainly behind the scene
With Buhari's re-election for a second term in 2019, the President instructed his cabinet to channel all requests through Kyari's office, further enhancing his influence within government circles.
In 2017, following a leaked memo, Kyari became enmeshed in a public argument with the then Head of Civil Service, Mrs Oyo-Ita who was later removed from office.
Another leaked memo in 2020, will place the National Security Adviser, Babagana Monguno and Kyari at loggerheads as accusation of meddling in matters of national security dominated public discourse.
On March 24, 2020, it was made public that Kyari tested positive for COVID-19 on March 23, following an official trip to Germany nine days earlier. It was also reported that Kyari had underlying medical conditions and was secretly flown out of the country. Claims that were vacated when it became official and public that he was moved from Abuja to Lagos due to medical conditions.