From Atlanta To Lagos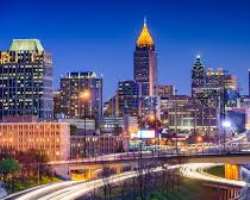 The journey started early in the morning. I had not slept well the night before. I was probably preoccupied with my adventure to my mother land Nigeria. Although I would never admit this to anyone, I was probably scared. The thought of going to my own country makes me nervous. There have been horror stories of kidnapping in Niger Delta and armed robberies on Lagos-Ibadan express road. This is a country I love so much but makes me angry when I think of the squandered opportunities. A country so richly blessed but probably cursed.
I got on the road early in the morning before sunrise to make my 3-hour trip from my home in rural Wisconsin to the airport in Minneapolis. I made it through the security checkpoint without any event as I cursed the SOB that ran the plane into the twin tower in New York on 9/11 and changed the landscape and mind set of America for ever.
As I sat alone in the airport, I could not help but admire the orderliness around me. Here is a system where people are actually orderly and things work. I was filled with various emotions.. anger, disgust, rage, jealousy, anguish, frustration. Why can't Nigeria, my country be like this? The waiting period before my flight from Minneapolis to Atlanta gave me more time to day dream. What life could have been if I had stayed in Nigeria where I was trained free of charge to become a successful medical doctor. I could have been a local chief in my hometown Iperu, or the head of neurosurgery at the University College Hospital Ibadan. Who knows?
People walked by. For some strange reasons I enjoy watching them. They come in different sizes and shapes: old, young, fat, skinny, ugly, pretty, fat, skinny, obese, anorexic, cocky, shy, miserable, and smelly. I wonder where they are going and where they are coming from. It all seems aimless to me. That is when I ask myself: what is our purpose in life? Why the helter skelter? Why all the hurry and rush in life? I guess and idle mind can wander rather quickly. It suddenly occurred to me that every system has its problem. In the US, it's capitalism: the insatiable lust for material things. The more you have, the emptier you feel. In Nigeria and most of Africa it is bad governance and corruption.
I kept asking myself, what about Lagos that draws me as a baby is drawn to the pacifier (or the nipple, your choice). Why would I leave the comfort and predictability of life I am accustomed to in the US for the chaos and volatility of Lagos? I must be crazy! But then I realized human beings are social animals. We long to be around others. We want to belong and feel accepted. Not to, would be considered schizoid, an anomaly. That is what I have been missing. To be around people that can pronounce my name Olufowobi Gbadebo, and not ask me "so how do you like it here?"
The transition from the civility and tranquility of the Midwestern State of the US, to the chaos and madness of we Nigerians in Atlanta was rather abrupt. Some would argue that only a few Nigerians are rowdy, which is true, but those are the ones you meet every day and get your attention everywhere. I know we Nigerians could be civil and orderly. I witnessed this in Lagos during the Buhari/Idiagbon era and again in Oshodi with the orders from Gov Fashola. So I am always baffled when our animal instinct makes the best of us.
My experience in the plane was a familiar one; people rushing to grab seats that were already assigned to them! A woman on the phone screaming at the top of her lungs about the money she is about to make once she clears her container in Lagos. Clearly ignoring the suggestion that all electronic gadgets, including her handset be turned off so the plane could depart. Of course she is a Nigerian, probably from my hometown. I could tell because she spoke in Yoruba with Ijebu accent.
For some reason, I felt some calmness and peace that I have so longed for. It is nice to be around "my people." I gazed around and wondered how many of us Nigerians are living in the US as economic refugees. People like me that could be contributing to the development of our country but chose to live as "aliens" in the US. I saw more than I expected: several non-Nigerians heading to the same country that many dread and some have even perished in an attempt to "check-out." It then occurred to me that amidst the chaos in Lagos is tremendous opportunity. It is after all an emerging economy. Probably the only country in the world where you can become a multimillionaire selling generator and have a yacht as a banker! Right then I concluded there is no point complaining but to think of how to make the best of a bad situation. If Oyinbo man is willing to leave the comfort of New York for the chaos of Lagos, then something must be good about Lagos. I must stay here and find out.
My conversation with the man sitting next to me was both enlightening and confusing. This is a man that has lived in the US for 30 years but loathes everything about the country but its currency. He feels trapped in a country that has gradually eroded him of his root and culture. My pity for him was unsolicited but genuine, as I watched him fall asleep and snore.
The flight from Atlanta to Lagos was a long one. It has been a very long day. In the end I had a better appreciation for my country and what is mine. The wise man that conducted the study that concluded Nigerians are the happiest people in the world was right. No better confirmation of this than the exhilarating shout of "hallelujah" as the plane touched down at Muritala Mohammed Airport in Lagos. North, South, East or West, there is no place like home. I love my country, I no go lie!
Dr. Olufowobi Gbadebo, MD, FAPA, is in private practice in Georgia USA.
Disclaimer:

"The views/contents expressed in this article are the sole responsibility of the author(s) and do not necessarily reflect those of The Nigerian Voice. The Nigerian Voice will not be responsible or liable for any inaccurate or incorrect statements contained in this article."