CHINASA OKORIE, ADA NDI IGBO 2009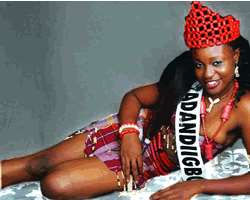 Chinasa Okorie
Chinasa Okorie, a former Miss Abia has continued to excel in her modelling career when she was crowned Ada ndi Igbo 2009. A student of Abia State University, Okorie told Daily Sun recently what winning the crown means to her and what she hopes to achieve with her pet project, STAR (Set To Achieve Redemption). Excerpts:
What does Ada ndi Igbo pageant stand for?
'The Ada ndi Igbo cultural pageant crown carries a genuine unbiased objective to promote the aspirations, dreams and yearnings of a unique ethnic nationality, the Igbo race. For the first time, I saw a pageant that is truly Nigerian and proudly cultural.'
Values of Igbo culture
'As Ada Ndi Igbo, I use the Igbo language to project the positive values of Igbo culture across the Igbo speaking states. It is a call to duty that is beyond the glamour and ephemeral red carpets. It is not only about beauty, it is stretched to building young women positively to become mothers that run homes responsibly and have the Igbo values and cultural traditions at heart.
'I won the cultural pageant in November 2009 at Micheal Okpara Auditorium, Umuahia, Abia State after a two-week camping. It was the fifth edition of the pageant in collaboration with state government.'
Criteria used
'The judging began in camp. We had to go through so many screenings, physical exercises, intelligence quotient tests, talent hunt, choreography lessons and carrying out set tasks that would make Big Brother envy. The African pot was where all the contestants had to show their skills in preparing African dishes. We were also tested through essay writing in English Language and also our ability to speak Igbo without tears. We were lectured on womanhood, fashion, life issues, and poise. The results of all the segments came to play in addition to the voting of the audience.'
How successful is your reign as Ada ndi Igbo?
'It has been a very successful reign full of activities, meetings and building relationships. I have a direct bearing on my projects and aspirations to make a difference in the lives of the less privileged.'
What does winning the pageant mean to you?
'Winning for me was a first step towards realizing my objectives, which I have outlined in a pet project, tagged Set To Achieve Redemption (STAR). It centers on the youths of this generation. The project is an initiative aimed at creating awareness and bringing youths closer to their goals and target in life. STAR is an apolitical and not for profit project that is absolutely committed to the welfare and improvement of life of the less privileged. The special focus is on street urchins, displaced hawkers and their likes that are vulnerable, receptive and adaptable to change.'
How long have you been modelling?
'I have been modeling since 2007. Before I came for the pageant, I contested and won Miss Abia State 2009. I handed over that crown before contesting for Ada ndi Igbo.'
What was your dream as a child?
'My dream as a child has always been to be a medical personnel. I am living my dream because I am studying Nursing Science in Abia State University.'
What was the worth of your crown?
'It is of inestimable value. I can't say how much exactly but dollars can't be equated with its value.'
How do you relate with non- Igbo in carrying out your official duties?
'The pageant cuts across ethnic boundaries. I see everybody as one in carrying out my official assignment because I am actually here for all to touch lives. The pageant is about building bridges across ethnic nationalities, selling the virtues of Igbo culture to other ethnic nationalities.'
What is expected of you as Ada ndi Igbo?
'I am to promote the rich cultural heritage of the Igbo. Be an ambassador of peace and also a mother figure to those who lack it in their lives. I represent an instrument between the privileged and the less- privileged. I am also an ambassador for our culture, peace, development and a voice for the young maidens in mainstream issues that affect their daily lives as well as, an inter-phase across ethnic divides. I am also expected to promote the rich cultural heritage of the Igbo and be above board morally and otherwise to encourage the Igbo maidens to be independent and industrious.'
What are the challenges in carrying out your duties?
'I carry out my duties passionately because I love charity work and selflessness. The only challenge I have faced in the past is not being able to appreciate fully individuals who made this pageant a reality for being this thoughtful. It took a collaboration with Abia State Ministry of Information to host last yearÃŒs pageant.'
What are the qualities you look out for in a person?
'I look out for courage and perseverance. I also admire a focused person and one who is confident about himself or herself for what and who he or she is.'
Where is your favourite holiday spot in the world?
'Have you been to the Uturu caves? It is simply wonderful, we have a lot of tourist attractions in Igboland and it is a must visit for every tourist. It gives you a feeling of being abroad.'
If you would love to meet anybody in the world, who would that be?
'Nelson Mandela, he is one man whom I love and respect so much. I admire his courage and humble attitude. He believed that something good can come out of his country and Africa as a whole and he fought for it.'

Chinasa Okorie
If we open your wardrobe, what clothes would we find there?
'I am a jean person because I am always up and doing. You can also find our local but beautifully designed materials in different styles made by my personal designer, Jennifersí signature.'
How are you handling advances from men?
'Well, they come, but I handle them by remaining focused and not losing my goal.'
What do you wish to be remembered for?
'I hate gender discrimination and I fight it. I want to be remembered for that stance.'
If you were to get married, what kind of man appeals to you?
'My man must be industrious, religious, honest and courageous. He has to be handsome too.'
What has your crown added to your life?
'Maturity. I meet different people everyday and I have learnt how to handle them because of my responsibilities as Her Royal Majesty, Ada ndi Igbo.'
About me
'I am Her Royal Majesty Chinasa Okorie. I am from a family of seven. I am the first daughter but second child in my family, and a student of Abia State University studying Nursing. I am from Ebem Ohafia in Ohafia Local Government area of Abia State. I had my primary education in Adamawa State and my secondary education in Abia State.'