"Cannibals" sell body to kebab shop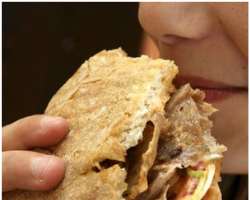 Russian police have arrested three homeless people suspected of eating a 25-year-old man they had butchered and selling other bits of the corpse to a local kebab house.
Suspicions were raised when dismembered parts of a human body were found near a bus stop in the outskirts of the Russian city of Perm, 1,150 km east of Moscow.
Three homeless men with previous criminal records have been arrested on suspicion of setting upon a foe with knives and a hammer before chopping up the corpse to eat, local investigators say.
"After carrying out the crime, the corpse was divided and part was eaten and part was also sold to a kiosk selling kebabs and pies," the Prosecutor-General's main investigative unit for the Perm region says.
It is not immediately clear from the statement if some of the corpse had been sold to the public customers.
KWAME SEREBUOR: Atwima – K'dua