Lagos 2011 Guber Poll: I Haven't Decided To Contest - Ikuforiji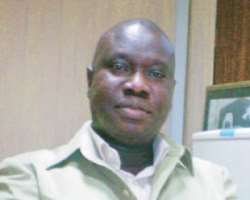 PHOTO: LAGOS HOUSE SPEAKER, HON. ADEYEMI IKUFORIJI.

LAGOS, June 21, (THEWILL) - Speaker of the Lagos State House of Assembly, Rt. Hon. Adeyemi Ikuforiji today put paid to the growing speculation all over the state that he had indicated interest to contest the 2011 gubernatorial race, though claimed he had the right to contest any political office.
The speaker also called for new voters' register as the existing one could not ensure credible elections that could move the country forward from her age-long political crisis.
Ikuforiji make this known today in an interview he granted in Lagos, stating that he had right to run for any elective position in Nigeria so far he remained in the service of the people.
He explained that it was not true that he had declared to run in the governorship race in 2011 without getting nod from the leadership of the Action Congress (AC) and that the party had not declared the 2011 gubernatorial contest open for any aspirants.
He said: "I have not declared to contest the 2011 governorship race. Even if I want to contest, I cannot go ahead and declare my interest when our party, Action Congress has not released any guidelines with respect to the 2011 the race. I am a party man. I cannot do anything outside the rules and regulation of the party."
However, Ikuforiji said the constitution allows him to run for any political office he so desires and that he could contest for offices since he "is a political animal and my aspiration to contest a particular political position should not generate tension.
"Whether I want to contest a certain political position should not be an issue to dominate the polity. I am political animal. And I can contest any political office in as much as I want to remain in the service of the people of Lagos and Nigeria," he explained.
The speaker raised questions on the existing voters' register, describing it as the electoral template devised by the former Chairman of the Independent National Electoral Commission (INEC), Prof. Maurice Iwu to perpetrate diverse forms of electoral frauds.
The speaker explained that the existing voters' register "is unacceptable for the 2011 general elections. It is not reliable because it gives room for massive rigging and all manners of electoral frauds. President Jonathan should order for a new voters' register."
Ikuforiji described the new INEC Chairman, Professor Attahiru Jega as a man of unquestionable character, while he picked holes in the process through which the electoral umpire emerged, stating that the process was "absolutely contrary to recommendations contained in the report of the Justice Mohammed Uwais Electoral Reforms Committee."