4 DAYS WITH KIDNAPPERS: AN ACCOUNT OF 13 YR OLD PUPIL VICTIM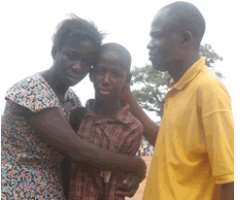 Olutunde and his parents
Michael Bolarinwa Olutunde is a Senior Secondary School (SSS 1) pupil of Africa Community School, Asokoro, Abuja. He narrated how he was kidnapped at his school recently:
'On Wednesday,June 2, 2010, after our club and school activities, I came out of the gate of the secondary school session heading to my father's class in the primary school session of our school. It was after seeing the VP Academics, Mallam Saidu, who gave me a form to take to all my teachers to attest to my behaviour in school.
'While going out to meet my father, I met one of my friends, Shamsudeen, whom I gave money to help buy my Literature textbooks. As I left him going toward my dad's classroom, I noticed a Peugeot 406 parked along the way to my dad's' class. I saw a man in polo and jeans wearing dark spectacles. He asked me if I know one Mohammed in Junior Secondary one (JSS1). I said am not likely to know anyone in JSS1 because I am in SS1.
'He then brought something out and sprayed on my face, which I do not know what it was, though, it's like perfume but in a metallic container. I immediately became unconscious and felt dizzy. I later found myself in their car and a veil tied to my face making me not to see outside or recognize where we were and anyone of them in the vehicle.
'When we got somewhere in the night they only offered me a sachet of water popularly called pure water. They asked of my name and that of my father but I didn't answer them. They were angry with me. 'On the second day which was Thursday, June 3, they said since I was unable to answer any question put across to me, they took me to another location which I could not describe because my face was still covered with veil. I heard them discussing with a man in a language I couldnot understand.
It was neither English nor any of the three major languages in the country. Later they returned me to the first place they kept me. Since that Wednesday till Saturday morning they did not offer me any food or drink apart from the sachet of water on the first time I arrived their den.
'On Saturday morning, they brought me out but still tied my hands and legs with rope with my face covered. When we got to one of the gardens near Equatorial Trust Bank (ETB) Wuse 2, they dropped me inside the garden after removing the veil on my face. They lied me with my face on the ground and they drove off. I turned if I could recognize any of them or grasp the plate number of their car. I could not because the car had no plate number. All I can say of the car is that it was a Peugeot 406 ash colour.
'While in the garden, two men who I suspected to be policemen who were not in uniform believed to have just finished from night duty at about 5.30 and 6.00am. They were surprised, what could a boy like me be doing at this time of the day. 'I narrated to them that I was kidnapped by some unknown men. There was a police patrol vehicle parked close to ETB junction. One of the policemen came and contacted the Utako Police Station. Some officers came from the station and they asked me questions. I narrated to them what happened and they untied me. They chattered a taxi and took me to the station where they bought me bread that morning before my father was contacted.'
Bolarinwa's father, Mr. Olutunde Fasusi told Daily Sun that said he could not tell exactly who were behind his son's kidnapping. He expressed disappointment over the attitude of the management of the institution.
He said that when he picked the son from the police station, the director of the school asked him to bring him to the school for interrogation. He told the director that his pastor and other leaders of his church were already waiting at home to pray for him. He said the director was not happy stressing that the boy's kidnap is a criminal offence that needed to be investigated thoroughly.
But Bolarinwa's father who happens to be the chairman of Nigeria Union of Teachers (NUT) of the school told the director that the police who is saddled with the responsibility of investigating criminal offences has already launched a full scale investigation into the matter and should be allowed to do so properly without distraction and interference. He added that his comment did not go down well with his boss.
Fasusi said he suspected foul play in the saga, ' because the situation at the moment is cloudy.'
Daily Sun gathered that following the return Bolarinwa to school, all has not been well with the father. The school authority has issued a query to the father for allowing himself to be assessed by the media on the event of his missing son.
The Abuja Police Spokesman, Jimoh Moshood, said he was not aware of the incident but told the reporter to call back the following day. But a copy of an extract from the police crime dairy of the Asokoro Divisional Police Headquarters dated June 3, 2010, and obtained by Daily Sun admitted an incident of the 13-year-old Michael Olutunde Bolarinwa, stressing that matter is under investigation.
Efforts to speak with the director of the school, Mrs. Edeh, on the incident proved abortive. Several calls placed on her cell phones were constantly evaded. At other times, they would ring without response.