Zoning Was Not Respected In 2003 and 2007 – Anenih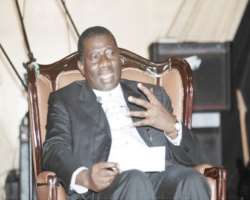 PHOTO: PRESIDENT GOODLUCK JONATHAN.

San Francisco, June 20, (THEWILL) – A former Chairman of the Peoples Democratic Party Board of Trustees, BOT, and current Chairman of the Nigerian ports Authority, NPA, has added his opinion to the controversial zoning arrangement of the PDP which is currently heating up interests in the party.

Chief Anenih in a letter to the Acting Chairman of the party dated June 14, 2010 with the caption: "A thought on 2011 Presidency and party leadership: An open letter to the National Working Committee of the People's Democratic Party" said, "The purported zoning arrangement was observed more in breach than in practice, especially in 2003 and 2007. The fact that some aspirants stepped down for others is not a sign that the purported zoning was respected.

Continuing the politician opined that "Today, the present situation in the PDP requires a re-examination. President Jonathan is on the same ticket with the late President Yar'Adua for eight years (four years of two terms). One half of that ticket dropped as a result of President Yar'Adua's death. That half has now been restored, with the appointment of the Vice President, to allow Jonathan complete the remaining part of the tenure. 

"In view of the special circumstances facing the nation today, the most important issues that the President must pay attention to are: Machinery for free and fair election; Good performance; Respect for the multi-ethnic groups and sections in Nigeria; Peace in the Niger Delta region; Implementation of the Amnesty programme; Religious tolerance and Security of life and property in the country," he said in the letter.

Continuing, Anenih stressed that "The ball is absolutely in the court of President Jonathan and Vice President Sambo, a situation that presents a rare opportunity for both men to make history. If they are able to organize a free and fair election, ensure excellent performance in governance and do justice to all without discrimination, the sky will certainly be their limit.

"The major challenge may be that the time is short for proper planning for which the Acting Chairman of INEC had already given a warning signal when he said before the Senate that INEC was running out of time."

The zoning arrangement in the PDP where power is meant to rotate between Northern and Southern Nigeria has left the ruling party divided. One half of the party led by former President Olusegun Obasanjo has said that Goodluck Jonathan is eligible to contest for the presidency if he so wishes while the other half led by former military head of state and a presidential candidate Ibrahim Babangida is calling on Jonathan to respect the zoning deal which automatically makes Jonathan, a southerner, ineligible to contest.

Dr. Jonathan has refused to rule himself out of the election but has not declared his intention to contest for the office in the 2011 presidential election.