Aki and Pawpaw join Kick out Malaria campaign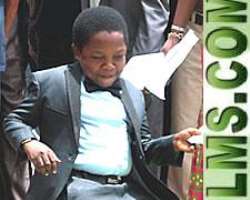 Aki and Pawpaw and several other Nollywood acts recently joined MTN in its commitment against malaria. Across the world, Africa suffers most from killer, yet preventable diseases plaguing the world. Diseases like HIV/AIDS, tuberculosis, polio, meningitis and malaria are collectively responsible for the death of millions of Africans annually, especially women and children, United Nations (UN) statistics reveal.
The 21 days of Y'ello Care programme which was first introduced in 2007 enjoins staff of MTN to volunteer their time for community service without neglecting their own official duties. Members of staff could decide to use their lunch breaks to mentor students, give health and hygiene talks to bus drivers and their conductors, clean drainages, plant trees, distribute mosquito nets to malaria prone communities, etc.
They could also visit orphanage homes and hospices on weekends which some of them do with members of their families, coach a high school soccer team or spend quality time with senior citizens at the old people's home and so on.
Football being a powerful tool, the company also joined the global campaign for Education for All by also supporting the 1Goal Campaign. The 1Goal campaign is a call to support the government to attain the Education for All commitment by providing quality education for children and adults alike and it has ambassadors like Austin Okocha, championing the cause.
For the 2010 edition of the programme, the tone for the next 21 days was set when Nollywood celebrities, including the famous duo of Osita Iheme and Chinedu Ikedieze, popularly known as Aki & Pawpaw, Saint Obi and Nigerian football legends, led by Ike Shorunmu and Friday Elaho, symbolically kicked out malaria in Nigeria together with the CEO of MTN, Mr. Ahmad Farroukh and other MTN executives.
Members of staff carried out this year's programme under two teams in line with the UAM and 1Goal Campaigns; Team Eradicate and Team Educate. Since after the formal kick-off of the programme on May 1, both teams touched a number of communities by giving talks on malaria prevention and creating awareness on the epidemic and distributing mosquito nets, mentoring and educating young children among other activities that malaria kills more than one million people worldwide, of which 90 percent is in Africa with 70 percent being children below age five.
When the statistics are analysed further, malaria kills on average, a child every 30 seconds in Africa.
In 1998, UNICEF, in partnership with the World Bank and UNDP, another agency of the United Nations, launched the Roll Back Malaria Initiative in a bid to fight the scourge globally.
In Nigeria, the Federal Government joined the rest of the continent and indeed the world to launch the Roll Back Malaria Initiative and unveiled the biggest mosquito net in the world, which even got a space in the Guinness Book of World Records.
Insecticide-treated mosquito nets were given free of charge to women in government hospitals. Pregnant women were also administered with prophylactic anti-malarial drugs to prevent them from having the disease and people were tutored on healthy practices to avoid malaria infection.
The Roll Back Malaria logo, a picture of a young man kicking a football which represented malaria, was on every health care establishment.