I turned down a script because the producer wanted me to play a bush girl role-----Funke Akindele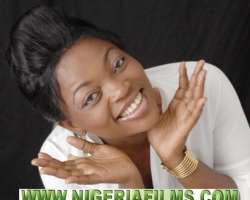 Today, Funke Akindele, a graduate of Law from the Lagos State University, Ojo, is one of the popular crossover actresses in the nation's movie industry, otherwise known as Nollywood. Over the years, the producer of the award-winning movie, Jennifa, has had her own fair share of the pains and gains of stardom. In this encounter with BABATUNDE SULAIMAN, Akindele, one of the Glo ambassadors, clears the air on some rumours about her, her ability to manage fame and other interesting issues
Since you produced the award-winning movie, Jennifa, your star has simply been on the rise. So, how have you been coping with the attendant fame and so on?
Thank you very much. Well, managing fame is by God's grace. I take everything easy and I take one step at a time. I am enjoying it and I am living life as it comes.
It was reported sometimes ago that you almost engaged one of your colleagues, whom you believe to be younger than you are, in a brawl on a movie set because she refused to address you as aunty Funke. How would you react to this?
I don't listen to such stories. If you keep listening to negative stories, you won't move forward. It will only be a distraction that will stop you from moving up. All I will say is that once you become famous, a lot of things will be said about you. So, you can only try your best to live a good and exemplary life. For me, I will never force anyone to respect me. You can only earn respect, but you don't demand for it. I have enough siblings at home who call me sister or aunty Funke. I am a Yoruba girl and I am highly respectful; I am brought up to be respectful. I always respect anyone who is older than I am in this industry; so, I am too respectful to even ask anyone to respect me. I don't even have time for all that. When I go to locations, I do my jobs and leave immediately. I don't have to make friends with any actor or actress. Of course, I have a cordial relationship with everyone, but nothing else happens as soon as I am through with my job. I don't fight people. I have discovered a lot of faces and I am sure you know that. I have discovered a lot of faces because I stand for the youths. Anything that will support the youths, I will do it. This is because we are the leaders of tomorrow. I have been through a lot trying to make a name in the industry. So, if I need to prop up anybody in the industry, I will do it. So, what I usually do is to call up for audition, where I discover new faces and launch them in the industry. So, why should I be bothered about anyone calling me aunty Funke? So, if anybody feels Funke Akindele is older than she is and she wants to call me aunty, it is a free world.
When I saw you in a movie, White Hunters, I wondered if you were not being stereotyped because of the 'bush girl' role you played in it…
(Cuts in) No, I don't think I've been stereotyped in any way. There is nothing bad in doing a role once or twice. It was Jennifa that made me play that role; so, there is nothing bad in doing it again. If you have seen it, you would agree with me that the story line is different. Yes, I also played a 'bush girl.' I think the producer felt I could do it better, so he called me. There is nothing bad in doing it once or twice, as long as it is not done repeatedly too much. If the character is used too much, then, there is something wrong. I actually rejected a script recently because a producer wanted me to play a 'bush girl' role in his movie.
When was that?
Oh, it was not quite long ago! But I wouldn't want to talk about it.
Maybe the fee was not attractive enough?
The money was very, very attractive. I rejected it because if you start playing such a role too often, your fans will not be happy with you. So, I don't think I have over flogged the role and I am not stereotyped either. Of course, the producer felt bad, but I had to explain to him. You know, I own this brand and if I play such a role too often, people will get tired of it.
I hear you will be featuring in Tunde Kelani's forthcoming work, Ma'mi. How did you clinch the role?
Oh! I was so happy when I got the script. I have always dreamt of working with Tunde Kelani. So, it was a dream come true. I am ready to do it very well and I pray God will give me the grace.
How challenging was it?
Oh! It was very challenging! Though we haven't shot it, the role is very challenging. I have not played that character before, but I will surely do it well.
What is your relationship with Femi Adebayo?
No comment! I am not going to talk about this (she walks away and later returns to plead that talking about the issue is not good for her image).