My presidential mission – Dele Momodu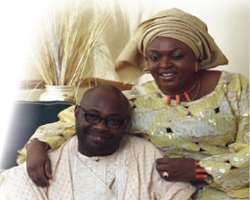 CONGRATULATIONS on your birthday, how does it feel to be fifty? Looking back do you think you've had a fulfilled life?
AT 50 I feel very normal, very okay, and very healthy. I feel good with myself. I have lived a life of 80; what I have cramped into those 50 years. I have traveled the world. I have traveled far and wide. I have met good people and I have met bad people. I have met the high and mighty; I have met the low, and the lowest. But for me, being 50 is just a game of number. There is nothing extraordinary about it. But in a country where the average lifespan is about 43, I think I haven't done badly. I look forward to another 50 years in good health.
You've been a journalist most of your life, now you are venturing into politics, how prepared are you for Nigerian politics?
I don't know why anybody should worry about Nigerian politics. Politics everywhere is always a tough game; everywhere in the world. I'm sure many people must have asked Obama the same question: "As a black man, are you prepared for American politics? I was one of those people who said: Obama can never win the election, because I was of a little faith. I did not take God into consideration. In whatever you do, you must take God into consideration. The very manner of my past should have shown me long ago that I was thirsty for something very big. I was once in an Aladura church. I was named Joseph. Joseph is always a dreamer. I dreamed big things and I have followed up on my dreams and I can tell you that I'm very well prepared for Nigerian politics. I've been in the corridor of Nigerian politics most of my life. I started with being the private secretary to the former Deputy Governor of Ondo State Chief Akin Omoboriowo, and I'm talking of about 27 years ago. Beyond that I've worked very closely with Chief Moshood Abiola, during the June 12 campaign and thereafter. I have watched not just Nigerian politics but foreign politics. I have been involved, even in other countries' politics. For example, a friend of mine ran a campaign in Benin Republic and I had to go to Cotonou, and I had mobilized a lot of our artistes, including Tony Tetuila, Dbang. They were all young guys; Stella Damasus, RMD, all of them; Don Jazzy. I took them to Cotonou to go and campaign for my friend Richard Senou. He used to be with the World Bank and that taught me a big lesson. In one day we took over the streets of Cotonou. Everybody knew that superstars were in town. The guy didn't win the election, but he created a big impression. Today, he's in the government of the man who won the election in Benin Republic. And that taught me a big lesson that if we had little time and possibly more money, that guy could have won the election. Some people are underrating the power of show business. Look even in America, Obama would never have won the election without showbiz. The most powerful president in recent memories in America was Ronald Regan who was an actor. The most influential Governor in America today is Arnold Schwarzenegger. So, I don't know why Nigerians always think that we were created differently by God, No! We were created like other human beings, to love the good things of life. Every human being in all showbiz, entertainment, sports; I can tell you that some of my biggest supporters are in those fields.
Nigerian politics is like a do or die affair...
No it is not
Can you expantiate on that?
For me it is not for people to say: "Oh! You have presidential ambition." And the way I respond is that no; mine is a presidential mission. I hate the word ambition. Ambition means a matter of life and death. You are looking for a job, I'm not desperate, and I'm offering myself in service to my people. So it's for them to take or reject me. But, tomorrow let no one come out to say no good person came out, I will tell the person that you are a liar. I presented myself and you didn't vote for me, so I don't see any reason why Nigerians will not vote for me. For the first time, there is an agreement, since 17 years ago; since June 12. I can see that Nigerians are united in purpose. Everybody is tired, including the rich people. I mix freely with everybody. Everybody is just tired. The fact that you and I can sit at this ungodly hour talking about Nigeria, it tells you that it must go beyond just wanting to do a story. But, you just wanted to at least hear from the horse's mouth and also to disseminate the news. So, I am very confident, trust me. There are times you will embark on a project and you are having doubts, but for the first time in my life, I am totally convinced.
Considering the fact that your former boss, late Bashorun MKO Abiola was killed as a result of his involvement in politics; are you not scared that the same fate will befall you?
Not in anyway. For me all I'm doing is to talk based on principle. I'm a child of destiny. If you are not destined to be something, you will not be, no matter how you try. So I can tell you that if it is already ordained that I will be the president of Nigeria, I will be and nothing will stop it.
What chance do you think you have vying for the same position as General Ibrahim Babangida (rtd), not forgetting the fact that he has so much money in his possession?
Babangida is one man that I know that I will beat. Since I don't know of any other person and I've written it in paper and he knows that I will beat him. His boys are boasting that I cannot win a local government election, let Babangida face me. I have no problem with that. The interesting thing is that, he's a man, I don't have personal thing against him. I've told his daughter, it's nothing personal, it's of principle. I've forgiven him. I'm a good Christian; I'm not a typical Nigerian who keeps malice. I've forgiven all who sinned against Nigeria, but I won't forget. The Bible teaches me to forgive my enemies. I didn't read anywhere that I should forget. So what I'm saying is that, we will not allow them to come back. How can you come back after 17 years and say you want to rule a country. It means that in 17 years Nigeria has not made any progress. Those who were born 17 years ago are already entering university for Christ sake! Does that mean we cannot find anybody in Nigeria? Babangida has a lot of young friends, let him support someone. He can support me. I will welcome his support. But for him to say he wants to come again, ah no!
But he has a lot of money, you know.
He's overrating his goodwill. People like him. He is a likeable person, he's friendly. But nobody can forget the things that happened under his regime. And most especially the annulment of June 12, that will hunt him for the rest of his life. And all I expected him to do was to apologize, and apologize very profusely to all of us, and that will be the end of it.
What is your reaction to Babangida's statement that Nigerian youths are not ready to lead this country?
I responded with eight pages advertorial in This Day newspaper, and that was when I declared. I've been planning to declare all along, but when I heard that, that catapulted my declaration. In the advert, I didn't only talk about myself; I talked about few other people who are more than qualified. I listed out their names. You cannot tell me that Mike Adenuga, who has worked very hard to build a monumental empire, cannot rule a country. These days, the government is like running a business. The reason why we are in this mess is that they don't see it as a business. They see it as politics, sharing, looting. Ordinary for them to select a Chairman for PDP, they can't. It is impossible for them. They are fighting like babies. It's unbelievable
But IBB recently called for Abiola to be immortalised...
It's too little, too late. He waited for 17 years to come and say that because he wants to become the president again! Abiola was his best friend, how can your best friend die in the process of doing something. He came to you. He asked you: Can I run? Are you going to leave? If you don't want to leave, please don't waste my time and money. And you brought out the Holy Quran to swear, I mean please don't let's worry ourselves too much about IBB, let's just move on.
It is his birth right as a Nigerian citizen to run, and I won't begrudge him for it. He is in PDP, I'm in Labour. So we are not clashing at all. If we were in the same party, then they can beg me to step down for him. But, unfortunately we are not in the same party, so I won't step down for anybody.
Can you highlight some of the problems that are confronting the Nigerian populace?
There is no problem that I'm going to highlight, that is not already a national anthem in Nigeria. But the biggest problem is that of finding a leader who is transparently honest; because once you have a leader who is honest, then it would be difficult for anybody to weigh against his dictates especially as the issue of corruption. The reason why they've not been able to fight corruption is that, most of the people who shout about corruption are only paying lip service to the crusade and they don't mean it, and they can't fight it because they themselves are swimming in the same pool of corruption. So that for me is key, which would affect every other thing including your infrastructure. You cannot build an infrastructure when you award contracts. It would not be executed and nobody would be punished. So we are going to award crime and punishment; we are going to make our police as powerful as they are everywhere. The difference between Nigeria and Europe and America is that they have a very powerful security apparatus. You cannot break the law and hope to get away, no matter who you are; so until we begin to instill that confidence and that authority in our police, we are going nowhere. Our police today are amongst the most bastardized in Nigeria. We treat them anyhow, shabbily; even their uniform, black on black looks like they are going to funeral parlour, where people are mourning. So we need very smart police. I promise you that in the first 100 days of my stewardship, I will produce over a million jobs. The jobs are there waiting, it's just for you to curb the excesses of our men in power. Once you can curb that, you can then channel those money into building so many things whether its agriculture, infrastructure, the police, the army. If you want one million police officers today, all graduates, you will get them. These people are on the streets looking for jobs.
Our past leaders have failed in solving the problems of electricity and water supply. Do you think you can make a difference in that aspect?
I have told you the reason they have failed. It's not because they cannot do it, but because they don't have the political will. If you don't have the political will, you don't have the honesty of purpose, how can you fix anything? They can't fix anything; you need a strong leader who from day one knows I'm not going there to steal money. If I'm not stealing money, then how would I allow you to steal? But if I'm stealing money, it would be stupid for me to preach to you, not to steal. That is the first thing you need in a leader. And most of the leaders that I see campaigning that they want to come out now 'oh boy', we might as well just switch off the entire light in Nigeria and all go home.
Apart from Chief MKO Abiola who else have impacted our lives in Nigeria positively?
Oh, so many people. Some of them I never really knew very well. As I grew up and was reading the books of Chief Obafemi Awolowo for example, the man was ahead of his time and I saw some of the things he did. He was one of the brains behind the Liberty Stadium in Ibadan, the first television station, the first radio station, the Premier University, now U.I; those things at that time, and yet the carpet baggers that we have today cannot even add an inch to Cocoa house building, It's a shame. Amongst very distinguished men I like the handwork of the man we all call; 'Ikoro', Mike Adenuga. No matter what people want to say, that's one man who minds his business, sits behind his desk day and night. I've watched him since 1991, people used to tell me he his fronting for this and that. And I just laugh because they don't know him. I've known this man and I have been telling people that my personal experience of him is that of a man who has his eyes fixed on a destination and he knows how to get there. That is what every one of us should try to be, a man who is creating wealth. In fact sometimes, I ask myself how does this man enjoy his own wealth, others are enjoying the wealth on his behalf; the man is too busy making money, too busy creating wealth opportunities for others, that I wonder how he enjoys it. He hardly goes out. You don't see him doing all the frivolities that Nigerians do. There are many people who have done well, getting to the top is not easy, and remaining there is the problem. I have been hearing of Alico Dangote for so many years. No matter what it is that he has been doing and he remains there for donkey years, then God must love him and there must be something he is also capable of doing. So I love entrepreneurship, and I want us to promote it in Africa. We cannot all sit back and be saying everybody is a rogue and then you are not providing alternatives, we must create wealth and people have to be able to find jobs. Do you know the pressure on all of us today? I have niece I sent to university, I have my nephews that have finished from the university. They are all jobless today. So it has become a crime to send people to university in Nigeria, because everybody is now phoning and saying: "but Tony Elumelu is your friend", how many people can Tony Elumelu employ? "We saw you shaking hands with Mr. Jim Ovia, does shaking hands with him mean that I have the key to the vault of Central Bank. It's a big problem for all of us, but I'm telling you that I have studied Nigeria and I have researchers working round the clock. We would give every minute detail, local government ward by ward in Nigeria, and we would tell you what is wrong and what can be done. I'm not going to be a president who would come out and just talk from day one till the end. When we did the 'enough is enough rally' in Abuja, I sat on the bare floor, the guys couldn't believe it. They were saying "Oga you mean you are sitting on the road with us"? And I said; what is so special about me, which is what Nigeria need right now. Nigeria needs a leader who is a servant not a leader who sees himself as a king.
What was the motive behind Ovation, a magazine of international standard?
It's from the influence of MKO, MKO used to warn us that you should never make yourself a local champion. I have always had that global perspective, I had always traveled far and wide, I have been to all the continents, and I have covered over sixty countries and still counting. So for me, the idea was to create a variety of things for myself.
When I was running into exile, I realised that I became homeless suddenly because I didn't make alternative plans for that eventuality; I never expected that a day would come where I would be forced out of my country. I got to London, I had no house, I had nowhere to go, so I had to squat with my friends, and that taught me a lesson. So today I live in four places. People say it's a very strange lifestyle, but well I have created that style for myself. I live in London, I live in Lagos, I live in Abuja, and I live in Accra, and I have French office in Cotonou and I maintain them. Maintenance, that's another thing about our leaders, they cannot maintain anything, everything has collapsed, and there is no single thing that they are managing, not even our Airport. The first point of contact of any human being in a country is the Airport, yet, our Airport is one of the filthiest in the world, it's very sad.
As Nigerians celebrate the anniversary of June 12, 1993 presidential election, any lesson learnt from this date?
For me personally, the lesson I have learnt is that nothing is impossible and that whoever is going to change Nigeria must first of all ask the question: "How did Abiola win that election? And how did he loose it eventually? If you can answer those, you will defeat everybody and that is the formula I have been working on for over two years. I think I have the secret formula, how he won it and how he lost it.
Campaigning in Nigeria needs a lot of money, who is sponsoring your campaign?
Nobody but God, I can tell you I have not gone to any rich man to say 'come and give me money', but I believe. Are you not giving me money by offering me this platform at this time of the night? If I was going to pay for it, do you know how much it would cost me to pay for you, pay for her, pay for other people waiting? Whereas all these big people, if they are going to do this they need a consultant, if they are going to do that, they need a consultant. Do you know how much they will pay for consultancy? Now I have direct access to you, you have direct access to me. You don't have to go through any agency. I'm an ordinary Nigerian like you, I'm sure initially it would have come to you as a shock that Dele ke, but today I'm sure you're already thinking that why not him. Mike Awoyinfa wrote in his article that why should it be only bad people will control our country and good people cannot. Somebody had already donated a car on the facebook. I don't know him; he just wrote Bros' can you please tell us where you want us to deliver a car to support your campaign. The guy brought the car from America to sell; he withdrew it from the market and gave it to us, which is the first car we got for this election. Can you believe that? It shows that Nigerians are more determine than ever to change this country.
What then do you think is the boldest step you've taken in your life?
I think it's this presidential thing. I use to think its Ovation. Infact people have not recovered from the shock, some almost suffer heart attack, (laughs) because I didn't tell anybody including my wife. I just told my God that I'm going for it. God knows it's not by any ego, or stupid ambition or blind ambition, I just want what is right for my country. If Nigeria can give me that chance, they will never regret it.
Share with us some of the most memorable days of your life?
So many of them, when my father died was the first major date that I can never forget, because we had slept on the same bed the night before. He loved me so much; I was the baby of the house. He went to church, he was a man who goes to church several times in a day, and I came back from school and he was died. You can imagine the shock of a man you saw only last night. That to me was very memorable, we had no plan, and I was just thirteen. Suddenly our lives just nose dived. We couldn't afford to pay rent again, we had to go and squat in Modakeke with one of our relatives. My father was such a caring, loving father with the little he had, he made sure he spent it on us. We didn't have bread winner, we couldn't pay rent, and we couldn't do anything. Life to me was very tough.
My mother was a poor, illiterate woman. She started by selling rice and beans next to the prison yard in Ife. By the time my father died, I think she had a beer parlour. Another memorable one is when I did my WEAC exams and I had a poor grade three. I couldn't get a job with grade three results. My mother took me to an uncle who lambasted me. He looked at my mother and said: "My sister, is this the kind of boy you are following, this one is a dullard, you better allow him to learn typing. He thought typist is all I will become in life. He wrote me off completely and that fired me up. When we left my mother was crying, she said: " Bamidele, o si so fun mi pe beni idowo naa o suwom too" that means you didn't tell me that the exam was that bad. Poor woman who had laboured for me to do the exam and then I disappointed her. The day after she said I should go and do the exam again. I did it in 1977 which was the year of exam leakage. So they withheld our exam papers. I said my God what kind of head have I brought to the world. She didn't give up she said I should go and do it the third time. This was very rare in those days for stack illiterate like her. Who could have said the one I've done for you is enough, go and manage whatever you can. No, she didn't give up on me. That was why when she died I gave her a befitting burial.
For me I'm a child of destiny, whatever I've done, all I do is to atone for my sins. No human being will ever be a saint, but you must learn from your mistakes and be wiser. That's all what I've done with my life, that is why I can be where I am today because I've always learn from my mistakes, that when I made those mistakes, I go gently in one corner and I will say 'God why did you allow me to do this. And at any point in time when I think I've reach the dead end, then something bigger is about to take place. I don't know what I've done to qualify, but I call it an undeserved kindness of God, the undeserved mercy of God. Any time they say "ah it's finish, where can he go", something will just happen, and that has been the story of my life. And I believe my mum as a prayer warrior, one last thing she told me before she died, she was lying down on bed she couldn't walk, she couldn't do anything, she couldn't even talk properly. And I went to her, and I was lying beside her in bed, and I was stroking her hair so gently fondly as if I was her husband and tears were rolling down my cheeks, and my mum was just staring into empty space. I was crying, I was crying bitterly, and she opened her mouth slowly but surely, "Ayobamidele ekun yi o wa poju, jesu y'owa pelu re", meaning 'Ayobamidele is this cry not too much, Jesus will be with you' that was the last thing she told me. Every time I remember my mum I cried, (getting emotional, tears rolling down his cheek) because I wish she could live forever, but that is not possible.
How many siblings?
My mum had three children, I'm the last. The night she died, I've just came back from London and my birthday was May 15, 2007, I just went quickly to London to spend the day with my family then came back on the 18th. So, when I got to the airport in Lagos and I opened my phone, then a message just came that my mum was in coma. And I came straight to this hotel, so I called my senior brother who was with her, I said; please you must do everything humanly possible to keep her alive till I come because I knew she was going, I told them to get an ambulance and rush her to the hospital. When I came down, the restaurant used to be in the other room, and I had like three prawns and potatoes plate, and as I cut the first one, as I was cutting the second one my phone was ringing repeatedly, when I looked at it I saw it was my senior brother and I just knew something was wrong, I picked it. He just said "Dele, Dele, Dele, I'm sorry to tell you that our mum had gone home to rest, it was a peaceful journey". My brother is a scientist, but he just went poetic. I just dropped the fork and started running upstairs like a mad person. I would have scattered the whole restaurant, I cried all night. I remembered uncle Bisi Olatilo was driving when he called me, I picked his call and I was just gasping, the man had to abandon his journey and came and sat with me for hours begging me, I just couldn't stop crying. That is why I can say I know what other mothers are going through in Nigeria. I don't want them to go through what mother went through. I know what poor children are going through in Nigeria. I don't want them to go through the same emotional stress and trauma. If God was not with me, I could have ended up on the street, may be as a bus conductor, if I didn't have the opportunity that I had. So I want to set these opportunities for other Nigerian's children. I'm only worried about the future of Nigeria. People don't know what is pushing me; they think I just want to add president to my name. What do I want to gain? So why would anybody think that he just want to be president for the fun of it, at my age. What am I looking for? I'm not the kind of person who wants to acquire title. I relate to people as they relate to me. I respect you if you respect me, I don't respect if you don't respect me. Everyone knows that I play with everybody at the same level. The same way I will treat the rich is the way I will treat the poor. It doesn't cost me anything to be nice to people.