RAS KIMONO, MY GREATEST DISAPPOINTMENT WAS WHEN MY TWINS DIED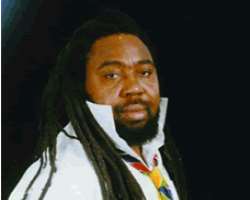 Ras Kimono
In the 1980s, the Nigerian music industry saw Ras Kimono, a reggae exponent, whose albums, 'Under Pressure' and 'Rumba Style,' literally set the nation on fire.
At that time, his name was on the lips of many, but he experienced a lull. Although, the musician is no longer releasing albums, as he used to, he is still very much involved in music. He told Saturday Sun his story, underlining the things that shaped his life.
Not many knew much about you until you became a music star. Could you tell us about yourself, especially about your early career in life?
Ras Kimono is a true born of Africa. I left the shores of Africa in the 80s for Europe. When I came back, I started playing sound system, called Mobile DJ sound system. I was moving from colleges to colleges and universities. Thereafter, I started playing in a boat at the Marina. There was a boat at the Marina, back in the days. I was running it to promote reggae music. At that time, I was already aware that one day, I would come out with reggae music. So, I was using the process to build my career. Some years later, before anybody knew it I came out with my debut album, 'Under Pressure,' which took the music scene by storm. That was in 1988. Before then, Kimono was already known. So, coming out with that album was like a great expectation.
I am a Rastafarian and a vegetarian. I don't smoke or drink. People believe that every Rastafarian must smoke weed, drink and fraternise with women. I don't do any of that. I am a reggae musician with a difference. I believe in telling the truth. That is why I use my music to fight the ills of society. It has become part of my philosophy.
Does this have anything to do with your childhood? Could you tell us about your childhood experience?
I grew up, like every African child. Though it wasn't a bed of roses, I don't complain about it. It was just like a ladder to success. I grew up in the ghetto. You know how it is like growing up in an African environment, without electricity or rather the basic necessities of life. That is why I said I am not complaining because it is the life of an African child. Every rich man you see in the country today grew up in a shanty. But today, they have become rich and have history. That is how I also have my own history. When some people say I look too much like a rich man's son, I always laugh because we are not different from one another. We all grew up in the same way. The only difference is that I didn't go to school, like the others. I am not educated, I'm also not an illiterate. I have Jah's wisdom. I was done with Babylon education long time ago. I move with very intellectual people and I have read a lot of books too. So, as for classroom education, I don't have anything to do with it.
Does that mean you didn't even pass through the basic educational system?
I don't want to talk about it because that is not where I got my education. I got it from other sources. I got it from the street, as a little boy, from intellectuals and reading books about African history. I don't read mutual romance books and that of Shakespeare. They don't give me any inspiration. That is why I read African history to enable me talk about African people. Everything I have got is Jah's education. So, I don't want to talk about educational background because I am done with it.
What inspired you into reggae music?
I wasn't inspired by anybody. It was from my tender age that I told my parents that I was going to be a musician. So, becoming a musician is not by accident. It was what I professed from my youth through Jah's blessings. Jah planted it in me. In terms of reggae, kudos to people like Bob Marley, Bonny Spear, Burning Wailers, Peter Tosh and people I have come across, who made me love reggae. I find it more comfortable to express my feelings. It is not about jumping and dancing, but a medium you can use to express your feelings about the ills of a society and human rights. There are about one hundred and one types of African music, but I chose reggae because I feel it suits me best to reach out to people easily. Great musicians, like Bob Marley and others promoted reggae internationally and used it as an instrument to fight injustice worldwide.
How did you get the name, Ras Kimono?
The name Ras is a title and every African is entitled to bear it. It is an old American word, which means 'head of the house.' So, every blackman is the head of his home. The word, Kimono, derived from Kimumu, which means, 'what is wrong with the society?' But because of easy pronunciation, I had to change it to Kimono. Many people have told me that Kimono means Japanese wears. But I replied that mine means, what is wrong with the society.
What about your paternal name?
I don't tell people my father's name. Do you want to go to the bank and rob me of my money? Jokes apart. My father's name is my property. So, I don't play with it publicly.
There are controversies about your origin. Where are you actually from?
Africa. I am an African and a true born of Africa. It is not by privilege but right to represent and defend Africa as a blackman. I take a cue from people, like Kwame Nkrumah, Zik of Africa, Emperor Selassie, Jomo Kenyetta and others who fought for the unification of the black people. So, it is the same line I am treading. I have said it on several occasions that people should not call me a Nigerian or a Ghanaian. I am a true born of Africa. There is peace in Nigeria; that is why I am living here. If Nigeria goes to war, I would go to another country. I have right to live anywhere I wish to live in Africa. So, see Ras Kimono as an African. I am a pan-Africanist and I deal with fairness. I don't believe in segregation and Babylon that the white man came here to create in Africa. The U.S is bigger than the whole of Africa and they are together. Europe has also come together. So, why can't Africans come together as one? This is what those nationalists I mentioned earlier fought for. Unfortunately, it didn't materialise before they all flew away. It is the same footsteps I am following to ensure that this becomes one. So, there is no dichotomy. I am an African.
In the 80s and 90s, reggae music used to be the genre that dominated the musical scene. But in recent times, it seems to have gone to bed, so to say. What do you think is responsible?
The truth is that the country has been under pressure economically. If you remember vividly, from about 1995 to 2000, it was like everything was going down the drain. The economy was so bad that if you released an album, nobody was ready to buy it. Many people were finding it difficult to make ends meet. So, music was the least in order of people's preferences. You have to get shelter, food, medication and other basic necessities of life. You don't expect people to listen to music with empty stomach. So, the economic downturn of the country affected the fortunes of the artistes who live on album sales, stage performance and concerts.
Since we don't play at parties, the scene was no longer conducive for us. So, how to survive became a problem. Since we don't want to steal or get involved in illegal activities, we had to embrace Bob Marley's philosophy of who fights and runs away, lives to fight another day. So, most of us went abroad in search of greener pastures. That was why Majek Fashek, the Mandators, Ras Kimono, Alexito and some others took a dive with a plan to make a come back. When we were leaving, there was no much reggae music DJs. But right now, tune to every radio station, they are there blasting reggae. That is a sign of rebirth. It is true that it is not what it used to be in the 80s. But Ras Kimono is back to carry the cross again because I am a crusader right. So, trust me, sooner than you expect, reggae would come back to the same level it was before.
Now that hip-hop, rap and other kinds of music have virtually taken over the dance hall, are you sure that reggae music is still relevant?
Since I came back about one year ago, I have been to everywhere and seen that reggae music is played all over with a blast. I have been to shows and concerts in recent time. When I was at Niteshift and came out to blast reggae, everybody burst out. I went to Dagrin's burial; it was all hip-hop affairs. When I came out to do reggae throw, everybody went into a frenzy. So, believe it or not, reggae music has come to stay. It has no competition and no rival. What people are playing now is just one-way style. Nobody is touching reggae because it is too hot to handle. For now, just give me a little time to find the fire and come out with my throw. You would find that everybody is going to follow suit.
You have six albums to your credit, which you used in fighting against apartheid and other ills in the society. This time around, what would you be fighting?
First and foremost, let me tell you that I have finished recording my new album. And it still has the same ingredients, like in the past. Let me ask. Since 1988 I came out with 'Under Pressure,' is the pressure over? No. The pressure is even getting worse. Our leaders who have been ruling us as they like, in the sense that all of them claimed to be educated and yet there is nothing to show for it. They travel every blessed week to foreign land and see how things work there, but they can't replicate it here. Why can't they make Nigeria work? If they did, a lot of our youths won't be running to foreign land. I have not seen a country as blessed as this nation. Nigeria is supposed to be competing with America, as one of the greatest countries in the world. Unfortunately, the reverse is the case. If we talked to them and they are not listening, we would continue to shout at them.
So, I am not deviating from what I am doing. I am still on that same line until the day we would get someone who would make things work. Then we would change our tunes to praises, just like what they do in America. They don't sing about mismanagement, but about love and sex, guns, enjoyment and death. What we see here is pure tribulation, frustration and starvation. Unless all these are cleared, the same beat goes on. I am not a part of those who see white and call it black. We fight against injustice. Fela sang about it and left behind a lasting legacy. It is the same canoe I am paddling because our music is revolutionary. So, until the society changes for the better, we cannot change our beats.
How has life been as a reggae artiste?
It has been fantastic because I have seen the good, the bad and the ugly. That is why I play reality music, which presents true stories of life. My poor background played an important role in influencing my vision towards my kind of music. It is only reggae I could use to preach the reality of life. It has a way of preparing one's mind. You wake early in the morning and hear Bob Marley's song, 'Don't worry about a thing, because every little thing is going to be all right;' it would go a long way in preparing your mood for that day. That is the truth about reggae and its reality. So reggae has actually affected my life positively on the need to always fight for people's cause. The fact that I am enjoying the good side of life does not mean that I must deviate. As long as the people around me are suffering, I am suffering too. If I have N10 and the next man does not have, it means I have to squeeze out something for him. Therefore, we are all suffering. So, we are still under pressure.
How would you assess the music industry in Nigeria?
I am very happy with the way the industry has grown, even though the structure is not yet in place. How I wish it is the companies that are churning out all the music in the market, like in the days of Polygram, CBS, EMI Music and others. It would have been very wonderful. Back in the days, those companies were involved and the artistes made it. But now, it is a different ball game. The truth is that I don't even know who makes the money now. Everyday I see artistes on television displaying their skills and talents but whether they make money from sales, I don't know. What is common now is that everybody is scrambling for endorsements. You hear them saying that music doesn't sell any more. If music doesn't sell, how come the Alaba marketers keep giving people money to produce albums for them? The music is growing but the structure is still not right.
Virtually all your albums have been successful. But how successful is Ras Kimono financially?
When I was coming into music, I keep telling people, I didn't come into it to make money. I came into it to make a statement. It is just that along the line, Jah blessed me with money. I can afford to buy a loaf of bread and bag of rice for my family. From being a bicycle owner, I am now cruising in a car. So, I give thanks to Jah. However, I don't use that as a yardstick because wealth is not the main focus. My ultimate target is for my message to get to the people and affect their lives positively. I remember when I was taking a walk in New York and an elderly man came to me and said, 'Ras Kimono, you are doing a good job, keep it up.' I was elated because I discovered that the man was not even from Nigeria but Gambia. It means that I have touched his life. So, it is not about the money involved that matters but what I plan to achieve. That is, spreading the message across the globe before I kiss the dust. Whether money comes or not, I would always give thanks to Jah because I would not die starving.
You are married and how many kids have you?
Four kids.
How did you meet your wife?
I met my wife at the University of Lagos, where she was studying Agricultural Studies.. We used to do Bob Marley's anniversary there. One thing led to another and the rest is history.
There is a man known as St Augustine. What was your relationship with him?
He was a big time high life musician. He was like an uncle and a father to me. He was a man who used his music to preach consciousness of life to his people. He was an inspiration to his generation. I loved him with maximum respect. There is an adage: 'when your hand is clean, you can eat with the elders.' So, because of the love he had for me, he always wanted me to be around him.
Did you have any collaboration with him musically?
There was no collaboration of any sort. I took him like a father, just like the way I did to Chief Osadebe, Tomoloju and others. That is African way of living. You have a lot of things to learn in associating with such people. For instance, Tomoloju originally wrote my song, 'Kubo Kubo Ye'. But he gave me the permission to use it and became a hit track.
You were not in Nigeria when he died…
I felt terribly bad. I remember vividly that before I travelled out of the country, I took him to Premier Record because I had advised him to drop a new album under that label. Fortunately, they received him warmly and said they had been looking for him for a long time. They said, 'Sir, before you say anything, we have something for you.' Eventually, they gave him a cheque. I did not take him there to collect money but to release an album with them. That is the kind of respect he was accorded in the Nigerian music scene. But unfortunately, he could not release the work before he died. When I heard of his death, I was heart broken. My consolation was that Jah giveth, Jah taketh. May his soul rest in peace.
What could make you cry?
For now, nothing. The reason is that I have passed such moment before. There was a time my wife had twins for me and it was the best moment of my life. I was shouting and telling people who cared to listen. But after about two or three weeks, they died. I was absolutely devastated. Honestly, I don't think there is anything more than that for me.
When was this?
It was in 1993.
When did you get married?
I got married in 1990.
How old are you?
I was born 500 months ago. Let the society do the calculations.