Geneva Court Convicts Abba Abacha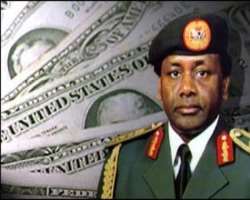 PHOTO: NIGERIAN FORMER MILITARY DICTATOR, LATE GEN. SANI ABACHA.

San Francisco, June 18, (THEWILL) - A Geneva court today handed Mr. Abba Abacha, 41, one of the sons of late Nigerian military dictator, General Sani Abacha, a two-year suspended sentence for belonging to a 'criminal organization.'

Gen. Sani Abacha during his reign as Nigerian head of state looted more than $4 billion dollars from the Nigerian treasury before he died in office in 1998. Abba was convicted for helping the kleptomaniac late leader plunder some of the wealth.

Abba Abacha in 2009 appealed a guilty verdict passed on him as well as an order to seize assets worth over $400 million dollars linked to his late father but a Geneva Police Court decided last month that the trial would continue without Abacha and some other witnesses who opted out of the proceedings.

As at press time Abba Abacha's location was unclear.

THEWILL has however gathered that with today's ruling, the central government in Nigeria would move to confiscate the funds and other assets which are mainly in the Bahamas, Switzerland and Luxembourg.