Improving The Quality Of Rice Production In Nigeria Through Technology Transfer.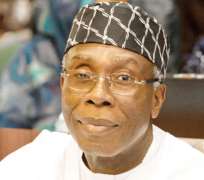 WORLD rice production statistics affirmed that of the 14.6 million metric tonnes of paddy rice produced annually on 7.3 million hectares of land in Africa, Nigeria's production rose from 3.7 million metric tonnes in 2017 to 4.0 million metric tonnes in 2018. This thus ranks the nation as the largest producer of rice in the black continent of Africa.
The hournorable Minister of Agriculture, Chief Audu Ogbeh recently remarked that rice production in the country has risen by 19 percent within the last four years and promised government will intensify efforts to increase production in the 2019 cropping season.
The market value of the current quantity of local rice produced in Nigeria is about 684 billion naira($1.9 billion). This makes the country the sixteenth top producer of rice in the world. The country produced more than enough local rice for home consumption need and has drastically reduced the huge burden of foreign rice importation into the country.
Dr. Harold Roy-Macauley, Director General of the Africa Rice Centre, Cotonuo, Republic of Benin expressing his views in an interview with Journalists on Nigeria's diversification programme on agriculture and its 2018 rice production achievement says, "Nigeria has become Africa's fastest growing economy."
This laudable and commendable feat of the country in rice production was possible by the encouragement and support given to rice farmers in the country and more importantly on government policy ban on importation of foreign rice into the country put in place by the administration of President Muhammad Buhari to boost the production of local rice in the country.
Government efforts since 2015 is to diversify the country's economy to be less reliant on oil but on agriculture to ensure food security and increase agro-export to boost the nation's Gross Domestic product (GDP).
Nigeria has a total land area of about 923,768 square kilometres, a total of 71.2 million hectares is devoted to agricultural production and of which about 5.0 million hectares are available for rice production with respect to the different rice environments or ecologies available in the country viz: Upland, Inland or shallow swamp, Irrigated(Lowland), Deep water or floating, and Tidal(Mangrove) swamp
Today, government support for increased rice production in the country is yielding great dividends. Land area devoted to the production of the crop has increased and the population of rice farmers in the 34 states where the crop is produced in the country has risen to about 12 million.
National and International research efforts towards improving the production of paddy rice in Africa and in Nigeria in particular is not static. Today scientific innovations in rice research have made available disease resistant varieties adaptable to different regional ecologies, table needs and taste. Improved varieties of rice are made available to local
farmers through the training and visit agricultural extension activities of Agricultural Development Programme (ADP) of each state in the country.
Many promising rain fed upland and irrigated lowland varieties of rice, such as ( ITA 257, ITA 150, FARO 11, FARO 25, ITA 212, ITA 306, FARO 15, FARO 31 and NERICA varieties), developed by International Institute for Tropical Agriculture, Ibadan Nigeria (IITA), African Rice Centre, Cotonu, Benin(WARDA) and the National Cereal Research Institute, Baddegi Niger state, Nigeria(NCRI) respectively have been tested for growth, yield, nutrient content and taste and were found to compare favourably to any of the imported foreign rice. If appropriate instructions on their field planting, management, harvesting, drying, threshing, parboiling and milling are followed and adhered to by farmers and other stakeholders in the rice production industry, rice farming will become a lucrative and attractive business to bring in quick money for farmers in Nigeria.
Nigeria is endowed with land and enough well developed dams for upland and lowland rice production respectively. It is therefore the duty of government at state or federal level to maintain these irrigation dams for continuous production and must make efforts to inform and educate local farmers in irrigation techniques in the use of small rivers and streams for increased lowland rice production in the country.
The growing rice at booting stage needs a lot of nitrogen to enhance good grain filling and the preferred nitrogen fertilizer(Urea), must be applied by broadcast method in the right quantity and at the right time of the day for up take for optimum use by the growing rice plants.(Appropriate soil test or observing plant signs for nutrient need is important in this respect.)
Towards making the different fertilizer needs for rice production available to rice farmers in Nigeria, government must revive and support the country's in-organic fertilizer production plants in Onne and Kaduna respectively to enhance home production to make fertilizers available and affordable by rice farmers in the country.
In making fertilizers available to farmers for rice production, government must remove the corruption and bottlenecks of the past at state or federal level associated with the sale and distribution of fertilizers to farmers in the country.
It is the duty of government to also provide cheap modern rice production or working equipments from planting to harvesting to enhance the quality and attract more home buyers of rice produced in Nigeria.(Rain boots, hand gloves, Irrigation equipment-Water pumps, Hoses, Pesticides, Herbicides, Spraying machines, Threshing machines, Parboiling machines, Multipurpose Milling machines, Automated bird scaring machines. etc.)
The Federal Department of Pests Control established by the federal government must support government efforts and intensify its extension services during cropping season to rice farmers in areas prone to pests threat.
Storing paddy rice grains for food security in the country and to enhance good market price has been made easy by the government with the establishment of the strategic grain reserve department by the federal government. The department have well trained engineers and technical staff and have built large capacity silos in few states across the country to buy and safe grains from farmers at harvest for sale to people at cheap price during lean or off season period when production is low.
Since inception, many years ago, the SGR department has been up to its task in meeting the food needs of the people. The importance of the silo for rice grain storage in government policy for rice production in Nigeria can not be over emphasized.
Apart from starting a rice farm with good source of improved seeds that are resistant to most of the common diseases known to reduce the quality and yield of rice on the field, good farm management will also reduce many pests diseases associated with rice production (Rats, Birds etc) and allowing the panicles to dry well before harvesting will prevent poor grain formation and fungal attack that may result if harvested at high moisture content from the field.
The difference between local rice and foreign rice is the modern technology involved in their production in these countries as against poor and obsolete equipments local farmers still depend upon for rice production in Nigeria. The economy and future of local rice production in Nigeria depends highly on improving the post harvest processing to meet the demand for consistent quality.
Nigerians, particularly the middle and high income classes prefer foreign rice because the quality of local rice is low due to poor technology transfer.
Towards improving the quality of local rice production in Nigeria to attract purchase and consumption by the people, government must fund and equip the four technology transfer stations in the country established for the training of extension agents and farmers for increased production in agriculture through the use of adaptable and affordable modern technologies.
The Technology Transfer Stations in Dan Hassan in Kano State, Ubiaja in Edo State, Ugwuoba in Anambra State and Gashua in Adamawa State have contributed immensely to extension training in technology transfer to farmers in the country for increased food production.
The stations established by the federal government in 1989 in different ecological zones in the country have enhanced the training of agricultural students in tertiary institutions in the country, extension agents and farmers in states across the nation. This feat of the Federal Department of Agriculture can still be used to improve quality and quantity of rice production if supported by the government.
Banning the importation of foreign rice into the country is a good policy program by government to encourage home farmers to increase local production. The fact still remains that improving the quality and taste of locally produced rice will increase buyers, table and industrial uses of rice.
Government to improve the quality of rice production in the country must fund the procurement of the necessary equipment required in its production.
The quality of Nigerian local rice can be improved from its present standard by employing modern machine technology to remove stones and other extraneous materials that may delay cooking or affect taste.
Cost for the purchase of rice production nd processing equipment by poor resource farmers must be subsidized by the government. Their importation too by rich farmers and farmer organisations in the country must be made duty free.
The country's National Centre for Agricultural engineering and Mechanization in Ilorin kwara state must be funded and mandated to work with other private and government engineering units in the country to fabricate locally essential easily managed machines for rice production for purchase by farmers in the country.
Government can procure modern rice production equipment and rent out at cheaply to farmers through the ADPs in each state to increase and improve the quality of rice production in the country.
The formation of Rice Farmers Association of Nigeria(RIFAN) as a body for the welfare of rice farmers in the country is a move in the right direction. This will improve marketing, and ensure equitable distribution of funds and farm inputs for rice production provided by the government to farmers at the grass root.
Though aging and retirement from active government service, Nigeria has enough trained technical manpower for increased rice production. Training and retraining will however update skill and increase technical work force of the government in this respect.
Government must establish industries for the utilization of rice for other industrial products to meet human needs viz: Tooth paste, Wine, Hat, Bread, Biscuit etc.
Students of colleges of agriculture in the country must be trained in the field production of rice and must be made to pay excursion visits to government or privately owned rice production centres in any state in the country for practical field experience on rice production to enhance their knowledge.
Government, must encourage hard working senior members of staff with advance degree in agriculture to visit foreign countries where rice is produced to acquire practical experience on rice production with the ultimate goal of improving training, technical and supervisory skills of recipients.
Chief Audu Ogbeh hails from Benue state. He was born in 1947. He attended the famous King's college, Lagos, Ahamadu Bello University, Zaria and the University of Toulouse, France. He was a University Lecturer and was former head of Department of Humanities, Murtala College of Science and Technology, Benue.
Chief Ogbeh started his political career in 1979 as a stalwart member of the Peoples' Democratic Party (PDP). He served the party in different capacities and signed. He however later join the All Progressive Congress(APC) party and in 2015 was appointed the country's minister for Agriculture and Rural Development.