AIT Founder, Dr Raymond Dokpesi Arrested At Nnamdi Azikiwe Airport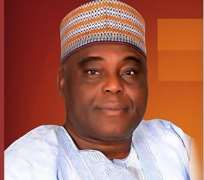 The Founder of Daar communications, Raymond Dokpesi, has been arrested at Nnamdi Azikiwe Airport, Abuja.
Dokpesi was arrested on Friday on arrival in Nigeria after receiving medical treatment at the American Hospital, Dubai.
Reasons for his arrest remain unknown. However, an immigration officer was quoted as saying that Dokpesi was on the security watch list of the federal government.
The officer added that order had been given to have the businessman arrested on arrival.
View image on Twitter
AIT ✔@AIT_Online
Breaking: Chief Raymond Dokpesi has been arrested at Nnamdi Azikiwe Airport on return from medical treatment /operation at the American Hospital Dubai. Reasons have not been given yet for the arrest.

62
4:22 PM - Mar 22, 2019
70 people are talking about this