Dehumanization Of Lagosians: Jimi Agbaje Blasts Sanwo-Olu Over Rice Distribution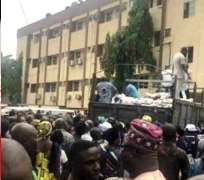 Jimi Agbaje, the Peoples Democratic Party (PDP) Lagos state governorship candidate, has called out APC candidate Babajide Sanwo-Olu over rice distribution to Lagos workers.
Sanwo-Olu had on Thursday distributed bags of rice to civil servants after a meeting with them at the state secretariat in Ikeja.
Agbaje believed the action violated civil service decorum and neutrality as the bags of rice had logo of the APC.
He spoke through his Director of Media and Publicity, Felix Oboagwina:
"We find the invitation and the rice gift appalling, opportunistic and illegal," a statement ordered by Agbaje read.

"In a political contest of the nature in which Sanwo-Olu and the rest of us are involved, he has been offered an undue advantage. An uneven playing field has been created. And this is condemnable and contemptible.

"The gesture goes against Nigeria's bureaucratic statutes that forbid civil servants romancing politics. For crying out loud, there are still regulations preventing civil servants from involving in politics.

"That invitation and the rice gifts is a violation of those extant rules."