Maurizio Sarri latest example that Chelsea managers don't matter as players run up white flag again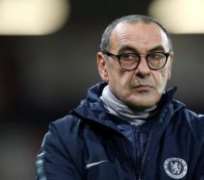 Something needs to change at Chelsea , but it may not be the manager.
Sunday's 6-0 demolition by Man City exposed many of the flaws in Maurizio Sarri 's approach, but could any manager have inspired a better performance? The problems at Stamford Bridge run far deeper than the 60-year-old's tactical intransigence.
The logical conclusion of Roman Abramovich 's 'managers don't matter policy' is that managers cease to matter. Many of this squad have seen off Jose Mourinho and Antonio Conte.
The habit of running up a white flag when things get tough is becoming part of the institutional memory in SW6. If Sarri is shown the door would anyone have any confidence that a new man could change the culture?
Back when the trophy haul appeared to endorse a revolving door policy in the dugout, Chelsea had players like John Terry, Frank Lampard and Didier Drogba. They were strong characters in the dressing room and on the pitch. After Andre Villas-Boas was sacked they stormed to an unlikely Champions League victory. Roberto Di Matteo was at the helm, but in reality the team had engaged a self-triggered automatic pilot that drove and steered itself.
Where are the big personalities in Sarri's team? David Luiz is a significant dressing-room presence, but that does not translate to leadership on the field. At 31 he is an ageing liability and it was foolish bringing him back from Paris St Germain. It would make sense to move him on along with half-a-dozen of his team-mates. Eden Hazard is not a natural talisman. Some have wondered why a string of managers — the Belgian has had six in his time at Chelsea — have not built the side around the winger. You have to come to the conclusion that, for all his talent, he lacks the killer instinct that turns very good players into superstars.
Watch Chelsea defender Rudiger face up to fuming fans at City
If the 28-year-old has made the decision to leave in the summer it might be a relief for both parties.
Chelsea need to reassess how they do things from the boardroom to the pitch. The first half of the decade brought five trophies. They have won just two since. These diminishing returns show it is time for a rethink.
The good news for Sarri and his players is they have the chance to put their humiliation against City behind them. Next week they host Manchester United in the FA Cup and the following Sunday they face Pep Guardiola's side in the EFL Cup Final.
Some are comparing Sarri's travails to Guardiola's first season here when his methods stalled. There is a big difference. The City boss had the trust of the club, the cash to buy players and a squad whose mental toughness was beyond doubt. Sarri has none of these. It will be tough for him to turn things around.
Evening Standard