Ecobank Manager, Ifeanyichukwu Azike Remanded In Prison Over N411Million Fraud
As Confidence Rating By Customers Diminish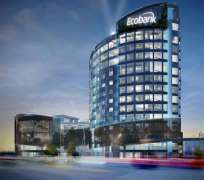 A Federal High Court sitting in Lagos on Tuesday ordered that an Ecobank manager, Ifeanyichukwu Azike, be remanded in prison for allegedly defrauding a customer of N411 million.
Mr Azike was arraigned by the Police Special Fraud Unit (SFU) on three counts of obtaining money by false pretence, false representation and fraud.
The police in the charge marked FHC/L/56c/2019, alleged that Azike between 2016 and 2017, fraudulently obtained the sum of N150 million from one Okafor Ikenna Kelvin a customer of Ecobank Plc with account number 0533010936, under the false pretence of buying for him Federal Government Treasury Bill in his bank.
Azike is also alleged to have forged the bank customer's signature, picture, letter of instruction, which he used in opening another parallel account as Ikenna Okafor Kelvin with account number 5333063028.
In the third count, the prosecution said the defendant "did fraudulent convert to your use the sum of N411, 000,000, being money fraudulently withdrawn from your employer without their consent, and from a customer of your bank, to invest on behalf of the customer, which you failed to deliver, with aim of converting the illicit origin of the resources."
The alleged offence violates Section 1 (1) (a) of the Advance Fee Fraud and punishable under Section 1 (3); Section 1 (2)(c) of the Miscellaneous Offences Act of 1999 (as amended), and Section 15 (1) 2) and 15 (2) of the Money Laundering (Prohibition) Act, 2011. Azike, however, pleaded not guilty.
Justice Ayokunle Faji ordered that the defendant be remanded in prison pending hearing of his bail motion. The matter was subsequently adjourned until March 8.
Meanwhile, fraudlent activities of some employees of Ecobank is said to have sparked exodus of customers as many are becoming doubtful of the safety of their deposits.