2019: APC Releases Name of Women, Youths Directorate for Buhari's Re-election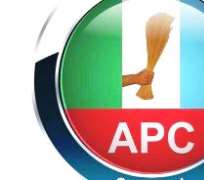 Ahead of next Saturday's presidential election, the All Progressives Congress has released the name of Youths and Women Directorate for the party's Women and Youth Presidential Campaign Team.
The team which comprises members from the 36 states of the federation has as its Director Wole Aboderin while Prince Odinaka Ohaekelem as Deputy Director(Youth).
Others are Hajia Hassana as Deputy Director (Women) and Barr. Oscar Obi as its Secretary. Meanwhile, Abubakar Maikudi was named the North Cordinator while Mrs Asuama Sydney was named South Cordinator.
The Zonal Cordinators are: Amb. B Gana (North East); Aminu Yakubu (North West), Zainab Abubakar (North Central) and Leonard Eke (South East). Others are Kunle Aragboye (South West); Mrs. Joeba West (South South).
The 36 States and Federal Capital Territory Coordinators and Secretaries are: Funke Fowler (Coordinator) and Ope Mike (Secretary) Lagos; Makinde Araonye (Coordinator) and Hon. Kemi Abdulaziz (Secretary) Ekiti, Otunba Adekunle (Coordinator) and Femi Egbediyi (Secretary) Oyo, Owolabi Awosan (Coordinator) and
Remi Ode (Secretary) Osun.
Others are: Babalayo Olulayo (Coordinator) and Damilola Elemo (Secretary) Ondo, Emmanuel Ojo (Coordinator) and Femi Ilori (Secretary) Ogun, Arch. Amddi Amddi (Coordinator) and Bala Muhammed (Secretary) Kogi, Hon. Rosbinson Uwak (Coordinator) and John Maxwell (Secretary) Akwa-Ibom, Victoria Ediejomaoh (Cordinator) and Osayende Okoro (Secretary) Edo.
Barr. Obinna Obi (Coordinator) and Millicent Duru (Secretary) Imo; Hon. John Ifeanyi (Coordinator) and
Aristey Okoye (Secretary) Anambra, Muntari Tbo (Coordinator) and Abdullahi Aliyu (Secretary) Katsina, Comr. Adamu Abdullahi (Coordinator) and Barr. Abdullahi Abubakar (Secretary) Kano, Princess Agom Eze (Secretary) and Chief Onwuka Egwu (Coordinator) Ebonyi.
Juliet Egbo (Coordinator) and Joshua Mamah (Secretary) Enugu, Chinedu Onyeizu (Coordinator) and Peter Blessing Onwuka (Secretary) Abia, Amb Gabriel Oyibode (Cord) and Frank Ossai (Sec) Delta, Susan Abu-ofiukwu (Cord) and Fanen Adi (Sec) Benue, Excel Toriomo (Cord) and Felagha B. K (Sec) Bayelsa, Ali M. Nyelong (Sec) and
Emmanuel Lar (Cord) Plateau, Essessien Edem (Cord) and Mrs. Mayen I. Mbuk (Sec) Cross-River.
Also, Hon. Bashir Sheriff Macina (Cord) and Nana Bashir (Sec) Yobe; Danjuma Maduwa (Cord) and Barr. Mu'amiyah Gaddafi (Sec) Adamawa, Salisu Zuru (Cord) and Sani Ibrahim (Sec) Kebbi, Chief Ezekiel Irimmiya (Cord) and Sule Yakubu (Sec) Taraba, Yusuf Sa'idu (Cord) and Aisha Ndayako (Sec) Niger, Ali Al-makura (Cord)
Abdul Usman Shianibu (Sec) Nasarawa, Fareeda Odangi Suleiman (Cord) and Muhammed Hussain (Sec) FCT.
Gazau GarbaGadi (Cord) and Mustapha Salisu (Sec) Bauchi, Sagir Baba (Cord) and Umar Yahaya (Sec) Kaduna, Ali Ibrahim (Cord) and AlhUsman Isa (Sec) Borno, Hon. Dattuwa Kumo (Sec) and Musa Abba Musa (Cord) Gombe, Agboola Abdulrazak (Sec) and Mr Memuna yusuf (cord) Kwara, Abdullahi Gambasha (Cord) and Barr. Saidu Zakari (Sec) Jigawa, Nasiru Sokoto (Cord) Suleiman Mahmud (Sec) Sokoto, Fubara Dagogo (Cord) and Mr. Nlemogu Onwuzuruike (Sec) Rivers., Alh. Bashiru Muhammed Atake (Cord) and
Mustapha Shehu (Sec) Zamfara.
Signed
Wole Aboderin
Director
Women, Youths Directorate for Buhari's Re-election