DARE JONATHAN, DARE GOD – YUGUDA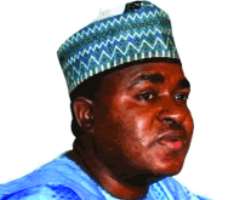 Yuguda
Isa Yuguda, the Bauchi State Governor is a journalists' delight anyday anytime. He is the type that expresses his mind without minding whose ox is gored. In an interview with journalists in his office in Bauchi recently, the colourful politician described the zoning arrangement of the Peoples Democratic Party(PDP) as a mere gentleman's agreement within the party. While reminding that the arrangement was never part of constitutional provision, Yuguda warned that using the arrangement against President Goodluck Jonathan would simply amount to daring God, saying it was God who chose him to play leadership role in Nigeria.
The governor also spoke on other issues as his achievements and popularity in the state.
Excerpts:
In spite of the economic meltdown, your administration has embarked on several projects in virtually all sectors.
How do you cope with the funding of these ?
On how we have been able to survive the economic meltdown in Bauchi, for one; we have been very prudent with our financial management. When I came in and inherited over N20billion debt portfolio, I had to run to Abuja because some of the debt obligations were such that deductions were made as source from liquidation account. And I also had to move to the management of the various commercial banks that the state was owing and we had to convert those overdrawn facilities to term-loans and giving my experience in the banking industry which was handy, it was handled. They saw to our own point of view because we couldn't have moved the state an inch if that was what we were faced with. So, we had to restructure most of the debt and smoothen the cash flow so that we could do projects. And the first year after restructuring those debts, we had a deficit budget in 2008.
When we were budgeting in 2008, we had a deficit of N10 billlion which we borrowed and there was an absolute need for that borrowing because we had to fix the schools, we had to fix the hospitals, there was no way we would have produced money without part of budgeting. In the event that you don't have money to finance your deficit, you borrow or float a bond.So, we used that as a take-off and we were very successful in the interventions we made in the health sector.
The state specialist hospital that you saw which was converted to a teaching hospital, by the time we came, there was only one generator that was 18 years old; there was no power in the hospital and PHCN hardly came. So, I bought two 5KVA generating sets for them. There was no water in the hospital; in short we had to break so many roads to fix the water system into the hospital. You will be shocked to know that people used to take water from wells and the entire hospital was smelling. We sank boreholes, we rehabilitated most of the wards and we built new ones including the new accident and emergency centre which is a mini-hospital, because there is everything that a hospital has in that new emergency centre ranging from X-Ray, theatre rooms, intensive care, consulting rooms, pharmacy and many others. So, it is a mini-hospital that is considered the best accident and emergency centre in the country.
By the time we finished the rehabilitation of the hospitals and requested the Ministry of Health, after getting the approval of Mr. President to allow Abubakar Tafawa Balewa University run courses in medicine, there had to be a teaching hospital attached and it had to comply with the standards of a teaching hospital before we will be given the go ahead to admit students. And by the time the NUC sent about nine professors under the leadership of Professor Briggs from the University of Port Harcourt, when they came to the hospital, he jokingly put it to us when he came to the council chambers, that if he falls sick today, he would want to be brought to Bauchi, especially this hospital. There and then, they confirmed to us without even going back to Abuja to report to the executive secretary, that our hospital is fit enough to host a teaching hospital. So, we built the renal centre and I believe it is the biggest today in Nigeria, and we have almost 12 dialysis machines. They are state-of-the-art machines.
We built an intensive care unit after building two operating theatres; the intensive care unit keeps at least three patients alive at any given moment. You have seen the equipment, in fact, PhD students in pharmaceutical sciences and other physical sciences normally come for their research in Bauchi and using the laboratory there.
So, we had to manage properly what we inherited, manage the debt portfolio to smoothen our cash flow to be able to do what we did. So, that is the debt aspect of it.
The education sector too was really in shambles. We had to increase feeding allowance four-fold. What the previous administration used to give in one year, we gave in one quarter. If you saw our students then, you would weep because they were just like those people in the concentration camp and 60-70% of them are normally ill because there is no water, potable water, no food to eat, parents were even scared of sending there children to school. It is a pathetic story.
We have actually gone round the state and we found some good roads that are not in optimal use, is this not a conflict in priority?
Creating accessibility to your citizens through good means of transport is very essential for the growth of an economy. Take, for instance, those feeder roads that were built, they have unlocked those villages that produce tons of rice and maize but didn't have the capacity to move it out to go and sell and which is why they cannot buy vehicles. And yet they have animals they want to go and sell but they don't have the feeder roads to transport them. With these roads now, not only do they have incentives, it is also an opportunity for them to do more farming because now it is easy for more people to move in to come and buy and they can easily move out their products to go and sell. And now their income can increase. I assure you, in the next two to three years, you will see brand new vehicles plying those routes because those areas have been unlocked.
But the short time positive effects is that we have many of our people especially women who could not be taken to the hospitals when they were giving births. Many of them died because there were no roads to take them as quickly as possible when they are on danger list. They carry some of them on wheelbarrows or donkeys. But unlocking the rural areas now, it is very easy for them to make a call because there are ambulances everywhere and they can easily go and pick the patients. So that has been the experience in Bauchi and we are very positive that it has reduced the mortality rate generally.
Also, for security, it serves as a very quick means when there is distress, conflict or robberies in some of these villages because there is easy access now. The benefits go on and on. As for the vehicles you expect to be seeing on those roads; that would be a medium term thing because when one is planning, one should plan with the long term instead of experiencing the short terms benefits and the short term are being seen visibly and they bother round security and life saving.
We have noticed that in terms of performance you have done well. But your problem seems to be more of politics with those criticising your government?
That is why it is good to have people like you who are the conscience of the society to go out to check if those that are elected are doing the right or wrong thing; to check whether we are being judged right or wrong or whether we deserve the kind of criticism we receive from the pages of the newspapers. And if the situation continues like that, a time will come when you will beg people to come and run for governorship seats and they will never come; there will be a time when people will beg for people to become the president of Nigeria and they will not come. That is why your own generation needs to work hard to redefine what politics should be, what journalism should be in Nigeria and the kind of human beings that should be our leaders.
This is because the mere fact that you are not comfortable with somebody or out of jealousy, like I said in my introductory remarks, the day I was sworn in, I had 99% popularity in Bauchi, but I am very sure by the time I left that stadium after my swearing-in, my popularity would have dropped to 50%. Merely hearing the siren of a new governor blowing, somebody might feel sad that Yuguda has become governor even though he might be the same person who slept in the polling booth to ensure that Yuguda wins. Somebody will go and tell him that this is the type of person Yuguda is; that may be he belongs to a cult or he is a ritualist or he did this and did that, then the guy will just be confused. The guy might be convinced. Or a person can go and get a large audience and start preaching to them that this guy is a bad guy, we have made a bad mistake.
So, this pulling-him-down syndrome in our country has to stop. We have to appreciate that leadership is from God and once he gives that leadership, anyone daring that leadership is daring God. Anybody that says he is daring President Jonathan today is daring God because it is God that gave him that seat; He took away Yar'Adua's life to make him President. And if you say you are daring Isa Yuguda, because Isa Yuguda defected from a party and defeated that party and won with an overwhelming majority votes; defeated a sitting governor on a Senate seat, by installing his S.A. (Special Assistant), because I took my S.A. and said he should run; the same SA is the Minister of the Federal Capital Territory; he was my S.A. for five years. So, if you say you are daring my seat, you are daring God, because I didn't put myself there. The popularity rate I got is from God, I didn't have the money to spray to make people vote for me. If you went to Bauchi that time, you will weep as women went to INEC with their babies and they slept outside to wait for the votes to be counted; no soldier went into the place, only those who were carrying the ballot papers. Only those with the results were allowed in.
When I defected to the PDP, the structure was dissolved because I brought a government into a party and the party was not the one that brought the government. Definitely, you would expect some complaints from those who brought the government in. It was my own structure that brought the government into power, so you don't expect me to dovetail into a structure that didn't bring me in. So, in most states, the experience was to dissolve the executive. So, when the executive was dissolved, some of the members were very bitter that they were elected and they were dissolved. But they were elected yet their structure didn't win elections and now they had a government free of charge and they didn't want to let go. That is typical Nigerians for you, they don't believe in live and let's live and they don't believe in accommodating one another's interest. In life, we are all different human beings and the only way we can live is to accommodate each other's weaknesses. Everybody has his own weakness and you can't live together without accommodation.
But I don't think the problems are insurmountable and in fact, the leadership of the party is in control of things and we have some of the so-called Abuja politicians who never tasted anything called elections. Let them go and win their wards before they come and make noise. I am not scared of anybody and I am not so fussy about being at the service of my state and country. God in his own wisdom chooses who is to be a leader, and if he chooses me to continue leading Bauchi, nobody can stop it. And I am leading Bauchi with my conscience very clear and I have always said without fear or contradiction that I don't have any skeletons in my cupboard.
There is currently crisis in the PDP regarding the zoning issue which is said to be to the North. Some are saying anyone can contest, while others say the slot still belongs to the North.
What is your opinion on that?
It is not a question of opinion. Like I said, God has already made His own leader and the constitution has provided for people to contest for elections and the constitution has not provided for zoning, and if there is a 'gentleman agreement' in parties where zoning is agreed upon, it is not constitutional as far as I am concerned and if they want to adhere to it, so be it. But like I said, I believe leadership is from the Almighty whether zoning or no zoning. Supposing I have not decamped to PDP, you wouldn't have asked me that question because ANPP has not issue of zoning. If PDP says they want zoning and other parties say they don't want zoning, then, let us go by what the constitution says as far as I am concerned. But if it is a gentleman agreement and people have agreed to do it, so be it, but it is not constitutional. And I must add that God in the book of faith says; 'Let the best among you rule,' it didn't say, 'you are black or white or Yoruba or Hausa or Itsekiri, it says, let the best among you rule; it didn't say Christian or Muslim. It says let the most equitable amongst you rule. That is the kind of leaders should be looking for not to be talking about this kind of things we are talking about.
Just a few days ago, the PDP Reform Forum came up with a proposal on the reform of the party. We want to know which part of the divides you belong; do you belong to the side of the reformists who are aiming for a change or the other side which is mainly the governors, who are emphasizing that that things should remain the same?
As far as I am concerned, I haven't seen anything wrong with the status quo to warrant the reform. For goodness sake, let the reformists go and contest for elections and let them win first before they talk of reforms. The president should be allowed to work, he should not be bogged down by all these problems. Let people go and test their popularity, let them be elected; when they are elected representatives of people then they can talk about reforms. There are some in the reform group, they may not have even voted in their lives, they may not have even seen a ballot box or gone to polling booth before and yet they are talking about reforms. Let us fine tune what we have and let us see where we are going wrong.
America has had democracy for about 200 years now, they have one constitution and that constitution has never changed. Have you ever heard that the constitution of America has changed? Or that they start reforming today, reforming tomorrow? Reforming what? What is wrong with what we have been doing before? If there is something fundamentally wrong, then so be it. But as far as I am concerned, the group that is talking about reform in the PDP, if they are talking about reforms in the constitution that will perfect things, yes we have seen where we have been going wrong and the need to change things has arisen because of changes in time, fine and good. But the party itself, let us works as a family and let us prepare ourselves toward 2011, not talking about reform when you are entering an election year.