"300 Staff Sacked", Ebonyi State University (EBSU) debunks allegation.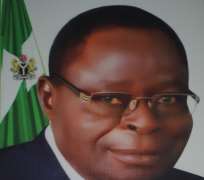 Ebonyi State University, EBSU, Abakaliki, has, debunked the misconception in some meaningful quarters that it sacked 300 Staff of the Institution for political and economic reasons.
Briefing newsmen at the main Campus of the Institution, the Vice Chancellor, Prof Chigozie Ogbu explained that only 63 of its Staff were disengaged from the Institution based on the report submitted by the Committee set up by EBSU.

According to him, no Staff was disengaged based on political reasons but following falsification of their age and other forms of educational malpractices.

"The attention of the Management of Ebonyi state University has been drawn to the rumours and insinuations in various social media platforms and other quarters, alleging that 300 Staff of the University have been sacked.

"These Staff were disengaged on the basis of findings of overstay in service, non-retirement after the age of 65/70, falsification of records of age and qualifications. Each Staff was confronted with the findings in his or her records and they had no evidence to counter the findings of the Committee.

"Indeed, the authorities of the Institution will not succumb to cheap blackmail nor victimize any law abiding Staff or section of the Staff, as it is unequivocally committed to equity, justice and fairness to all.

" We frown at a guber candidate who says he will retain disengaged staff not knowing that the University is autonomous and regulated by National Universities Commission, NUC and a set of rules. The politician should find another ground to spread their falsehood and leave the University in peace. "