Dame Okowa Sues For Peaceful Co-existence Among Deltans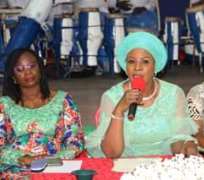 Wife of Delta state governor, Dame Edith Okowa, has sued for harmonious co-existence among Deltans just as she hinted that Deltans which spread across eight tribes are one indivisible entity.
She made the assertion at the weekend when she hosted wives of traditional rulers from across the 25 local government areas of the state to a Christmas party at the state government house in Asaba.
The governor's wife who has made significant impact in the lives of Deltans through her pet project, 05 Initiative, said Delta state is one, noting that the oneness must begin from the royal palaces where the queens hold sway and determine to a great extent the actions of their subjects, especially the womenfolk.
She said: "Delta is one, we do not have boundaries, we live as one. And this one Delta must begin from the royal palaces across the state. We love all our queens and the people of Delta also love the queens."
As part of means of entrenching peace in the different kingdoms and communities, she challenged all the queens and their subjects to always spend time to pray in their respective communities, saying the success of the kingdoms and the peaceful co-existence of all people therein dwell essentially on prayers.
She revealed that prayers could change their communities and break the activities of evil, entrench lasting peace and help avert problems that could unsettle the unity and tranquility in their domains.
She admonished the queens to raise altars of prayers in their kingdoms, insisting that if there is somebody who could pray, there is a God in heaven who is ever ready to answer the prayers made from righteous and saintly lips.
She told the queens that it is only Jesus, who could solve all the problems of humanity, adding: "No matter your age, the age will expire. It is not about what you acquire on earth, it is about your relationship with God. One day you will come down from whatever height you are and account for your life.
"Queens occupy a very important position in their kingdoms. What you do in your kingdom can affect the whole community. Jesus used the word to defeat the devil. The devil was only defeated when he heard the word from Jesus. If you don't have the word of God in you, you can't defeat the devil."
Pastor (Mrs.) Kesiena Samson, who took the queens through a soul searching sermon, gave unassailable reasons why humanity should turn to Christ, explaining that irrespective of the possessions of people on earth, there is eternity ahead of everyone.
She said though December is associated with festivities and celebrations in which many people abandon the reason for the season, she said humanity must be careful of how the life given by God is used as there is a heaven to gain and hell to lose if life is well lived and heaven to lose and hell to suffer if life is lived licentiously.
"It doesn't matter whether you believe it or not, there is a heaven and there is a hell. These are two paths that are before us from which we have no choice but to choose one. What do we stand to gain if we gain this world and lose our souls in hell?
"Eternity is life without end. There is no satisfaction in wealth and money but only in Christ. Repackage your life in Christ so that when your life expires you will see God," Pastor Mrs. Kesiena said.
Pastor Kesiena, who moved the queens to a point of decision with her heart pricking call for repentance and a change of heart, told the queens that now that man still exists is the best time to seek God.
A calm atmosphere fell on the Unity Hall where the event was held as she pungently insisted that the present moment was the right time to change for Christ.
It was a solemn moment as she moved the queens and other government officials, especially women in the event, to a point of making decision, leaving no space for frivolities in her quest to drive home her message.
Director General of 05 Initiative, Mrs. Kevwe Agas, in her opening speech, charged the queens to celebrate the season in line with reason for the season, noting that it was time to show love and care for one another.