Fayose in car crash at Third Mainland Bridge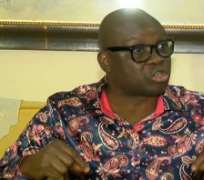 The immediate past governor of Ekiti State, Ayodele Fayose, has narrowly escaped death from accident  following his involvement in an auto crash on the Lagos Third Mainland Bridge.
His media aide, Lere Olayinka, broke news of the accident on his Facebook account, where he said the former governor was in a stable condition and receiving medical treatment at the moment.
"Immediate past Governor of Ekiti State, Mr Ayodele Fayose was involved in auto accident on 3rd Mainland Bridge in Lagos, a few minutes ago," he said.
"He is in stable condition as I write while he is receiving medical attention."
Providing an update on the accident in the evening, Mr Olayinka wrote on Twitter that the former governor was now "fairly okay."
"I am happy to inform members of the public that former Governor Ayodele Fayose is now fairly okay," he tweeted.
"The former governor thanked God for limiting the impact of the accident, particularly on occupants of the vehicle."
Mr Olayinka said as the South-west coordinator of the Atiku Presidential Campaign, Mr Fayose headed to Ibadan to prepare for Thursday's campaign rally holding in the Oyo State capital despite the accident.
He added that it was part of commitment to ensure a PDP government was installed in 2019.