The Problem With Buratai's Strategy That's Leading To Deaths of Nigerian Troops
"Nigeria's troops should be fed to have the strength, armed to meet the challenge and motivated appropriately and accurately on the legality of the threat."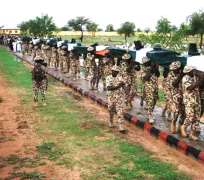 The announcement of the directive for Nigeria's chiefs of Army and Air staff to go to the northeast with immediate effect does not allay fears, or address failures that deserve more severe recourse.
Firstly, why were they not in the northeast until again ordered? President Muhammadu Buhari announced ordering them to the northeast when he resumed office in 2015. When did they leave and who permitted them to leave? Did they ever obey that order? If personally relocating is key to victory, must they be ordered each time before they relocate? Do they not have initiative and if not then why are they still at the head of Nigeria's armed forces?
Additionally, why did Buhari and the APC violate Nigeria's constitution, our democratic aspirations and the nation's conscience by inviting them and allowing them attend a political party event? Should they still be in office at all after such an act of subversion of the military and Nigerian state?
How Buratai's Ostrich-head-in-the-sand Method Is Killing Nigerian Soldiers
Chief of Army Staff Yusuf Tukur Buratai's method of military preparation has been overtly openly advertised in the press. Buratai believes in understating Boko Haram's capacity to in his view, boost troop morale and make them sleep peacefully and prepare for combat lightly.
Press releases and announcements by the Nigerian army on its FaceBook fan page have repeatedly exposed this rather dangerous method. Almost all press releases by the Nigerian army are aimed at the public and global media, advising against publications that show Boko Haram's deadly capacity. Buratai says of such releases in the media that they aid the terrorists and diminish troop morale.
In effect general Buratai believes that fooling the troops that Boko Haram is "technically defeated" if such word exists and lacks capacity, aids the troops. However as Nigerian troops keep being slaughtered in thousands each year, increasing by the months, it is obvious the Nigerian military chief's ostrich-head-in-the-sand method is dangerous and deadly.
The November massacre of as many as 200 troops in a week of attacks that decimated a military base, was one more case of ill-equipped and unprepared soldiers being confronted by a superior force that they did not expect.
Nigeria's troops should be fed to have the strength, armed to meet the challenge and motivated appropriately and accurately on the lethality of the threat. Anything else undermines them and kills them. If due to looting of Nigeria's military chest by its chiefs and procurement officers, our troops cannot be properly armed to meet the challenge, they should be pulled back and Nigeria should invite a regional or global force to battle Boko Haram. Lying to the troops about Boko Haram's capacity and assuring them that their outdated equipment can meet the challenge only boosts morale before a slaughter.
Nigeria can also consider calling for altruistic, suicidal and earnest-for-martyrdom civilian volunteers, hunters and ex-soldiers who can be armed with "morale" and sent as the military is being sent with a 50:50 chance of survival. Soldiers of our great army do not enlist on a 50:50 chance. They enlist with the expectation of being properly fed, informed and equipped to overpower their enemy. They do not enlist with the hope of martyrdom.
Reports of Nigerian troops engaging in self-help to feed themselves, are very distressing. That troops at the battlefront engaging Boko Haram, eat insects and snakes and beg locals for meals is a crime against our country. Other reports of troops engaging in farming and trade activities in Borno, taking over trading, fishing and animal rearing from the locals, is even more worrisome for both our military as a professional establishment and the people of the northeast and Nigeria as a whole. What type of army command will we have in the coming decades with foot soldiers who will attain the top position tomorrow already being corrupted by engaging in hustles on the job today?
In lieu of the above listed and many more issues including series of of gross human right violations and crimes against humanity which include alleged massacres and secret midnight mass burials north and south of Nigeria perpetrated by the Nigerian military under its present command, we reiterate our call for the immediate suspension and firing of Nigeria's heads of service and their replacement with competent persons in national security interests. The Nigerian military as led today seems more focused and able to fight the media than fight and defeat the Boko Haram ragtag army.
Sending the service chiefs to the northeast is probably more dangerous than reassuring.
Dr. Perry Brimah, Whatsapp: +234-903-420-3031; +1-929-427-5305; @CabalMustGo; @EveryNigerian; [email protected]
Disclaimer:

"The views/contents expressed in this article are the sole responsibility of

Dr Perry Brimah

and do not necessarily reflect those of The Nigerian Voice. The Nigerian Voice will not be responsible or liable for any inaccurate or incorrect statements contained in this article."