Uche Nwosu, Okorocha's son-in-law, APC members of Imo House defect to DPP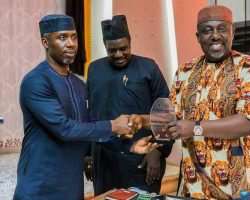 The son-in-law of Governor Rochas Okorocha,  Mr. Uche Nwosu, who lost in the bid to fly the flag of All Progressives Congress in the coming elections, has led other aides of the governor  and APC members of the State House of Assembly to the  Democratic  People's Party (DPP), where he will seek to actualise his ambition..
 Governor Okoroacha himself announced the movement  yesterday in Owerri, when he spoke with journalists at the Government House.
Okorocha, speaking at a media parley in Owerri, said Nwosu under whatever platform remained his preferred governorship candidate, describing the emergence of the APC governorship candidate, Senator Hope Uzodinma, as "the worst imposition in Nigerian political history."
But the Imo governor reassured President Muhammadu Buhari that his followers would deliver him at the presidential election and vowed to deal with any of them who disobeyed him.
According to him, "What will happen is that while they move to realise their ambition under any other platform, I remain in APC and support them. Such parties will have no presidential candidate, but will adopt President Muhammadu Buhari as their candidate.
"What we saw in Imo APC was a clear case of injustice and the worst imposition in history. The party members are aggrieved and they will be moving to another party to pursue their ambitions and I am not going to stop them, but we are going to form alliance with whichever party they choose to deliver President Buhari.
"In the 2019 general elections, we are going to vote for candidates and not political parties. I am in the best position to assess the candidates and I know that among all the governorship candidates, Nwosu remains the best. I have told Imo people to check the records of those clamouring to govern the state before voting for them.
"What is happening in Imo APC is interesting and strange, a party known for uprightness, justice and fairness as exemplified by President Muhammadu Buhari, has been dented by the actions of the national chairman, Adams Oshiomhole, for whatever reasons he is yet to disclose.
"I have been trying to manage the situation but I have no moral justification to stop the aggrieved candidates who felt short-changed from realizing their ambitions in any other party but I have not left APC and do not intend to leave APC. But you must realize that in Imo we don't play party politics but politics of individuals. People did not join APC because of anybody but because of me," he said.
Okorocha expressed regret that Imo people were short-changed by the three major political parties – APC, Peoples Democratic Party (PDP), and All Progressives Grand Alliance (APGA) – in their choice of governorship candidates, saying that all of them were imposed on the people.
He however said that he would work towards re-election of President Muhammadu Buhari.