Army Releases 154 People Associated With Armed Group in Yobe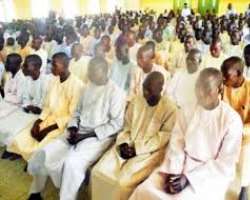 About 154 people associated with armed group, popularly known as -Boko Haram terrorists (BHTs) have been released to Borno, Yobe and Adamawa state governments by the Nigerian Army' for onwards reintegration into the society and reunion with their families respectively.
The Emir of Fika in Yobe state, HRH, Alhaji (Dr.) Muhammad Abali Muhammad Idris appreciated the efforts of the Nigerian military on behalf of other traditional rulers from Borno, Yobe and Adamawa States, at the handing over ceremony of the rehabilitated ex Boko Haram fighters at the Deradicalization, Rehabilitation and Reintegration camp, Malam Sidi, Gombe, in Gombe state weekend.
The royal father noted that the strategy would help in bringing those still hiding in the Boko Haram camps to surrender and further help in achieving success in the fight against insurgency.
He said, "There will be some challenges at the community level, maybe some people will be very apprehensive of seeing some characters who have killed their relatives or something.
"We the traditional institution need to do a lot to assure the people that these people are harmless. They should tell the public that a lot has been done to deradicalize them and that it is very important that we allow them to reintegrate them to the society".
The Camp Commandant, Operation Safe Corridors (OPSC), .Colonel B. M. G. Martins said the 154 ex Boko Haram fighters who arrived the camp on 22 December 2017, have already completed their deradicalization process and would be handed over to their respective state governments for reintegration into the society and reunite with their loved ones.
Colonel Martins said: "On arrival at the camp, they were made to go through spiritual counseling, psychotherapy and drug abuse intervention. They were also introduced to western education, arts, social works and sports, against Boko Haram ideologies"
"The following have been with the clients that are graduating from the programme today, they were enthusiastic with the programme, the drug abuse intervention has proved effective with clients who have history of drug abuse.
"They showed great interest in sports, arts, vocational works and western education and their extremist ideologies are being transformed in order to conform to the acceptable norms and teachings of their religion", Martin's said.
The Commandant added that the camp have officials from different organizations, departments and security agencies who worked in partnership with the army assiduously to train the rehabilitated ex BHTs.
He said professionals were drawn from the National Orientation Agency (NOA), NDLEA, Imams/Sheikhs, Pastors/Reverends, interpreters, medical and health experts, psychologists, social workers, educationists, vocational skills experts, sports and recreation experts, artists, therapists and medical doctors among others.
Major General B. M. Shaffa, the Coordinator, Operation Safe Corridor that coordinates the deradicalization and reintegration programme, said Operation Safe Corridors (OPSC) has successfully rehabilitated and reintegrated 6 associated groups and facilitated the rehabilitation of 750 cleared men, women and children as well as their subsequent release to their respective state governments in collaboration with some local and International NGO's including the United Nations organs.
He added that between July and December 2017, a total of 254 clients were admitted into OPSC for the Deradicalization, Rehabilitation and Reintegration (DRR) programme while the first batch of 95 clients were released in February , 2018 and successfully reintegrated by their respective State Governments.
Governor Ibrahim Hassan Dankwambo, who was represented by his Commissioner for Agriculture, Alhaji Dahiru Buba Biri, commended President Muhammadu Buhari for initiating the programme which he said has tremendously improved the security situation in the Northeast.
One of the deradicalizalized and reintegrated member, Malam Abba Usman Shuwa, commended the efforts of the Nigerian military in rehabilitating them and creating a safe environment for everyone.
He however, confessed that they were ignorant and living in bondage of wrong ideology while appreciating camp activities which he said without any form of molestation or discrimination.