The Deteriorating Morals Of Some Federal Road Safety Corps (FRSC) Personnel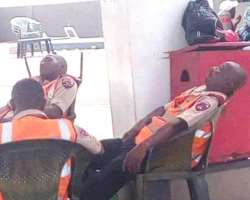 Some Federal Road Safety Corps (FRSC) officials are resorting to the sober gift of alcohol as a way of easing work tension. The campaigners of "Don't drink and drive" are caught pants down drowing in a pool of alcohol after which they will jump into their official vehicles and zoom off. The next Nigerian victim they will encounter will pay for the replacement of the bottles of alcohol and ofcourse some pocket money to go home with.
It is time for "do what you preach" The Management of the Agency must contain these officials that constitute national embarassment.