Fayemi's Interview Not Meant To Denigrate Asuu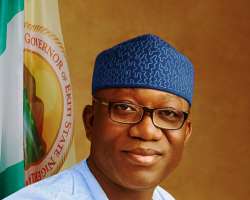 The attention of the Governor of Ekiti State, Dr Kayode Fayemi has been drawn to the various interpretations that some chapters of the Academic Staff Union of Universities (ASUU) has given to a recent press interview he granted in France, where he alluded to the fact that the union and indeed tertiary institutions have fared better under the President Mohammadu Buhari administration.
Unfortunately, the interview has been misconstrued as a direct comment on salaries of professors and undue meddling in the affairs of ASUU.
Suffice it to say, however, that the thrust of the media interview was the need for honest debate on basic and tertiary education in the country. The reference to salaries of professors was only a light –hearted response to the question as to whether the governor thought university professors were well paid.
Also, contrary to the insinuations that the Governor's interview took place during the President's interactive session with the Nigerian Community, the interview actually took place a day after the event.
What Governor Fayemi did in the interview was an appraisal of the country's educational system, while emphasising that the Buhari administration, more than the previous administrations, had made substantial investment in the sector, which must be acknowledged.
Excerpts of the interview reproduced hereunder, point clearly at the direction of the interview, which in all intent and purpose was not an attempt to meddle in the affairs of the union as alleged by some of its chapters.
Dr Fayemi had in the interview said:
"I made bold to say that no government has done as much as this government. Not just for ASUU, but for tertiary education in our country.
"Is it enough? Absolutely, it is not going to be enough. We have to keep doing more.
"But ask yourself what was the average wage in the university system before. A university professor earn more than me as a governor. My salary as a governor is N500,000. Most University professors earn about the same amount if not more.
"Yes, you may argue that there are other opportunities available, there are also other opportunities that are available that are not being taken advantage of by our academics. I can say a little bit about this because this is my terrain.
"I do not think that ASUU on its own strength can argue that government has not done well. There is hardly any institution in Nigeria today, including states universities that have not had the benefit of intervention.
It is either the government is building an auditorium or rehabilitating a laboratory, or improving on students hostels in virtually all the universities as I speak to you. That is what TETFUND does via their intervention funds. That again is not the complete solution.
"There is need to revisit a whole lot of things about education policy".
"Can we continue to maintain a tuition-free education in Nigeria, in even Federal universities? What UNESCO pushes for, what most universal human rights positions argue for is that basic education should be free. Basic education is free in Nigeria right up to junior secondary schools.
"As for free university education, I am not so sure that is what we really need right now. But in order to address that we also must elevate the place of technical and vocational education in our country so that we don't see those that go for technical education as inferior to those who go to universities."
As someone who is from the University system, there is no way Dr Fayemi can denigrate professors and the teaching profession.
But if we genuinely want to improve education standard, academics cannot be afraid or contemptuous of sincere debate about the future of education.
It must be stated that regardless of divergent opinions of critical stakeholders in the education sector, a robust debate is needed to reposition the sector. This must be done as a matter of urgency.
This much was canvassed by Dr Fayemi in the interview.
Signed
Olayinka Oyebode
Chief Press Secretary to the Governor